Chorizo With Basil Cream Sauce Penne – Gluten-Free
Prep Time
10 Minutes
Difficulty
Easy
Cook Time
20 Minutes
Serves
4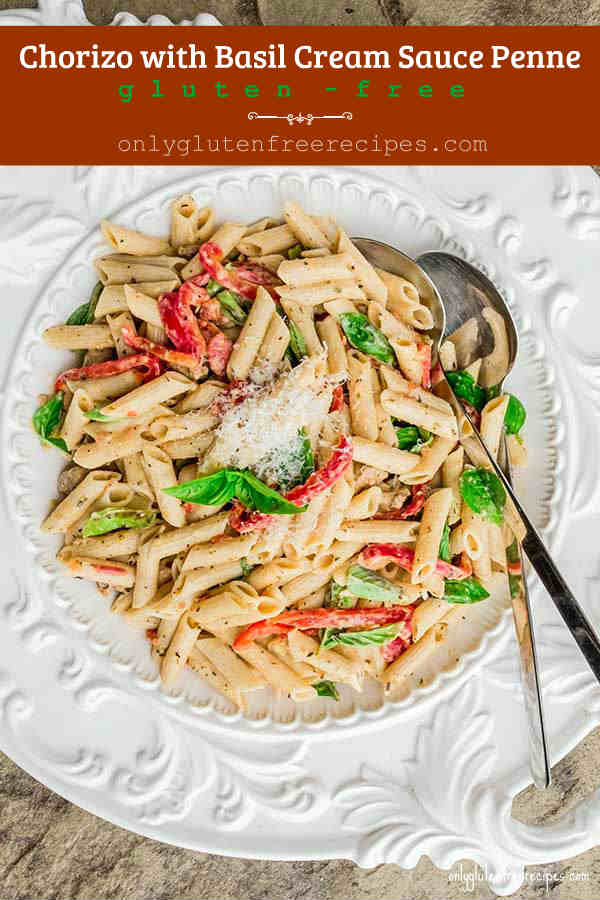 Average Rating: 4.5 | Rated By: 5 users
This Chorizo With Basil Cream Sauce Penne is an easy gluten-free pasta dish made in 30 minutes. The flavourful chorizo balls add spice and warmth, and the bell peppers and fresh tomatoes add freshness. But, it is the basil cream sauce that ties everything together. 
the basil cream sauce,
The sauce is made with chicken broth, cream, Parmesan cheese, fresh tomato, garlic, red chilli peppers, basil, and oregano. 
the penne pasta,
The penne, a short cut pasta, is cooked separately, then added to the sauce. Finally, everything is mixed, coating the pasta with the sauce, which features the chorizo balls.
 If you like pasta, you will enjoy this flavourful creamy chorizo penne dish.
 What is Chorizo Sausage?
Chorizo sausage is a spicy Spanish sausage made with various spices, especially paprika. When this flavourful sausage is added to simple sauces, stews or soups, a simple dish becomes an array of unforgettable flavours.
Feel like Italian food tonight? Check out these tasty gluten-free Italian recipes!
Ingredients
2 uncooked gluten-free chorizo sausages (most butchers have them)
3 Tbsp. butter or extra virgin olive oil, divided
4 garlic cloves, roughly chopped
1 large tomato, roughly chopped
1 fresh red chili pepper, deseeded and chopped (optional)
1 Tbsp. Gf dried basil
1 tsp. GF dried oregano
½ cup gluten-free chicken broth
1 cup heavy cream
1 large red or orange bell pepper, deseeded and thinly sliced
1 cup grated Parmesan cheese plus some for topping
3/4 tsp. sea salt
10 oz. (2 1/4 cups) gluten-free penne pasta
Handful fresh basil leaves, roughly chopped plus some for garnish
*As an Amazon Associate and member of other affiliate programs, I earn from qualifying purchases. Please check out my sponsorship and disclosure policy page for more details
Instructions
Pop the sausages out of their skins, and roll each into 6 balls
Melt 1 tablespoon of butter/olive oil in a large skillet over medium-high heat Add chorizo balls and sear on all sides until golden brown. Transfer to a plate
Add 2 tablespoon of butter/olive oil and garlic to the skillet and cook over medium-low heat, frequently stirring, until fragrant, about 1 minute, add fresh tomato, red chili pepper, basil, and oregano and cook 1 more minute
Stir in chicken broth, cream, bell pepper, Parmesan cheese, chorizo balls and salt. Cover and cook over low heat for 15 minutes
In the meantime, bring a large pot of salted water to a boil. Boil the pasta until al dente. Just before draining, remove 1/2 cup of the pasta cooking water. Drain the pasta.
Add hot pasta with 1/2 cup of pasta water to the sauce with basil and stir to combine
Serve with Parmesan cheese and fresh basil
Similar Recipes
Chicken With Sundried Tomatoes in Cream Sauce
Creamiest Chicken With Sundried Tomatoes in the most flavourful cream sauce! Discover a simple way to cook gourmet chicken in a flavourful Asiago cream sauce. Stumbling on this amazing dish through my travels in northern Italy, I have decided to include it in my favourite dinner recipes. The tender chicken soaks up a mildly flavoured cheese […] Read More
Prep Time
10 Minutes
Difficulty
Easy
Cook Time
35 Minutes
Serves
4