Chickpea Salad with Tomatoes and Cucumber
Prep Time
10 Minutes
Difficulty
Beginner
Serves
4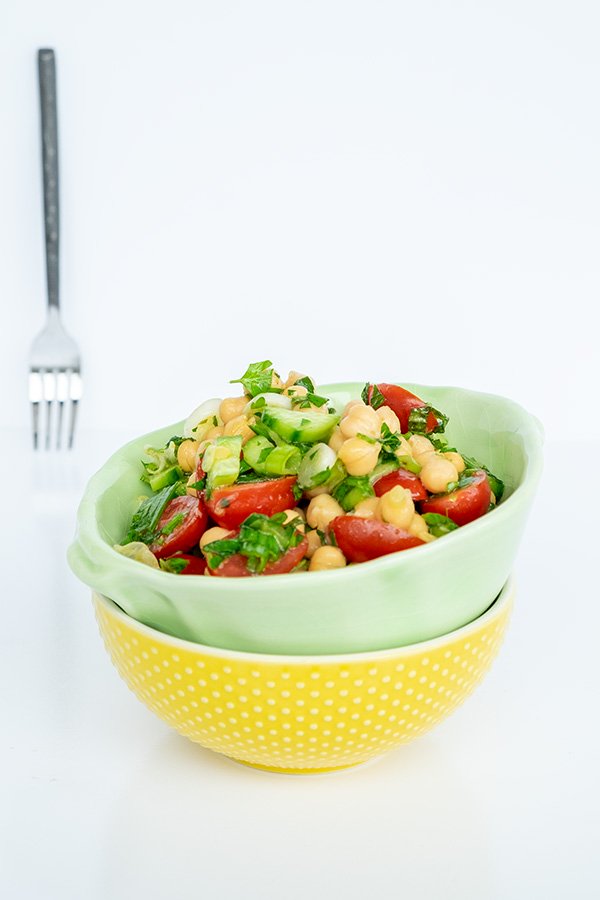 Average Rating: 4.5 | Rated By: 2 users
Are you looking that last minute salad with your summer barbecue? Try this hearty clean and simple chickpea salad packed with flavour, protein and fiber. When it comes to simplicity and taste, it doesn't get any better than this salad. For lunch, serve over lettuce leaves as a main. Enjoy!
Ingredients
19 oz. can garbanzo beans, drain and rinse
2 cups halved cherry tomatoes (about 16 oz.)
1 small English cucumber, halved lengthwise and diced
1 bunch green onions (spring), diced
1/2 cup chopped flat leaf parsley
3 garlic cloves, minced
3 Tbsp. Extra virgin olive oil
2 Tbsp. Fresh lemon juice
1/2 tsp. GF ground cumin
1/4 tsp. GF smoked or sweet paprika
Pure sea salt and GF ground black pepper
*As an Amazon Associate and member of other affiliate programs, I earn from qualifying purchases. Please check out my sponsorship and disclosure policy page for more details
Instructions
In a large bowl, combine everything together. Season with salt and pepper to taste. Chill for 1 hour before serving.
Taste and adjust seasoning just before serving
Similar Recipes
Broccoli and Chickpea Quinoa Salad
This broccoli and chickpea quinoa salad is a healthy and filling meal that is perfect for any time of day. It is packed with nutrients and flavor, leaving you feeling satisfied and energized. This quinoa salad is also plant-based and gluten-free, making it a great option for those with dietary restrictions. Why add quinoa to […] Read More
Prep Time
15 Minutes
Difficulty
Easy
Cook Time
10 Minutes
Serves
4