Cheesy Leek Potato Gratin
Published on May 19, 2018
by
Kristina Stosek
Prep Time:

15 minutes
Cook Time:

90 minutes
Serves:

6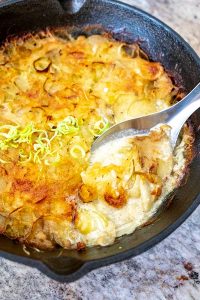 ​This post may contain affiliate links, please see our
privacy policy
for details
Cheesy Leek Potato Gratin is the French version of scalloped potatoes…creamy, rich, and a perfect make-ahead dish for the company.
These French potatoes make a tasty addition to any meat or fish entree. I particularly enjoy pairing the potato gratin with ham or pork tenderloin.
The gratin is a dish that even the pickiest eaters love. The potatoes are layered with leeks and Gruyere cheese and slowly baked in a creamy sauce mildly flavoured with garlic and herbs.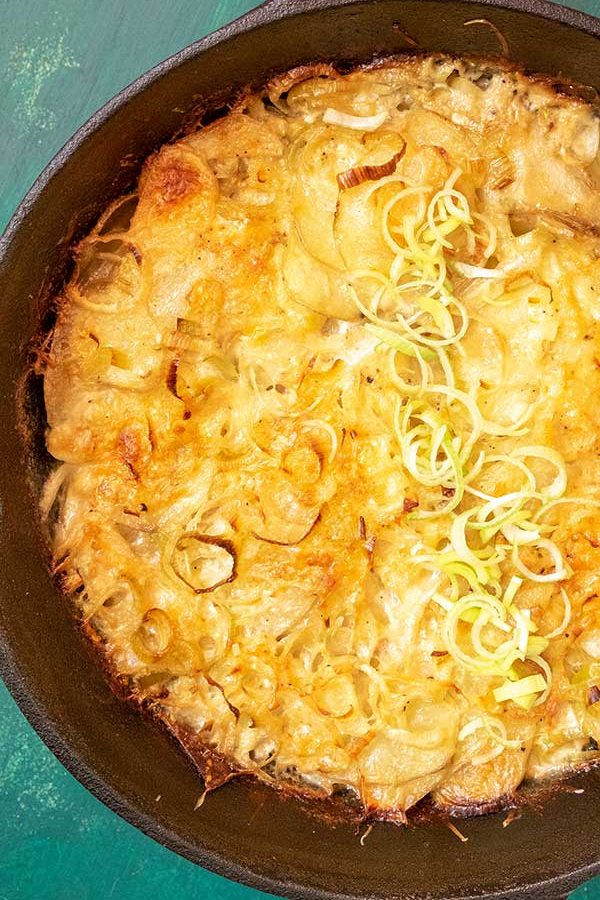 You will need only 10 minutes of prep time.
The potato gratin comes together in minutes, but the baking takes time, so be patient. For best results, the potatoes must be thinly sliced. I used a mandoline, but you can also use a food processor.
An elegant cheesy leek potato gratin for all occasions.
What I love about this recipe is, you can make this side dish in advance. Then, just before serving, reheat the potato gratin until hot and bubbling.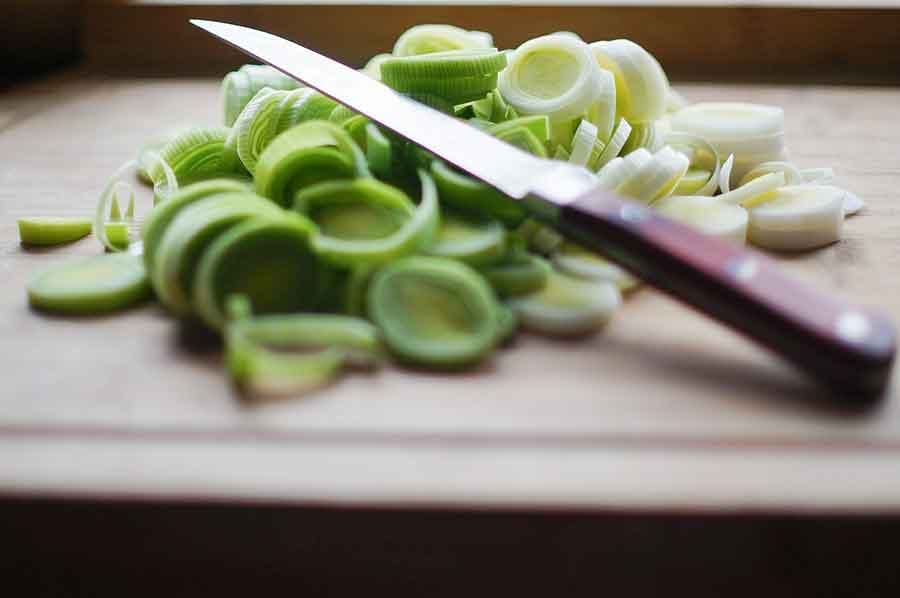 It's all about the leeks.
This French dish is always a favourite at dinner parties. The leeks add exceptional flavour setting this gratin apart from most.
I promise you can't go wrong with serving anything made with potatoes and cheese, especially when it tastes this good!
Were you looking for sides to your favourite entree's? Check out our extensive gluten-free recipe collection of accompaniments.
Cheesy Leek Potato Gratin
Published on May 19, 2018
by
Kristina Stosek
Instructions
1.

Preheat oven to 350 F and grease a 2-quart baking dish with butter or olive oil

2.

Layer half the potatoes with half the leeks, half the salt and pepper and half the cheese. Repeat the layers finishing with cheese

3.

Whisk cream, garlic, and thyme/sage and pour the mixture over the potatoes

4.

Cover the potatoes with a lid or foil and bake for 1 hour. Remove the foil and bake for 25 - 30 minutes until potatoes are tender and golden

5.

Rest for 15 minutes before serving

6.

Note; the potatoes and leeks must be sliced super thin. I used a mandolin for the potatoes