Upside Down Apple-Honey Pumpkin Cake (Gluten-Free)
Prep Time
15 Minutes
Difficulty
Easy
Cook Time
35 Minutes
Serves
12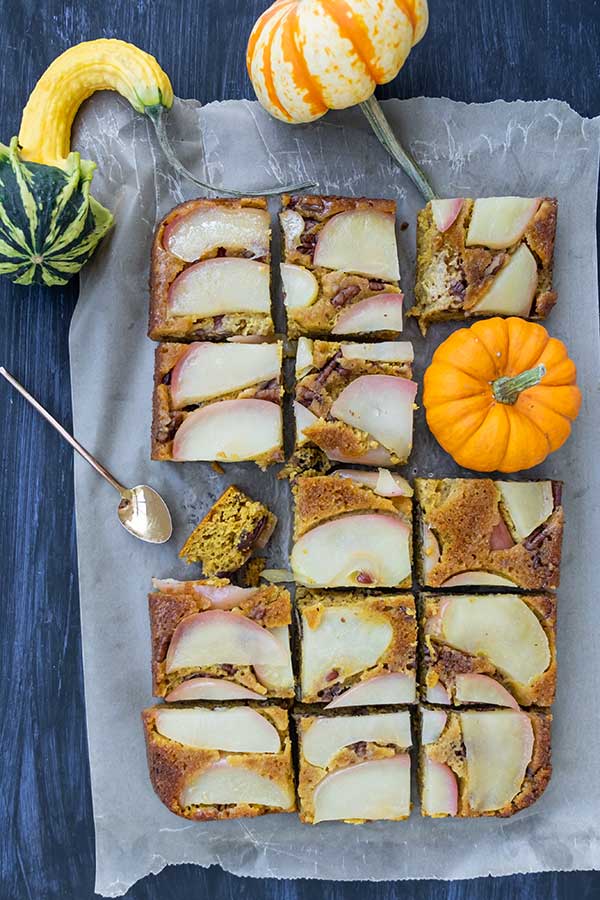 Be the first to rate this recipe.
This Gluten-Free Upside Down Apple-Honey Pumpkin Cake is the recipe for fall brunches, snacks, breakfast and anytime you crave something sweet. The first layer is soft and moist made with pumpkin and pumpkin spices. The second layer is made with apples, honey and pecans. This upside-down pumpkin cake will beat any pumpkin cake, I promise you! Now that we are well into fall let us embrace it with pumpkin recipes. Pumpkin is nutritionally packed, low in calories, packed with fiber and is best known for its source of beta-carotene. Pumpkin is an excellent replacement for fats in baking, thus making desserts healthier, lower in fat and lower in calories. 
To make this pumpkin cake, first, you make a layer of honey, butter, apples and pecans. Then, for the second layer, which is the soft cake, you add pumpkin and pumpkin spices to a simple batter. Once the cake is baked, you invert it onto a plate. The cake will feature an amazing topping made with juicy apples and pecans in a buttery honey glaze. The apples are tender, mildly flavoured with honey adding a lot of punch to this cake. There is nothing dry and crumbly about this gluten-free pumpkin cake! The pecans are a nice addition because they add some crunch and nutty flavour.  There is nothing fancy about this pumpkin cake, but it is unimaginably delicious!
This fall recipe is probably my most favourite. I like to serve the cake warm, but it tastes incredibly yummy at room temperature. With the delicious apple and pecan layer, each and every bite is just as delicious. If you try this recipe, please leave a comment, I always love to hear from you! Hope you enjoy this pumpkin cake as much as my family does. Happy Fall!
Are you looking for more recipes made with pumpkin? Check out these gluten-free pumpkin recipes.
Ingredients
2 large apples, cored, halved and sliced to about 1/3-inch thick | best baking apples, Granny Smith | Braeburn | Jonagold | Honeycrisp | Cortland |
1/3 cup liquid honey
1 cup halved pecans
5 large eggs, at room temperature
3/4 cup coconut sugar or brown sugar
1/2 cup butter, melted, divided
1 cup pure pumpkin puree (if using canned, add leftover pumpkin puree to soups or stews)
1 cup gluten-free all-purpose flour blend (one that includes xanthan gum and there are no bean flours included) my favourites are cup4cup or better batter. If your blend does not include xanthan gum add 1/4 tsp.
1/4 cup almond flour
1/4 cup arrowroot flour/starch
1/2 tsp. Baking soda
1/2 tsp. Fine Himalayan salt
1/2 tsp. GF ground cinnamon
1/4 tsp. GF ground nutmeg
Instructions
Brush an 8 x 12-inch baking pan with 1/4 cup of melted butter. Drizzle with honey and arrange apple slices and pecans in pan
Using an electric mixer whisk the eggs and sugar on high speed until the sugar has dissolved. Whisk in 1/4 cup melted butter and pumpkin puree until incorporated
Combine flours, baking powder, baking soda, salt, cinnamon and nutmeg. Gently fold dry ingredients into the wet mixture until blended. Do not over mix
Spread batter over apples and bake for 35 minutes. Cool in pan on a wire rack for 10 minutes, then loosen sides of the cake and invert onto a plate or board
Cool for 30 minutes; serve warm or at room temperature
Similar Recipes
Chai Pumpkin Cake with Spiced Buttercream Frosting (Gluten-Free)
This is a double layer gluten-free chai pumpkin cake with spiced buttercream frosting. The cake is nothing short of deliciousness! I am very excited how this cake turned out, it's truly a Thanksgiving dessert. I know traditionally it is pumpkin pie or pecan pie, but this year I wanted to go all out, so I […] Read More
Prep Time
20 Minutes
Difficulty
Easy
Cook Time
30 Minutes
Serves
6-8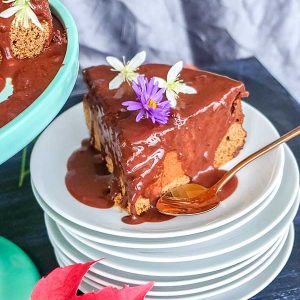 Gluten-Free Chocolate Pumpkin Cake with Ganache
Without some type of pumpkin there just wouldn't be Thanksgiving. For this Thanksgiving dinner, I wanted to make more than just a pumpkin pie, so I thought why not combine chocolate and pumpkin. This heavenly gluten-free chocolate pumpkin dessert came out so good! Honestly, it is the best dessert I made in a very long […] Read More
Prep Time
15 Minutes
Difficulty
Easy
Cook Time
60 Minutes
Serves
8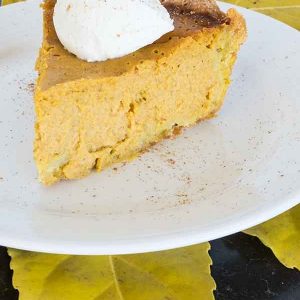 Gluten-Free Pumpkin Pie with Walnut Crust
It is hard to imagine Thanksgiving without a freshly baked pumpkin pie. Making a pumpkin pie is like baking custard in a pie shell. This scrumptious gluten-free pumpkin pie has the right balance of spices, cream and maple syrup nestled in a delicious walnut crust. This holiday season surprise everyone with this easy to make […] Read More
Prep Time
15 Minutes
Difficulty
Easy
Cook Time
60 Minutes
Serves
9-inch pie