Upside Down Apple-Honey Pumpkin Cake (Gluten-Free)
Published on Sep 29, 2019
by
Kristina Stosek
Prep Time:

15 minutes
Cook Time:

35 minutes
Serves:

12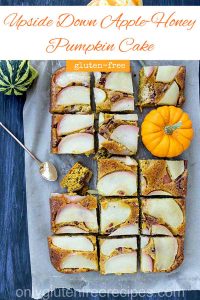 ​This post may contain affiliate links, please see our
privacy policy
for details
This Gluten-Free Upside Down Apple-Honey Pumpkin Cake is the recipe for fall brunches, snacks, breakfast and anytime you crave something sweet.
This gluten-free cake has two layers. First, the moist pumpkin spiced cake, and the second layer is all about apples, honey and pecans. With the two layers combined, you have nothing but deliciousness!
Now that we are well into fall let us embrace it with pumpkin recipes. Pumpkin is nutritionally packed, fiber-rich, and best known for its source of beta-carotene.
Pumpkin is an excellent replacement for fats in baking and unwanted calories, thus making desserts healthier.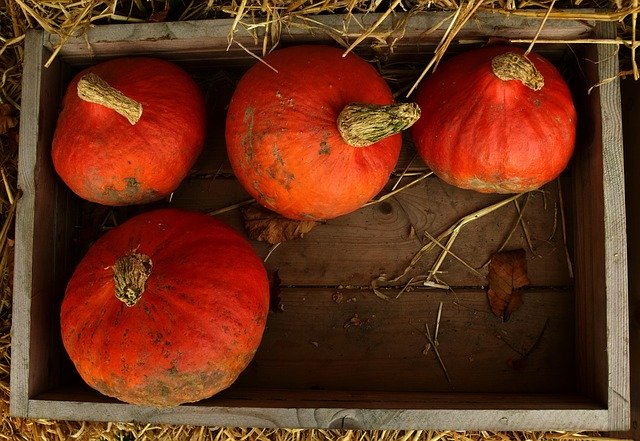 Apple-Honey Pumpkin Cake Recipe Overview
To make this pumpkin cake, first, you make a layer of honey, butter, apples and pecans. Then, for the second layer, the soft cake, you add pumpkin and pumpkin spices to a simple batter.
Once the cake is finished baking, you invert it onto a plate. The cake will feature a stunning topping made with juicy apples and pecans in a buttery honey glaze.
The apples are tender, mildly flavoured with honey, adding a lot of punch to this cake. There is nothing dry and crumbly about this gluten-free cake! The pecans are a nice touch because they add some crunch and nutty flavour.
This gluten-free cake is not super fancy, but it is incredibly delicious.
This recipe is probably one of my most favourite gluten-free fall cake recipes. How can it not be? Every bite is filled with a soft and moist pumpkin cake topped with a yummy apple-honey pecan topping. It doesn't get any better than this!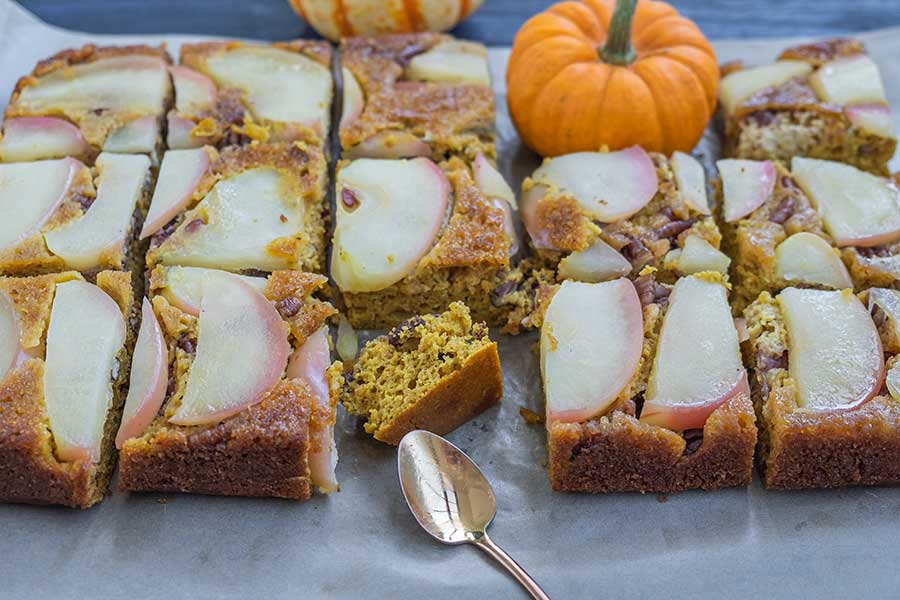 I like to serve the cake slightly warm because fall is all about warm and cozy. Serving this pumpkin cake is my preference. Maybe add a dollop of whipped cream? If you try this recipe, please leave a comment. I always love to hear from you! I hope you enjoy this pumpkin cake as much as my family does. Happy Fall!
Are you looking for more recipes made with pumpkin? Check out these delicious gluten-free pumpkin recipes.
Upside Down Apple-Honey Pumpkin Cake (Gluten-Free)
Published on Sep 29, 2019
by
Kristina Stosek
Instructions
1.

Brush an 8 x 12-inch baking pan with 1/4 cup of melted butter. Drizzle with honey and arrange apple slices and pecans in pan

2.

Using an electric mixer whisk the eggs and sugar on high speed until the sugar has dissolved. Whisk in 1/4 cup melted butter and pumpkin puree until incorporated

3.

Combine flours, baking powder, baking soda, salt, cinnamon and nutmeg. Gently fold dry ingredients into the pumpkin mixture until blended. Do not over mix

4.

Spread batter over apples and bake for 35 minutes. Cool in pan on a wire rack for 10 minutes, then loosen sides of the cake and invert onto a plate or board

5.

Cool for 30 minutes; serve warm or at room temperature