Gluten Free Bread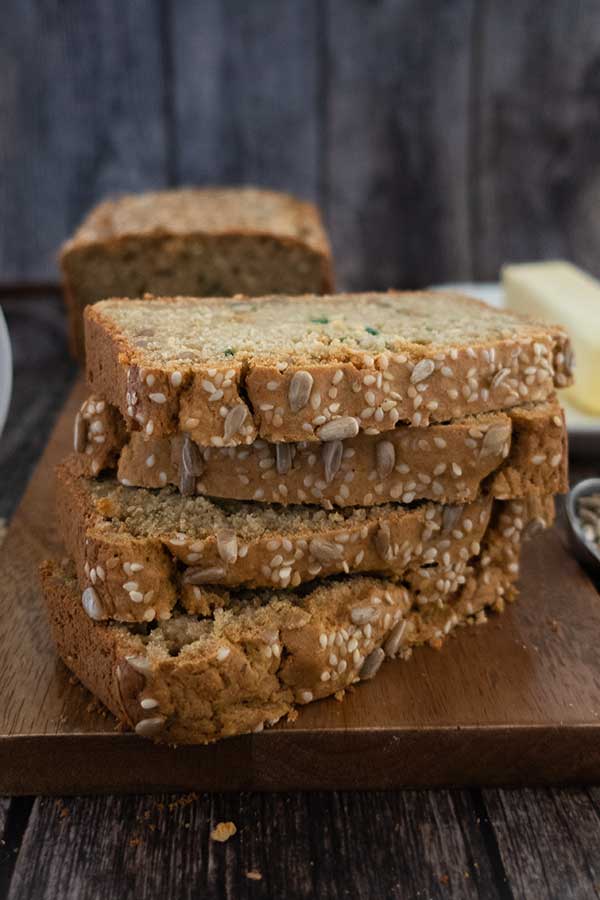 Bread is one of the most difficult foods to replace on a gluten free diet. Even though the food industry is beginning to produce more gluten free products and especially breads, it is still difficult to find quality gluten free bread in restaurants or supermarkets.
Gluten Free Bread Tips
Baking your own gluten free bread can be challenging at the beginning but here are some tips that will make your gluten free baking easier:
For baking purposes, there are many gluten-free flours but all of them behave differently than wheat. This is because gluten is the ingredient that holds wheat bread together. It is important to learn about new ingredients and cooking techniques that will help you to make gluten free loaf stay firm and let it rise at the same time.
All gluten free flours have different textures, for example, millet and sorghum produce dry baked goods. It is important to know which texture you want to achieve with your gluten free bread recipe, so you can choose the adequate flour.
One of the most important tips that we can give you is to measure accurately the ingredients of your recipe for gluten free bread and follow exactly the steps given in the recipe as small variations can result in a complete different outcome for your bread.
Gluten-Free Healthy Millet Bread Recipe
This gluten-free healthy millet bread recipe is definitely one to try! I love baking bread and the aroma that... Read More
Prep Time
15 Minutes
Difficulty
Easy
Cook Time
45 Minutes
Serves
1 loaf
Gluten Free German Potato Bread
This gluten free German potato bread is hearty and firm with a good crust and tender, moist crumb. So... Read More
Prep Time
15 Minutes
Difficulty
Easy
Cook Time
60 Minutes
Serves
1 loaf
Basic Gluten-Free Muffin Recipe
What is a Gluten Free Muffin recipe? It's a gluten-free muffin mix that you can use as a base... Read More
Prep Time
10 Minutes
Difficulty
Easy
Cook Time
22 Minutes
Serves
12
Gluten free Sweet or Savoury Loaf Recipes
Creating a gluten free bread recipe from scratch is no easy job, usually a combination of different gluten free flours and techniques have to be used to develop the perfect recipe. We have selected for you some of our favorite gluten free bread recipes from the bread section on our website:
Mediterranean Olive Bread: If you are looking for an easy gluten free bread recipe, this mediterranean olive bread might be what you are looking for. This bread has a crispy crust and a delicious mediterranean taste thanks to the olives.
Best Gluten-Free Rustic Bread Recipe: We love this gluten free vegan bread recipe, it is really easy to make and you will never notice it is gluten free. It has a crispy crust and tastes like German rye bread.
Gluten Free Low Allergen Bread Recipe: This Low Allergen Gluten-Free Bread is healthier than most and takes only five minutes to prepare for baking. The nutrient-dense ingredients are chia, buckwheat flour, chickpea flour, flaxseed, and psyllium husk.
Gluten Free One Bowl Zucchini Banana Flax Bread: The highlights of this healthy extra moist gluten-free breakfast loaf are bananas, zucchini, flaxseeds, olive oil and eggs. This zucchini banana flax bread recipe is refined sugar-free and is made using only two gluten-free flours.
Gluten Free Jalapeno Cheese Cornbread: This is a very versatile gluten free bread recipe as you can add your favorite cornbread toppings such as olives, feta cheese or sundried tomatoes. This cornbread tastes delicious when served with warm dishes like soups or stews.
As you gain more experience with gluten free baking, you will find it less challenging to prepare your own gluten free breads and foods and you will realize that the effort is worth it. For more gluten free bread recipes, check out our gluten free breads category.

Cheese Rosemary Buttermilk Biscuits (Gluten-Free)
If you love biscuits, you're going to love these gluten-free cheese and rosemary buttermilk biscuits. At our house, anything... Read More
Prep Time
15 Minutes
Difficulty
Easy
Cook Time
18 Minutes
Serves
12
30 Minute Gluten-Free Cheese and Garlic Flatbread
30 Minute Gluten-Free Cheese and Garlic Flatbread – this bread may be humble in appearance, but it is so... Read More
Prep Time
10 Minutes
Difficulty
Beginner
Cook Time
20 Minutes
Serves
8-10 pc
4 – Ingredient Gluten-Free Cheese Buns
4 – Ingredient Gluten-Free Cheese Buns – who said gluten-free baking has to be complicated? These buns have a... Read More
Prep Time
10 Minutes
Difficulty
Easy
Cook Time
35 Minutes
Serves
6