A Day In The Life Of a Full Time Food Blogger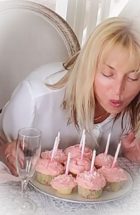 Hello and welcome to my blog's seventh birthday! You may be curious what does a food blogger do? How do food bloggers make money? Whether you are thinking of becoming one or are already a food blogger, this may be a fun blog to read.
Before I became a food blogger, I worked as a CFO for a publishing company. My daily work was about numbers, projections and balance sheets, and I worked very long hours. So becoming a full-time food blogger was a significant change with exciting challenges.
My devoted readers and friends often ask the same questions. What do I do? How do I make money? How many hours do I work each day? Do I have help?
Today is the day I will share my day-to-day life as a full-time food blogger, where it all happens and answer some of your questions. And yes, you are invited into my kitchen, which is my favourite place in my home.
For me, food blogging is immensely satisfying because I create recipes for people who have celiac disease, are gluten-intolerant or have food allergies. Starting a food-restricted diet is never easy, especially a gluten-free diet. Check out my article on 7 Things to Know Before Starting a Gluten-Free Diet.
Gluten is found in almost all packaged foods, so cooking from scratch with gluten-free ingredients not only guarantees that your food is gluten-free, but it is more economical and always more delicious.
So let's get started, my days as a full-time food blogger…
What do I do?
Food blogging is a job with many hats. This means you are a recipe developer, chef, food stylist, photographer and writer. In addition, I do marketing, promotion and research for my blog. My days are full, but I LOVE IT! But one of the most important jobs is to run the website! There are so many intricate things to know about running a site. This is where I get help because it is too technical for me.
Where do I get my recipe ideas?
When I first started, I was focused on the foods I grew up with. After a short while, I learned it is not about what I like. Instead, it's what people are searching for. So I scroll through Pinterest for ideas and Instagram for popular recipes. Then, I start from scratch and create my version of the recipe, make it healthier, allergy-friendly and gluten-free. But even more importantly, I try and make the recipes simple so that even novice cooks can master them.
My typical day as a food blogger
5 AM – I get a large cup of organic coffee and go through my emails. I check my Facebook page, Instagram and Pinterest and respond to my follower's questions as soon as possible.
6 AM – I take my dog for a speed walk, then shower and start my day.
Mondays and Fridays, I do research and grocery shopping. By research, I mean, I read about new food trends, the latest health information and what's new in the world and how it affects our health.
Then, I decide on the recipes I will develop that week, make a grocery list and go shopping. I generally start at 8 AM and work through without a break until about 3 PM.
Tuesdays, Thursdays and Saturdays, I create recipes, do food styling, photography and writing. I also schedule my articles for publishing and work on my social media and marketing. These days are long and super busy. I typically start at 7 AM and work until about 1 PM. Then I get a break and play tennis or a workout and grab a light lunch. Continue working from 3 PM until about 6 PM, and on many occasions much longer.
Since these three days are when I create recipes, my dinner is usually ready unless I am baking, then I cook my dinner while baking. As a result, my kitchen becomes a huge mess, and is full of ingredients, bowls, knives, spatulas, measuring cups and spoons and many dirty dishes.
I love Wednesdays. I start at 8 AM and work on improving my website. I re-write some of the recipes, re-do some photos and generally make my site look better. Wednesdays I also study. I always try to improve my skills by taking various courses. Such as photography, food styling, writing, and I study health and nutrition. These skills help me be the best food blogger that I can be.
Sunday is my day off, and I do not go near my computer or iPhone for work. Instead, I try and fit a tennis game or a golf game in the day, a good hike with my dog Chloe and cook a fabulous dinner for my family. You can find out more about me here and why I started this food blog.
How Do Food Bloggers Make Money?
This question I am asked the most. There are many ways to make money as a food blogger—display advertising, affiliate commissions, brand sponsorships, and selling cookbooks, eBooks or a product. But, for me, display advertising earns me the most income.
How Much Does a Food Blogger Earn?
Food blogging is a lot of work and takes a lot of time. Yes, you can make a very good living, but it takes months to years to become a successful food blogger. You may earn as little as $25 – $100 per month in the first few months. But after a few years, if you are a good food blogger, you can earn $30,000 per month and more. Check out this article by Huff Post on how much food bloggers can make.
To summarize,
I can safely say I spend on average eight hours a day, six days a week, working on my food blog. I do everything from developing my recipes to food styling, photography and writing. The only outside help that I have is my precious IT team. Without them, I wouldn't be where I am today.
Are you thinking of becoming a food blogger? Here are some helpful links.