Vegan Gluten Free French Silk Cake
Prep Time
15 Minutes
Difficulty
Easy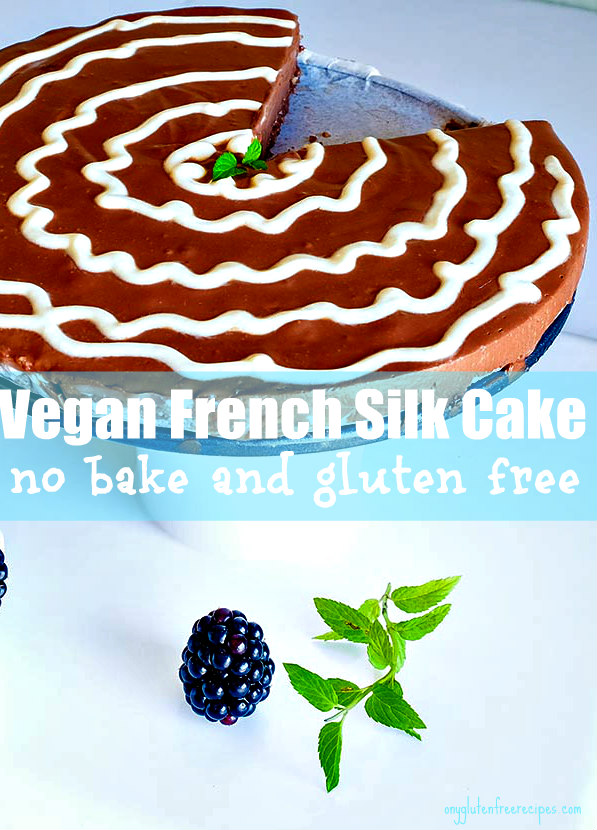 Do you love a rich, creamy chocolate dessert? But don't want to bake or have the added fat, then this dessert is for you! This Vegan Gluten Free French Silk Cake takes virtually 15 minutes of prep time, and overnight chill time, that's it! Although it is a decadent dessert, it is super easy to make.
The creamy chocolate cake is nestled on a pecan chocolate crust and is grain free, egg free, dairy free and gluten free, thus accommodating most restricted diets. Since this creamy dessert is also low fat, even the diet savvy guests will have a piece. Serve as is or add some delicious organic fresh berries. Enjoy this impressive vegan dessert!
Ingredients
CRUST
1 ½ cups pecans
8 pitted Medrol dates
2 Tbsp. pure cocoa powder
CAKE
10.5 oz. gluten free organic medium tofu, room temperature. For best results buy the best quality
1/3 cup pure cocoa powder
¼ cup agave nectar
2 tsp. pure vanilla extract
¼ tsp. sea salt
1 Tbsp. coconut oil
2/3 cup gluten free vegan chocolate chips
¼ cup coconut cream for swirls (optional)
Instructions
Line the bottom of 7-inch spring cake pan with a circle of parchment paper
Process pecans, dates, and cocoa powder in a food processor into fine crumbs. Transfer into a prepared cake pan and firmly press along the base. Place in the freezer while preparing the cake
Blend tofu until smooth in a blender. Add cocoa powder, agave, vanilla and salt and blend until smooth
Over medium-low heat melt the coconut oil with chocolate chips, stirring continuously. Add to the blender and blend until smooth
Pour over prepared crust and tap the pan on the counter few times to smooth the cake
Drizzle coconut cream using a piping bag creating a swirl pattern
Freeze cake for 1 hour, and then refrigerate overnight
Note: Double the recipe for 9-inch cake
Similar Recipes
Flourless Chocolate Truffle Cake
This cake is rich and oozing with chocolate, your family and friends will be amazed that this cake is truly gluten free. You can add some vanilla ice cream to truly spoil everyone. Makes 9-inch cake Read More
Prep Time
20 Minutes
Difficulty
Intermediate
Cook Time
60 Minutes
Gluten-Free Chocolate Mousse Cake
Sometimes we should indulge in something this yummy especially on festive occasions. Mousse cakes are always popular because of their smooth texture and delectable flavour, just add some frozen grapes as garnish. Read More
Prep Time
20 Minutes
Cook Time
15 Minutes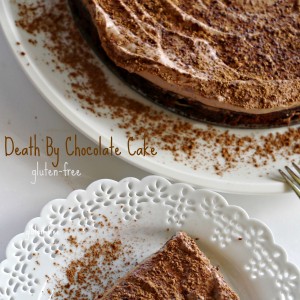 Gluten-Free Death By Chocolate Cake
This luxurious dessert will make an impressive finale for any dinner party. The chocolate truffle bottom with creamy mousse topping is truly spectacular. Read More
Prep Time
20 Minutes
Difficulty
Moderate
Cook Time
50 Minutes
Serves
8
© Copyright 2017 Only Gluten Free Recipes. All Rights Reserved.