Super Easy Chicken Pad Thai
Prep Time
15 Minutes
Difficulty
Easy
Cook Time
10 Minutes
Serves
4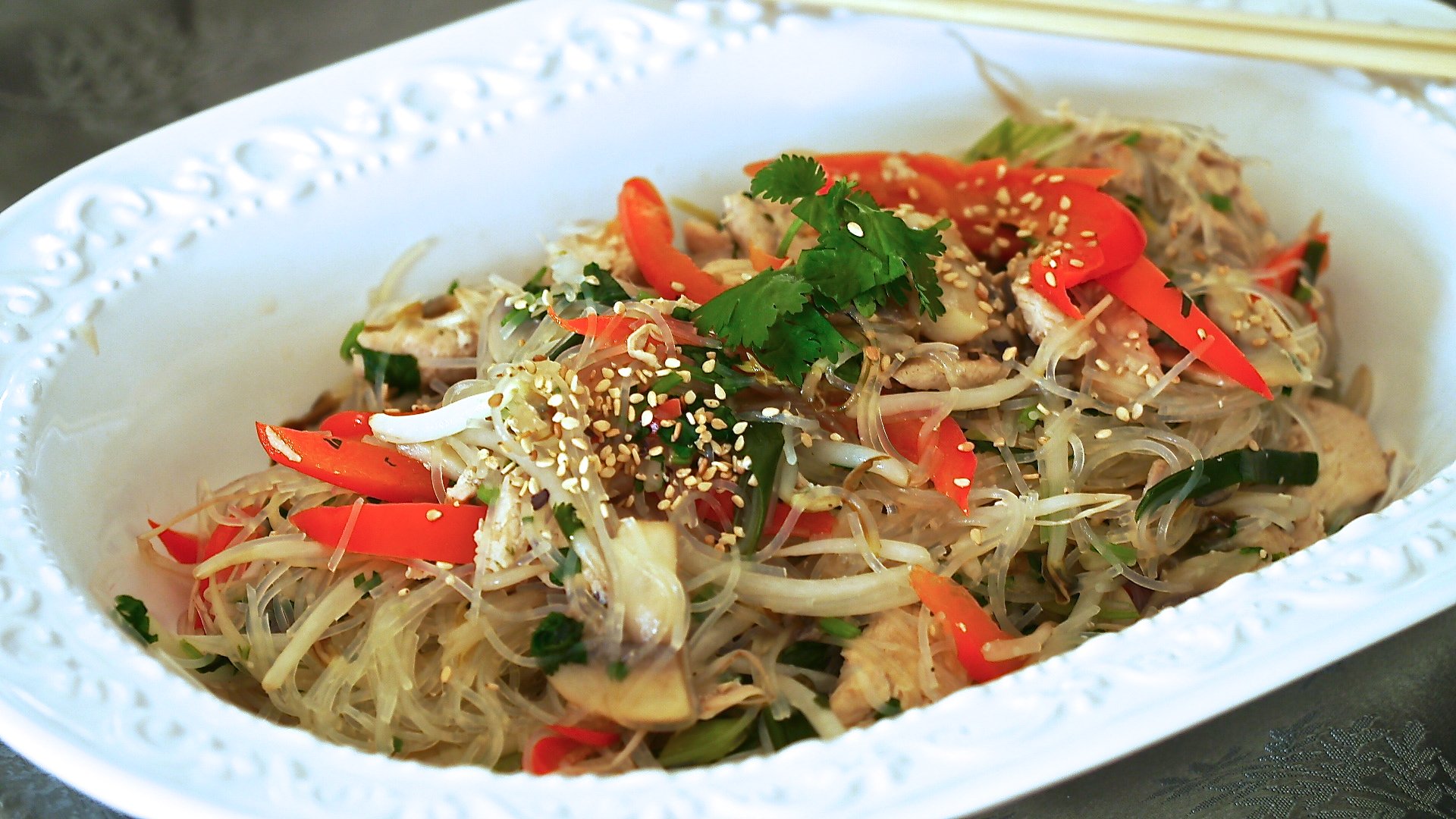 Average Rating: 4 | Rated By: 1 users
This is a light Thai noodle dish. The many flavours used in this dish like garlic, ginger, chicken and vegetables infuse the gentle noodles making it a delicious one pot meal that is super easy to make.
Serves 4
Ingredients
2 tbsp. organic GF tamari sauce ~ • 1 tbsp. pure maple syrup • 4 garlic cloves, crushed • 1 tbsp. freshly grated organic ginger • 1 ½ lb. thinly sliced organic skinless chicken (breast or thigh)
1 tbsp. coconut oil
1 cup organic GF chicken broth ~ • 1 tbsp. arrowroot flour or cornstarch • 1 tbsp. fish oil • 1 tbsp. freshly squeezed organic lime juice
1 organic red pepper, thinly sliced
1 bunch organic green onions, thinly sliced lengthwise to 2 inch pieces
2 cups sliced mushrooms
2 cups bean sprouts
1 bunch organic fresh cilantro, chopped
1 hot chili pepper, chopped (optional)
200 g bean thread or rice noodles (prepare as per package instructions)
For the garnish, cilantro, sesame seeds and lime wedges
Instructions
In a large bowl add tamari, maple syrup, garlic, ginger and chicken, stir and set aside while you are preparing your vegetables and noodles
In a wok or equivalent heat coconut oil and add marinated chicken, cook on medium to high heat while stirring for 5 minutes or until slightly golden
Mix chicken broth, arrowroot flour/cornstarch, fish oil and lime juice and add to chicken, bring to boil, stir in red pepper, green onions and mushrooms, reduce heat, cover and cook for 5 minutes.
Stir in bean sprouts, noodles and cilantro and heat through making sure all the ingredients are well combined
Garnish with cilantro, sesame seeds and lime wedges