Mediterranean Salad With Lime Vinaigrette
Prep Time
10 Minutes
Difficulty
Easy
Serves
4
I call this salad food of the sun, using only freshest of ingredients and quality extra virgin olive oil is what makes this salad explosively delicious. Serve as a starter or as a side with chicken or fish.
Ingredients
2 organic, large ripe heirloom tomatoes, sliced
1 organic medium sweet onion, thinly sliced
1 organic field cucumber, cut lengthwise, remove seeds and slice
1 avocado, cubed
½ cup chopped organic parsley
FOR THE LIME DRESSING
Juice of two limes
2 tbsp. extra virgin olive oil
2 tsp. organic agave nectar
1 tsp. organic, gluten-free dried basil leaves
½ tsp. organic ground cumin
Sea salt and organic, gluten-free ground black pepper to taste
Instructions
Add tomatoes, onion, cucumber avocado and parsley in a salad bowl.
Whisk together dressing ingredients and pour over salad
Gently toss and serve
Similar Recipes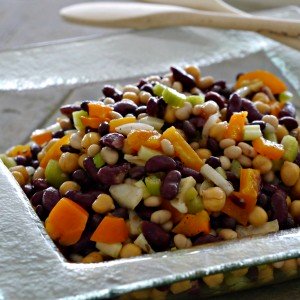 Bean Salad with Light Vinaigrette
Bean salad is wonderful addition for every occasion especially for large dinner parties, particularly if you have unexpected vegetarian guests. This hearty salad takes only minutes to prepare, and you can make it well in advance Read More
Prep Time
10 Minutes
Serves
6-8
Broccoli Slaw with Citrus Dressing
In this lively healthy slaw, the delicious citrus dressing is soaked up in a colorful medley of healthy vegetables and fresh herbs. Serve this naturally gluten free slaw as a main or with fish, chicken or pork. In summer time, this salad is a winner at any barbecue get-together Read More
Prep Time
20 Minutes
Difficulty
Easy
Serves
4
Pear and Apple Feta Salad
Salad does not have to be complicated to be delicious. In this salad, the sweet crispy fruit perfectly balances the saltiness of the cheese. Serve as a starter or add grilled chicken or pork for that perfect main dish Read More
Prep Time
15 Minutes
Difficulty
Easy
Serves
4
© Copyright 2017 Only Gluten Free Recipes. All Rights Reserved.