Kristina's Gluten Free Upside Down Pear Cake
Prep Time
20 Minutes
Difficulty
Moderate
Cook Time
60 Minutes
Serves
6
When creating my signature gluten free healthy dessert recipe I wanted to make it egg, nut and dairy free. After a lot of combinations of various ingredients, I came up with this light, moist and deliciously flavoured upside down pear cake that will accommodate most diets. I have used fresh orange juice and a small amount of agave as a sweetener to keep this amazing cake as healthy as possible
Using certified gluten-free oats and sweet sorghum, both of which are nutrient powerhouses and gave this cake that perfect texture. With added chia and a little coconut flour, this cake is hands down one of the healthier desserts out there. You will wow your family and friends when you present this pretty gluten free dessert every time. Serve as is or with coconut ice cream
Ingredients
PEARS
2 Tbsp. coconut oil
3 Tbsp. fresh orange juice
1 Tbsp. fresh lemon juice
1 Tbsp. minced ginger
½ tsp. ground cinnamon
¼ cup agave nectar or pure maple syrup
3 small pears, peeled, halved lengthwise and cored
CAKE
1 cup certified gluten free rolled oats
2 Tbsp. chia seeds
1 ½ cups orange juice (preferably freshly squeezed)
¼ cup extra virgin olive oil
½ cup agave nectar or pure maple syrup
1 tsp. pure vanilla extract
Zest of 1 orange
½ cup sweet sorghum flour
¼ cup coconut flour
¼ cup arrowroot powder
2 tsp. baking powder (preferably aluminum-free)
1 tsp. baking soda
½ tsp. sea salt
Instructions
In a medium size bowl combine oats, chia, and orange juice. Set aside for 30 minutes
PEARS
While the oats are soaking, prepare the pears. In a large saucepan or skillet over medium heat cook butter, orange juice, lemon juice, ginger, cinnamon and agave for 1 minute. Add pears cut-side up and cook for 3 minutes. Turn pears over and cook 3 more minutes. Remove from the heat
Line the bottom of an 8-inch springform pan with parchment paper and arrange pears cut-side down in the pan. Return saucepan to medium-high heat and cook the sauce until the sauce slightly thickens. About 2 minutes. Spoon syrup over pears and place in the freezer while you prepare the cake. Do not freeze the pears
CAKE
Preheat oven to 375 F
Add olive oil, agave, vanilla and orange zest to oats and mix well.
Combine dry ingredients and add to oats. Mix until everything is combined
Pour batter over pears and place the cake on a baking sheet lined with foil
Bake for 45 – 50 minutes or until a toothpick inserted in the middle comes out clean
Cool the cake in the pan for 20 minutes. Loosen the sides with a knife and invert onto a plate. Carefully remove the parchment paper, then cool completely before serving
Note: This cake can be made a day in advance. Store covered at room temperature
Similar Recipes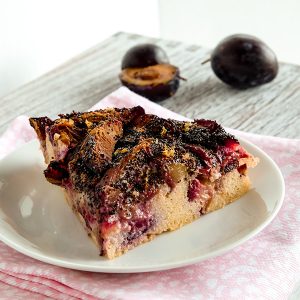 Grain Free Summer Plum Cake
The moist gluten free cake is accented perfectly by the sweet tartness of the plums. This recipe is brilliant, not only because it is beyond delicious but also for its simplicity and healthy ingredients Read More
Prep Time
15 Minutes
Difficulty
Easy
Cook Time
40 Minutes
Serves
6
Country Raspberry Plum Cake
This Gluten Free, Egg Free and Dairy Free country cake is super easy to make. After one bite you will not be able to stop, it is amazingly moist and delicious. Serves 8 large slices Read More
Upside Down Plum Cake
This scrumptious moist cake is made with fresh in season plums, maple syrup for sweetness and the essence of cinnamon. It is truly one of everyone's favourite in the summer time, and it is dairy-free, gluten-free and has an egg-free option Makes one eight-inch round cake and serves six Read More
Prep Time
15 Minutes
Difficulty
Intermediate
Cook Time
60 Minutes
Serves
8
© Copyright 2017 Only Gluten Free Recipes. All Rights Reserved.