Grain-Free Beef Burrito Casserole
Prep Time
20 Minutes
Difficulty
Easy
Cook Time
60 Minutes
Serves
6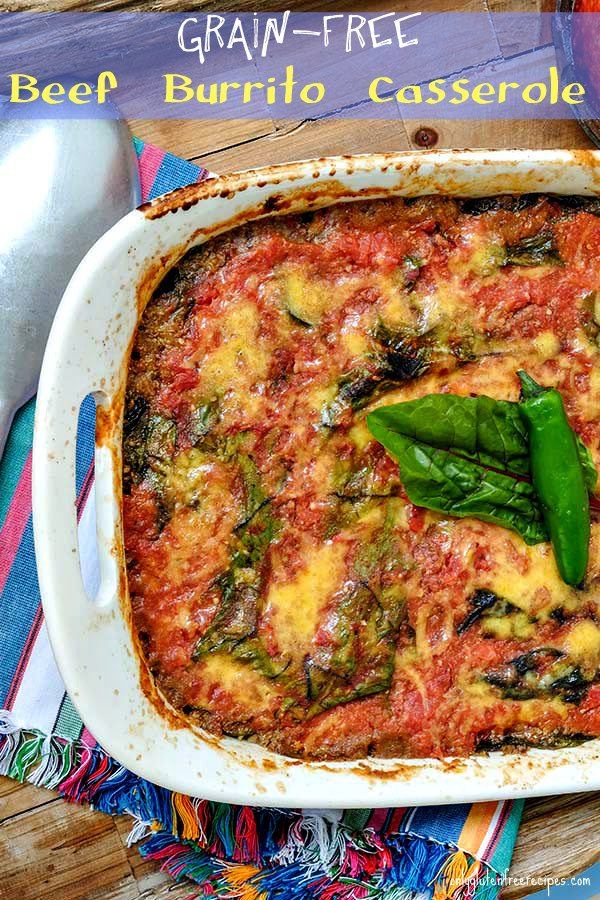 Now here is a burrito that will impress those who love Mexican food. Imagine a burrito without rice and tortilla. In this grain-free beef burrito casserole, the flavours come from deliciously spiced beef, beans, cauliflower rice and cheese. Instead of using tortillas the burrito filling is layered between red chard leaves and topped with sauce and melted cheese. Why load up on rice and wheat when you don't have to. Enjoy!
Ingredients
1 Tbsp. extra virgin olive oil
1 medium-size yellow onion, chopped
1 ½ lb. lean ground beef
1 jalapeno pepper, de-seeded and thinly sliced
2 Tbsp. GF chili powder
4 garlic cloves, finely chopped or 1 tsp. GF garlic powder
2 tsp. GF ground cumin
2 tsp. GF oregano
1 tsp. cayenne pepper or to taste
1 ½ tsp. sea salt
1 x 398 ml. can pure tomato sauce, divided
3 cups cauliflower rice (about ½ medium cauliflower) see recipe below
3 cups cooked black beans or (2 x 398 ml. cans) rinsed and drained
1 small zucchini with skin, roughly chopped
2 cups shredded cheddar cheese, divided
1 bunch red chard leaves, stems cut off (about 9 large leaves)
3/4 cup gluten-free chicken or vegetable broth
Instructions
Using a large saucepan sauté onions in olive oil for 3 - 5 minutes until translucent
Turn the heat to high and add beef, jalapeno pepper, chili powder, garlic, cumin, oregano and cayenne pepper. While stirring, cook the beef until slightly browned.
Add salt and ½ cup tomato sauce. Cover and simmer over low heat for 15 minutes
Preheat oven to 400 F and brush a 3-quart (9x12-inch) casserole dish with olive oil
Place beans and zucchini in a food processor and process until it resembles refried beans. Add to beef mixture with cauliflower rice and cook until heated through about 5 minutes. Stir in 1 ¼ cup of cheddar cheese and set aside
Layer casserole dish with 1/3 of the chard leaves, then ½ the burrito mixture and repeat ending with chard leaves
Whisk together the remainder of tomato sauce and chicken broth and pour over the casserole. Cover with foil and bake for 35 minutes. Remove foil and sprinkle with remainder of cheese. Bake for 5 more minutes
Remove from the oven and rest for 15 minutes before serving
*Cauliflower rice - place cauliflower florets in a food processor and pulse until cauliflower resembles rice
Similar Recipes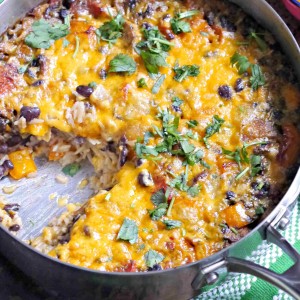 Gluten Free Burrito in a Skillet
This gluten free dish has all the delicious ingredients of a vegetarian burrito without the tortilla. At the end of the day having a hearty nutritious meal that takes only minutes to prepare is always welcome. For this delish, Mexican recipe all you need is one large skillet and an oven. What a nice relaxing […] Read More
Prep Time
10 Minutes
Difficulty
Beginner
Cook Time
45 Minutes
Serves
6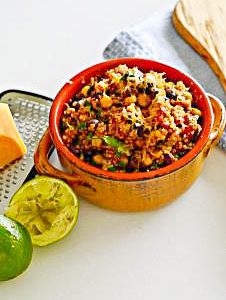 Gluten-Free Mexican Inspired Quinoa
Discover flavours of Mexico in this deliciously spiced gluten-free quinoa recipe. This dish makes an excellent addition to chicken or pork but can also be served as a main for a vegetarian option. This is a budget friendly quinoa recipe packed with healthy nutrients rich in fiber and protein. Quinoa never tasted this good before! […] Read More
Prep Time
5 Minutes
Difficulty
Easy
Cook Time
20 Minutes
Serves
6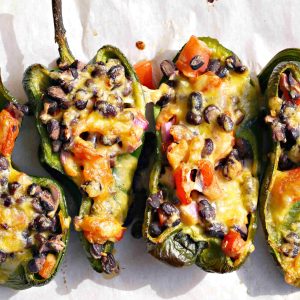 Stuffed Roasted Poblano Pepper
Mexican food at it's best! Great ingredients treated simply in a vibrant harmony of tastes. When your appetite calls for Mexican food, nothing beats this quick snack. Thinking of lunch, add some rice or a light green salad. This is a naturally gluten free vegetarian recipe. Disfruta! Read More
Prep Time
15 Minutes
Difficulty
Easy
Cook Time
20 Minutes
© Copyright 2017 Only Gluten Free Recipes. All Rights Reserved.