Easy Spicy Chicken Ramen Soup
Prep Time
15 Minutes
Difficulty
Moderate
Serves
4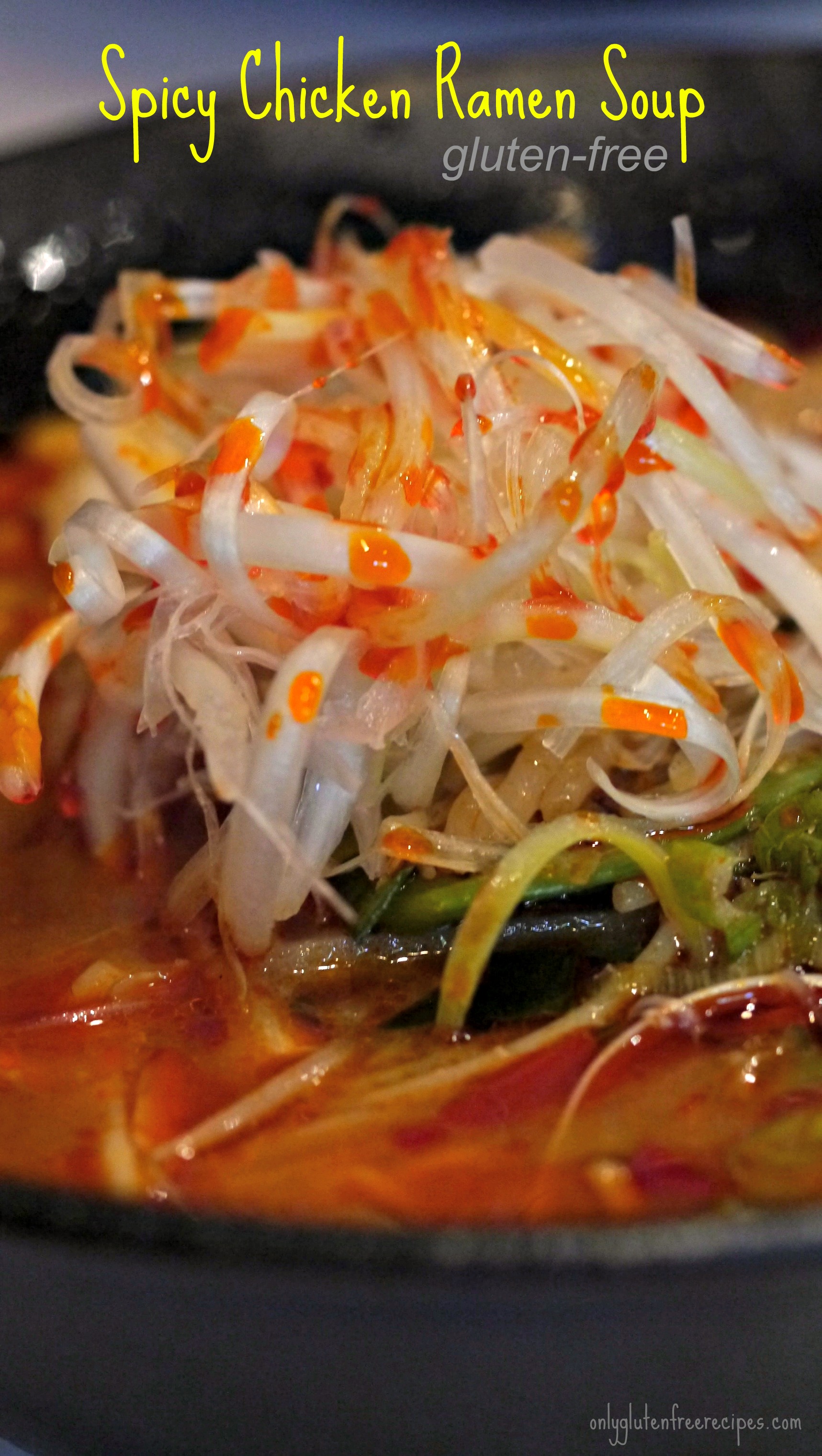 Average Rating: 5 | Rated By: 1 users
This is a hearty noodle soup served in Japan often as a main course. Ramen is a staple noodle in Japanese cuisine. This is an easy beginner ramen recipe and you can make it as spicy as you like.
Ingredients
2 Tbsp. grape seed oil
1 organic leek, thinly sliced lengthwise about 2 inches long
1/2 organic red pepper, thinly sliced + 2 garlic cloves, crushed +1 tsp.organic GF hot chili flakes + 1tbsp. freshly minced ginger
6 cups organic GF chicken stock + 4 tbsp. organic GF GMO free miso paste +2 tsp. organic low sodium gluten-free tamari sauce
2 organic boneless, skinless chicken breasts, thinly sliced
1 tsp. organic sesame oil
4 oyster mushrooms, thinly sliced +1/2 cup organic frozen corn +1/2 cup organic snow peas +1 tsp. fresh lime juice +1 tsp. pure maple syrup + 1/2 cup bamboo shoots (optional) + 1 cup fresh bean sprouts + 1 organic green onion, thinly sliced for garnish
4 cups cooked GF soba or rice noodles, cook as per package instructions (keep warm)
Instructions
Add grape seed oil, 1/2 the leeks, red pepper, garlic, chili flakes and fresh ginger into a large sauce pan, sauté for 3 minutes on low heat
Add chicken stock, miso, tamari, chicken, sesame oil, mushrooms and corn simmer for 5 more minutes on low heat
Add snow peas, lime juice, maple syrup, bamboo shoots and bring to boil, turn off the heat and serve immediately
To serve: Divide noodles into 4 large soup bowls, add bean sprouts and ladle the hot soup on top, add remainder of leeks and sprinkle with green onions. Then add a little more soup over the leeks. This recipe makes 4 large soup bowls.