Detox Lentil Salad Recipe
Prep Time
10 Minutes
Difficulty
Easy
Cook Time
25 Minutes
Serves
6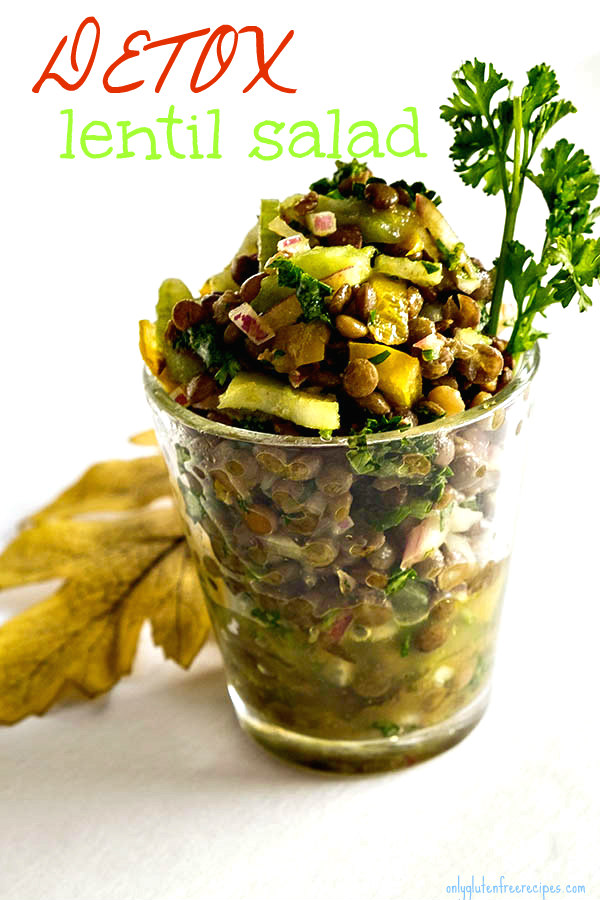 Lentils an ancient food are the powerhouse of nutrients. Some of the health benefits include high protein, iron, folate, vitamin B1, healthy heart, weight loss, cancer, help with digestions, and maintain healthy nervous system just to name a few.
This vegan recipe comes together fast and easy with added health benefits that help detox your body for optimum health. Include this tasty lentil salad in your lunchbox, as a main, side or as anytime healthy snack. Enjoy!
Ingredients
2 cups dry organic French lentils
1 bay leaf
4 cups water
1 tsp. sea salt
3 organic celery stalks, diced
1 organic red onion, finely chopped
1 organic yellow or red bell pepper, cut to bite size pieces
1 bunch organic parsley, finely chopped
DETOX DRESSING
½ cup raw organic apple cider vinegar
½ cup extra virgin olive oil
1 Tbsp. raw honey
2 organic garlic cloves, minced
½ tsp. turmeric
½ tsp. cumin
½ tsp. sea salt or to taste
¼ tsp. cayenne pepper
Instructions
Add lentils, bay leaf, water and 1 teaspoon of salt into a medium size pot and bring to a boil. Reduce heat to low, cover and cook for 25 – 30 minutes or until the lentils are tender. Drain and cool
Add cooled lentils, celery, onion, bell pepper and parsley into a large bowl
Mix dressing ingredients and add to the lentils
Mix all the ingredients until well combined. Cover and rest for 1 hour or overnight. Stir just before serving
Note: This salad will keep up to 5 days when refrigerated. Bring to room temperature before serving
Similar Recipes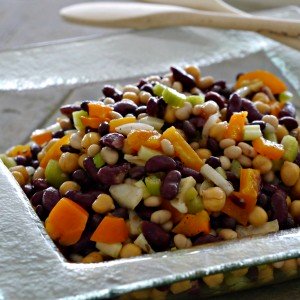 Bean Salad with Light Vinaigrette
Bean salad is wonderful addition for every occasion especially for large dinner parties, particularly if you have unexpected vegetarian guests. This hearty salad takes only minutes to prepare, and you can make it well in advance Read More
Prep Time
10 Minutes
Serves
6-8
Broccoli Slaw with Citrus Dressing
In this lively healthy slaw, the delicious citrus dressing is soaked up in a colorful medley of healthy vegetables and fresh herbs. Serve this naturally gluten free slaw as a main or with fish, chicken or pork. In summer time, this salad is a winner at any barbecue get-together Read More
Prep Time
20 Minutes
Difficulty
Easy
Serves
4
Cabbage, Fennel And Pear Crunch
HERE ARE SOME REASONS WHY WE SHOULD BE EATING THIS SUPER HEALTHY POWER SALAD Cucumber hydrates the body and some studies have shown it reduces the risk of some cancers Cabbage is high in vitamin C and vitamin K and helps keep blood pressure down and is also high in sulfur, which is also called […] Read More
Prep Time
20 Minutes
Difficulty
Easy
Serves
4
© Copyright 2017 Only Gluten Free Recipes. All Rights Reserved.