Winter Salad with Maple Ginger Chicken
Prep Time
15 Minutes
Difficulty
Moderate
Cook Time
40 Minutes
Serves
4
This healthy salad is topped with tender chicken and maple ginger glaze. Adding a light vinaigrette and slightly blackened sweet peppers add a little warmth to this delicious winter salad. Winter salads don't have to be heavy to be hearty. This salad has an Asian twist making it one of a kind. Enjoy!
Ingredients
8 organic skinless boneless chicken thighs
2 tbsp. gluten-free tamari sauce
1 tbsp. freshly minced ginger
1 tbsp. pure maple syrup
2 organic peppers, red or orange, cut into strips
1 tbsp. extra virgin olive oil
1 head of organic romaine lettuce, wash, dry and break the leaves into large pieces
1 avocado, thinly sliced
For the dressing ~ 2 tbsp. extra virgin olive oil + 1 tbsp. organic GF apple cider + 1 tbsp. GF tamari sauce + 1 minced garlic clove + 1 tsp. pure maple syrup Sea salt and organic GF freshly ground black pepper to taste
Instructions
Preheat oven to 400 F
Combine tamari sauce, ginger, maple syrup and chicken in a large bowl, rest for 15 minutes.
Place peppers on a baking sheet lined with foil paper, drizzle with olive oil and season with salt and pepper. Bake for 15 minutes then broil for 1 to 2 minutes until peppers are slightly black on the edges. Keep an eye on the peppers as not to burn them.
Place the chicken on a baking sheet lined with parchment paper and bake for 20 - 25 minutes at 400 F or until fully cooked. Just before serving cut the chicken into strips.
To construct ~ toss romaine and avocado with the dressing and place on a platter, arrange peppers on the outside and place the chicken on top of the salad. Season with salt and pepper to taste.
Similar Recipes
Broccoli Slaw with Citrus Dressing
In this lively healthy slaw, the delicious citrus dressing is soaked up in a colorful medley of healthy vegetables and fresh herbs. Serve this naturally gluten free slaw as a main or with fish, chicken or pork. In summer time, this salad is a winner at any barbecue get-together Read More
Prep Time
20 Minutes
Difficulty
Easy
Serves
4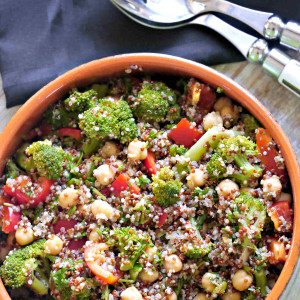 Broccoli, Quinoa and Chickpea Salad
This hearty salad is deliciously flavoured with light vinaigrette and fresh herbs. Serve as a side with your favourite main, or as a vegetarian entree. Read More
Prep Time
15 Minutes
Difficulty
Easy
Cook Time
10 Minutes
Serves
4

Cabbage Chop Salad
Our bodies benefit from raw food. This tasty, crunchy salad is loaded with nutrients and fiber, providing our body with healthy energy. There is nothing complicated about this chop salad, just chop and toss with a simple dressing. Read More
Prep Time
15 Minutes
Difficulty
Easy
Serves
4
© Copyright 2017 Only Gluten Free Recipes. All Rights Reserved.