Vegan Mocha Chia Pudding Recipe
Prep Time
5 Minutes
Difficulty
Beginner
Serves
4
Be the first to rate this recipe.
A vegan mocha chia pudding made with cocoa and coffee. This is my favourite pudding recipe because there are two things that I love coffee and chocolate.
To create this pudding, I used organic coffee, pure cocoa, dairy-free milk, pure maple syrup, vanilla and chia seeds. I have also added a mocha cream layer and fresh cherries, berries, or grapes. The fruit is optional, but I love chocolate with fruit. The coffee adds more flavour and gives richness to this most chocolaty pudding. Chia pudding is easy to make, mix the ingredients and chill for a few hours. Serve for breakfast, snack or as a healthy gluten-free dessert. Enjoy!
Looking for a breakfast chia pudding recipe? Check out our most popular chia pudding recipes ♥
Ingredients
MOCHA CHIA
1 cup hot organic coffee
1/4 cup pure maple syrup
1 tsp. pure vanilla extract
1 1/2 cups cold almond or coconut milk
MOCHA CREAM
1 Tbsp. Pure cocoa powder
1 Tbsp. Pure maple syrup
1/2 tsp. Pure vanilla extract
OPTIONAL LAYERS OR TOPPINGS; berries, cherries or grapes, halved
*As an Amazon Associate and member of other affiliate programs, I earn from qualifying purchases. Please check out my sponsorship and disclosure policy page for more details
Instructions
For the chia layer; Using a glass bowl, whisk hot coffee, cocoa powder, maple syrup and vanilla
Add cold milk and chia seeds and stir to combine. Cover and chill overnight
For the cream layer; whisk cocoa powder with maple syrup. Stir in coconut cream
To assemble; layer four glasses with chia pudding, cream and fruit
Similar Recipes
Cinnamon Chia Pudding with Cherry Compote
This cinnamon chia pudding with cherry compote is a classic with a cherry on top. Cherries are high in antioxidants, fiber, vitamin C all of which may play a role in cancer prevention. This yummy fruit also may help to increase your melatonin levels and improve your sleep. This healthy pudding may also help with […] Read More
Prep Time
10 Minutes
Difficulty
Easy
Cook Time
5 Minutes
Serves
4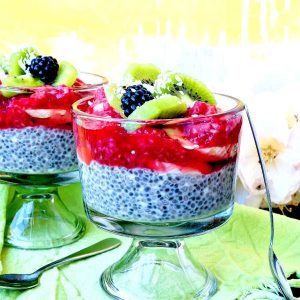 Coconut Chia Pudding with Raspberry Sauce
Starting your day with chia pudding is a way to go since this super seed is known to be one of the most nutritious foods. In this delightful creamy coconut chia pudding, I have added maca powder to boost health benefits even more. Studies have shown that maca reduces chronic fatigue syndrome, boosts energy and […] Read More
Prep Time
10 Minutes
Difficulty
Easy
Cook Time
3 Minutes
Serves
4
Immune Boosting Papaya Chia Breakfast Pudding
Papaya is excellent for detoxification because of the ingredients this delicious fruit has. The delicious fruit contains an enzyme called papain which helps with digestion. The powerful antioxidants in papaya can help your skin recover from sun damage, keeping your skin healthy and contribute to reducing wrinkles. Papaya is a tropical fruit low in calories […] Read More
Prep Time
10 Minutes
Difficulty
Beginner
Serves
4