Vanilla Chia Pudding With Blueberries
Prep Time
5 Minutes
Difficulty
Beginner
Serves
4
Average Rating: 5 | Rated By: 3 users
This vanilla chia pudding can be served for breakfast, snack or dessert and will accommodate most diets. This plant-based recipe is nutrient-packed and takes 5 minutes to prepare using only six ingredients.
This simple to make creamy vanilla chia pudding with blueberries is gluten-free, dairy-free, paleo, acceptable for a raw diet and super tasty. Not to mention healthy! For more breakfast ideas check out our complete list of gluten-free breakfast recipes.
chia seeds have astounding health benefits…
Chia seeds have become the staple of the modern diet. This tiny naturally gluten-free seed is another superfood that nutritionists highly recommend including in our diet.
Let's look at some chia key points. One tablespoon of chia seeds has two grams of protein and five grams of fiber…very impressive. Including chia in a plant-based diet is especially beneficial because of the protein.
Chia seeds also contain several vitamins and minerals such as phosphorus, calcium, vitamin A, omega 3 fatty acids… to name a few. Incorporating chia into a well-balanced diet will help our body stay healthy and energized.
the blueberries…
Blueberries not only taste delicious, but they are super healthy. This is why blueberries are called a superfood. A healthy diet will impact how you feel, look, and help you live longer.
Blueberries are well known for their antioxidant and phytonutrient properties. These small berries are not shy of vitamin C and potassium, making them an excellent choice to add to your diet. Blueberries can lower your risk of cancer and heart disease. But mostly, they are known for their anti-inflammatory properties.
Breakfast never looked this easy! You can make vanilla chia pudding in advance, having it ready for when you are. In this recipe, I used blueberries, but you can use any berry or other fruit. The vanilla adds a nice touch giving this pudding that extra deliciousness.
Just add and mix and create your version of a delicious healthy chia pudding. I often add a dollop of yogurt and some seeds and nuts for a more satisfying snack. Enjoy!
Ingredients
2 cups unsweetened coconut milk (not canned)
1 tsp. pure vanilla extract
2 ½ tsp. GF ground cinnamon
¼ cup pure maple syrup
2 cups organic fresh or frozen blueberries
*As an Amazon Associate and member of other affiliate programs, I earn from qualifying purchases. Please check out my sponsorship and disclosure policy page for more details
Instructions
In a glass bowl combine coconut milk, vanilla, cinnamon, maple syrup and chia seeds. Cover and refrigerate for 15 minutes
Stir in blueberries and refrigerate overnight. The pudding will keep up to 5 days when refrigerated
Similar Recipes
Chocolate Chia Pudding
Indulge in this heavenly gluten-free chocolate dessert. This creamy chocolate chia pudding is rich in fiber, protein and antioxidants. Serve as a dessert, snack or add some fresh fruit and enjoy it for breakfast Read More
Prep Time
5 Minutes
Difficulty
Beginner
Serves
4
Cinnamon Chia Pudding with Cherry Compote
This cinnamon chia pudding with cherry compote is a classic with a cherry on top. Cherries are high in antioxidants, fiber, vitamin C all of which may play a role in cancer prevention. This yummy fruit also may help to increase your melatonin levels and improve your sleep. This healthy pudding may also help with […] Read More
Prep Time
10 Minutes
Difficulty
Easy
Cook Time
5 Minutes
Serves
4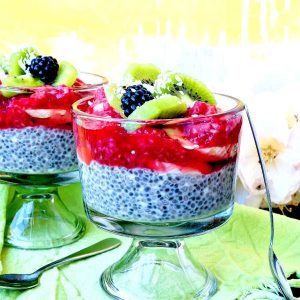 Coconut Chia Pudding with Raspberry Sauce
Starting your day with chia pudding is a way to go since this super seed is known to be one of the most nutritious foods. In this delightful creamy coconut chia pudding, I have added maca powder to boost health benefits even more. Studies have shown that maca reduces chronic fatigue syndrome, boosts energy and […] Read More
Prep Time
10 Minutes
Difficulty
Easy
Cook Time
3 Minutes
Serves
4