Skillet Tomato Cheese Fettuccine (Keto, Vegetarian, Gluten-Free)
Prep Time
10 Minutes
Difficulty
Easy
Cook Time
30 Minutes
Serves
4
Average Rating: 5 | Rated By: 3 users
I was thinking, it's time to make a healthy low-carb Italian pasta dinner, don't you agree? This is definitely the keto pasta recipe to add to this month's healthy recipes. Just imagine a low carb pasta smothered in the most flavourful Italian tomato cheese sauce. The sauce is spiced up with oregano, basil and bay leaves and to give the sauce some texture I added grated zucchini. To make the sauce deliciously creamy, I added light cream cheese. Honestly, you can eat the sauce by spoonfuls it is that good. The recipe is super simple to make, all you need is one large skillet if you don't have one you can also use a large pot. First, sauté the onions with garlic, add the herbs and spices, tomato sauce, some broth and zucchini. Cook for 20 minutes, then stir in cream cheese and fresh basil. Once the sauce is finished, stir in the low-carb pasta.
I am so excited because I discovered this low carb gluten-free tofu shirataki fettuccine that has only 1 net carb per serving, and the fettuccine tastes better than regular pasta. There is plenty of sauce to drench the pasta making this an outstanding healthy pasta meal. You will love it and the best part, it is low-carb which is essential for those who follow the keto diet. Mangiare as they would say in Italian and enjoy 🙂 I always love to hear from you, so if you try this recipe, please let me know in the comments section what you think. Total net carbs per serving approximately 6 grams, depending on the tomato sauce and noodles you use
Ingredients
2 Tbsp. Extra virgin olive oil
1 small onion, finely chopped
3 garlic cloves, grated
1 Tbsp. GF dried oregano
1 Tbsp. GF dried basil
2 GF bay leaves
Crushed red pepper flakes to taste (optional) I used 1 teaspoon
1/2 cup pure tomato sauce
1 cup GF vegetable broth or broth of choice, even water works
1 1/2 cup (1 medium-small) grated zucchini, with skin on
1 tsp. Himalayan salt
1/2 cup (4 oz.) light cream cheese, cubed
Handful chopped fresh basil for serving
Instructions
In a 12-inch skillet heat olive oil over medium-low heat. Add onions and garlic and cook until soft. About 5 minutes
Stir in oregano, basil, bay leaves, and red pepper flakes. Add tomato sauce, vegetable broth, zucchini and salt. Stir to combine and cook covered over medium-low heat for 20 minutes
Remove bay leaves from the sauce and stir in cream cheese and some fresh basil cook until the cheese has melted. About 3 minutes. Add the fettuccine and cook over medium heat until the pasta is heated through and the sauce starts to bubble. About 3 more minutes.
Serve with fresh basil
Similar Recipes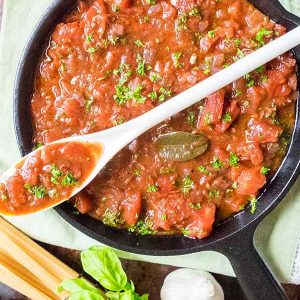 Fresh Tomato Marinara Sauce
Nothing beats freshly made marinara sauce from fresh tomatoes. In this recipe, the tomatoes are simmered with herbs, wine and garlic creating a vibrant and flavourful sauce without unwanted additives and gluten that you may find in the canned marinara sauce. Marinara sauce is very versatile. This delicious vegan Italian sauce can be served with […] Read More
Prep Time
15 Minutes
Difficulty
Easy
Cook Time
40 Minutes
Serves
4 cups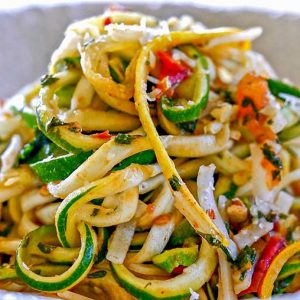 Gluten Free Zucchini and Rice Noodles Pasta
Three words that describe this delicious gluten-free pasta dish! Healthy, simple and delicious! Using only fresh ingredients, this vegetarian pasta dish takes only 15 minutes to prepare. The vegetables are done to perfection and spiced just right Read More
Prep Time
10 Minutes
Difficulty
Easy
Cook Time
5 Minutes
Serves
4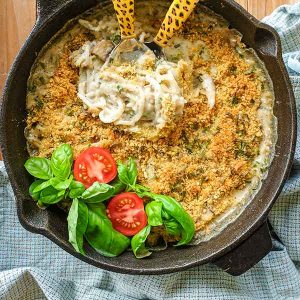 Mushroom Zucchini Tetrazzini (Vegan, Gluten-Free)
I combined mushrooms with fresh zucchini, thyme and garlic to make this delicious creamy vegan pasta sauce. It is such a simple recipe, and yet there is so much flavour. The veggie pasta is then baked with a crunchy topping. By adding zucchini to this dish, I cut back on pasta, thus cutting back on […] Read More
Prep Time
10 Minutes
Difficulty
Easy
Cook Time
30 Minutes
Serves
4