Pineapple Date Chia Pudding
Prep Time
5 Minutes
Difficulty
Easy
Serves
4
Average Rating: 5 | Rated By: 10 users
The most delicious Pineapple Date Chia Pudding! There is no end to the imagination when making chia pudding. In this healthy recipe, pineapple and dates naturally sweeten this simple to make pudding. 
This chia pudding recipe is an easy way to add healthiness to your diet. You will need only five ingredients and five minutes to make a cup of deliciousness.
I have also added maca powder, which has many health benefits, including vitamin B, C, E, calcium, zinc and iron.
The carefully chosen ingredients in this healthy chia pudding will promote a healthy weight and keep you energized. 
How to serve pineapple date chia pudding?
Start your day with this naturally gluten-free chia pudding, or enjoy it as a dessert with some cream and berries. It is all about taking preventive steps today to live a healthy and happy life.
Need more inspiration for weight loss? Check out our cooking light gluten-free recipes.
Ingredients
2 cups cashew or almond milk
5 Tbsp. GF chia seeds
½ cup roughly chopped fresh pineapple
6 medjool dates, pitted and finely chopped
1 tsp. maca powder
Toppings: yogurt, pineapple, berries, seeds and nuts
*As an Amazon Associate and member of other affiliate programs, I earn from qualifying purchases. Please check out my sponsorship and disclosure policy page for more details
Instructions
Mix all the ingredients except the toppings. Stir and chill overnight
To serve, transfer chia pudding into serving cups and top with desired toppings
Similar Recipes
Chocolate Chia Pudding
Indulge in this heavenly gluten-free chocolate dessert. This creamy chocolate chia pudding is rich in fiber, protein and antioxidants. Serve as a dessert, snack or add some fresh fruit and enjoy it for breakfast Read More
Prep Time
5 Minutes
Difficulty
Beginner
Serves
4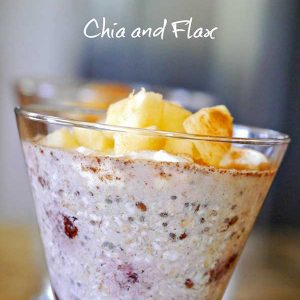 Overnight Oats with Chia and Flax
Starting with Overnight Oats with Chia and Flax is a healthy, delicious way to begin your day. Morning is a busy time for most of us. Having a power-packed healthy gluten-free breakfast ready when you are, is always welcome.  This creamy and delicious overnight oatmeal breakfast is packed with omega-3's, protein, iron, vitamin C, fiber […] Read More
Prep Time
5 Minutes
Difficulty
Easy
Serves
2
Cinnamon Chia Pudding with Cherry Compote
This cinnamon chia pudding with cherry compote is a classic with a cherry on top. Cherries are high in antioxidants, fiber, vitamin C all of which may play a role in cancer prevention. This yummy fruit also may help to increase your melatonin levels and improve your sleep. This healthy pudding may also help with […] Read More
Prep Time
10 Minutes
Difficulty
Easy
Cook Time
5 Minutes
Serves
4