Gluten Free Lemon Creamy Chia Pudding
Prep Time
10 Minutes
Difficulty
Beginner
Serves
6
Average Rating: 5 | Rated By: 3 users
A healthy Lemon Creamy Chia Pudding to start your day! This is the chia version of tapioca pudding. It is nutritionally enhanced, takes just minutes to make, but it's just as delicious. Try something different by topping the pudding with fresh berries or substituting almond extract for the vanilla.
There is no age limit for enjoying this pudding, and the best part it can be eaten anytime – there is simply nothing unhealthy about it!
The chia pudding is made with eight healthy ingredients, some of which are creamy avocado and fresh lemon juice. The main ingredient in this pudding is chia, a well known seed to be among the most nutritious foods on the planet. This tiny seed is packed with omega-3 fatty acids, protein and fiber, to name just a few. Chia seeds are also naturally gluten-free.
The only question is, would you eat the creamy chia pudding for breakfast, a snack or dessert? For breakfast, I would add fresh fruit, for a delicious snack add roasted nuts, and for a dessert some tasty coconut cream. Enjoy!
♥

Here is a list of some of our most popular chia puddings.
Cinnamon Chia Pudding with Cherry Compote
Here is a complete list of our gluten-free chia pudding recipes
Ingredients
2 ½ cups unsweetened coconut milk or milk of your choice
1 medium size ripe avocado
1/3 cup fresh lemon juice
¼ cup pure maple syrup or liquid honey
1 Tbsp. melted coconut oil
1 tsp. pure vanilla extract
¼ tsp. Fine sea salt
½ cup GF white chia seeds
Topping choices; Lemon zest, berries, banana, seeds and nuts, coconut whipped cream
*As an Amazon Associate and member of other affiliate programs, I earn from qualifying purchases. Please check out my sponsorship and disclosure policy page for more details
Instructions
Add milk, peeled and pitted avocado, lemon juice, maple syrup, coconut oil, vanilla and salt to a high-speed blender, and blend until smooth
Pour mixture into a medium-size bowl and whisk in chia seeds. Cover and chill for one hour
After an hour stir the pudding to redistribute the chia seeds evenly. Cover and refrigerate overnight
Serve with desired toppings
NOTE: if the pudding seems too thick add more milk one tablespoon at a time until you reach desired consistency
Similar Recipes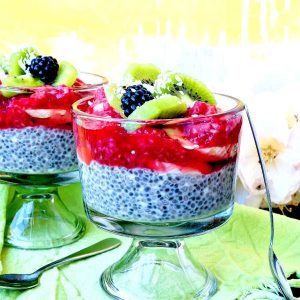 Coconut Chia Pudding with Raspberry Sauce
Starting your day with chia pudding is a way to go since this super seed is known to be one of the most nutritious foods. In this delightful creamy coconut chia pudding, I have added maca powder to boost health benefits even more. Studies have shown that maca reduces chronic fatigue syndrome, boosts energy and […] Read More
Prep Time
10 Minutes
Difficulty
Easy
Cook Time
3 Minutes
Serves
4
Immune Boosting Papaya Chia Breakfast Pudding
Papaya is excellent for detoxification because of the ingredients this delicious fruit has. The delicious fruit contains an enzyme called papain which helps with digestion. The powerful antioxidants in papaya can help your skin recover from sun damage, keeping your skin healthy and contribute to reducing wrinkles. Papaya is a tropical fruit low in calories […] Read More
Prep Time
10 Minutes
Difficulty
Beginner
Serves
4
Layered Chia Pudding with Maple Glazed Walnuts
When it comes to chia pudding, it is so versatile. In this chia pudding, I used grapefruit, yogurt, grapes and honeydew melon keeping the pudding cool and refreshing. The maple glazed walnuts add a nice crunchy texture to the lightly sweetened pudding. If you feel creative choose your layers and toppings, it is so much […] Read More
Prep Time
10 Minutes
Difficulty
Easy
Cook Time
3 Minutes
Serves
4