4 Ingredient No Bake Chocolate Marshmallow Balls
Prep Time
10 Minutes
Difficulty
Beginner
Cook Time
5 Minutes
Serves
24
Be the first to rate this recipe.
December comes around only once a year, so it's ok to spoil ourselves with some sweet treats. These gluten-free chocolate marshmallow balls are nothing fancy, and they take only 10 minutes to make. When you combine marshmallows with chocolate, you have a winner. These little chocolate marshmallow balls are gooey, sticky with a bit of crunch…they are that perfect gluten-free sweat treat!
hands down this is a favourite sweet by all kids…
Make ahead desserts are a must during a busy holiday months.  
here is how the chocolate marshmallow balls are made…
Melt some butter with marshmallows, stir in chocolate and your favourite gluten-free cereal…roll into balls! That's it, super simple. They are perfect for snacking, make a nice addition to a cookie platter or give as a hostess gift, or add to your kids lunch box as a special treat. Enjoy!
Ingredients
3 Tbsp. Unsalted butter
note; if you are using larger cereal like corn flakes, using your hands crunch it up into smaller pieces
*As an Amazon Associate and member of other affiliate programs, I earn from qualifying purchases. Please check out my sponsorship and disclosure policy page for more details
Instructions
Heat butter over medium-low heat in a large non-stick saucepan. Once the butter has melted add the marshmallows and while stirring melt them until smooth. About 5 minutes
Remove from the heat and stir in cereal and chocolate chips, do not over mix
Lightly spray your hands with non-stick cooking oil and Immediately working quickly start making the balls before they set. They don't have to look perfect. You can also use an ice cream scoop just make sure to spray it with non-stick cooking oil. Place balls on a large tray or baking sheet lined with parchment paper until set. About 2 hours
Store refrigerated in an airtight container for up to 30 days. Bring to room temperature before serving
Similar Recipes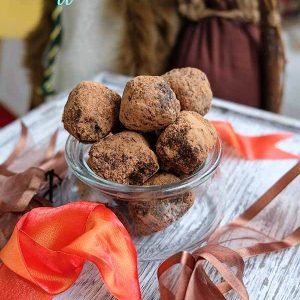 Gluten-Free Coffee Rum Balls
Not your typical coffee rum ball recipe. Dates, walnuts, pineapple, and cherries tie nicely with coffee and rum for a festive sweet treat. I promise you that these gluten-free coffee and rum flavoured mini desserts will satisfy your sweet tooth every time. What is a coffee rum ball? These sweet treats are sweetened with only […] Read More
Prep Time
15 Minutes
Difficulty
Easy
Serves
20 balls
Grain-Free Tropical Chocolate Rum Balls
Every holiday platter should include chocolate rum balls. So if you are looking for a bit of sweetness after dinner, these grain-free tropical chocolate rum balls are just what you need to satisfy the craving. The healthy ingredients in these tropical rum balls!     The chocolaty grain-free rum balls are made with almond flour, […] Read More
Prep Time
15 Minutes
Difficulty
Easy
Serves
20 balls
Paleo Chocolate Pistachio Balls
Here is another healthy gluten-free dessert for your recipe box. The richness of cocoa combined with the buttery taste of pistachios is what makes these amazing paleo chocolate nuggets. These addictive sweets are filling, so all you need is one, that is if you can stop there Read More
Prep Time
20 Minutes
Difficulty
Easy
Cook Time
6 Minutes
Serves
36