How to Cook Thick Sirloin Steak to Perfection – Try These Two Methods
BY ALEX COLEMAN
A perfectly cooked steak can be the centerpiece to an amazing meal. But do you really know how to cook thick sirloin steak to perfection? Probably you think that it's all about balancing a lower internal temperature with higher external temperature.
But here we will give you two different recipes on how to cook sirloin steak in a pan and directly on coal which would be totally opposite to this idea, yet would provide you with delicious thick juicy steaks that will compel your guests to give you a big round of applause.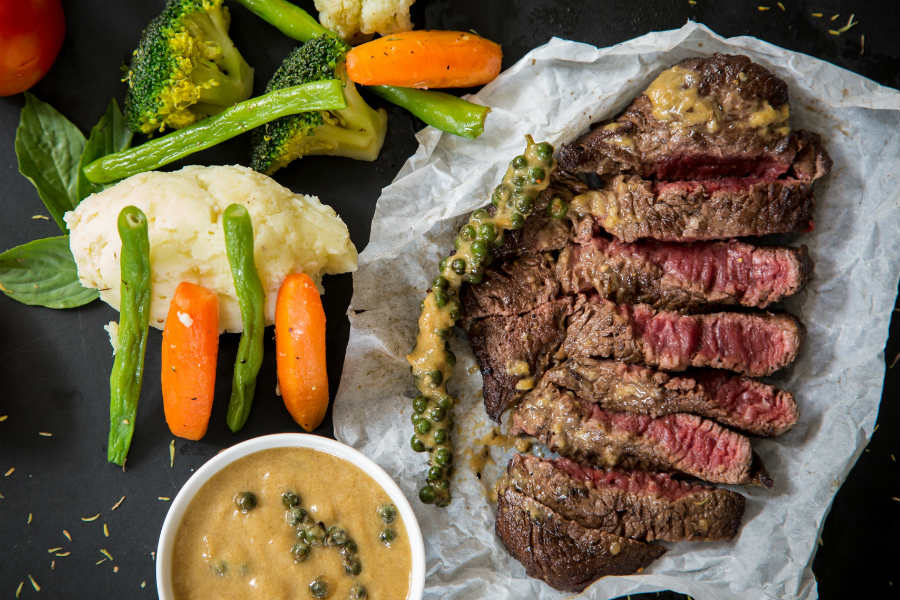 Butter-Basted Cast Iron Seared Steak
Prep Time: 3 Mins
Difficulty Level: Beginner
Cooking Time: 10-12 Mins
Serves: Single
Ingredients:
T-Bone Steak (1½ inch thick)
Canola oil
Butter
Pepper
Hawaiian salt
Sea salt
Thyme or Rosemary
Instruction:
The first thing you have to do to get the perfect cast iron seared steak is making sure there's no moisture on the steak. You want to pat it dry thoroughly with a paper napkin, so all the extra moisture is gone.
Before you pan-seared sirloin steak with butter, you need to season the steak. For this purpose, I personally like to use Alaea, which is also known as the Hawaiian salt, but Himalayan salt is another option. Then you have to season it with black pepper. Once you are done, flip the steak over and season the other side as well.
However, you should always try to get even seasoning on the entire piece of steak because that is precisely what is going to make a big difference. If you under season the steak, there will be no flavour, but if you season it properly, this will be like night and day.
The next thing you need to do is put the steak on to the cast iron pan. Then pour a little bit of canola oil on the pan and swirl it around, so the oil gets evenly coated on the surface of the pan. Now gently place the steak over the pan and make sure you stand away from the pan while doing so to avoid the oil splatter.
Try to use a cast iron skillet because it will give you that much-desired even heat.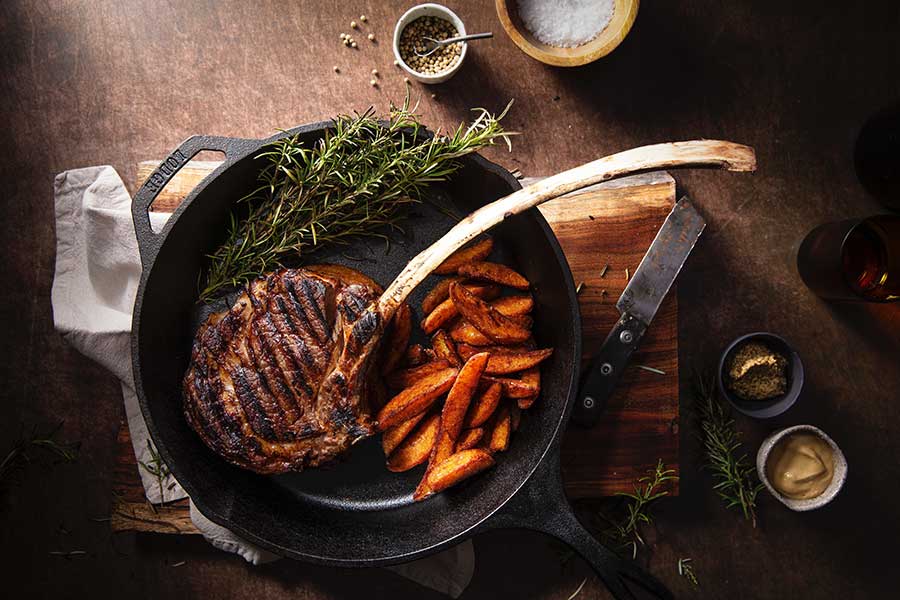 When your steak is on the pan, you will see nice and clear smoke and hear a loud sizzling sound which is a good indicator. Peep underneath your steak to see if there is an even layer of canola oil and the steak is already brown.
If it is getting brown put a little bit of butter onto the pan and let that butter melt on the base. Basting the butter over your steak will give a great buttery flavour, which is also going to be helpful for browning. Now add some thyme and rosemary and little bit more butter.
You can use either thyme or rosemary, but I prefer the blend of both.
Once you get the herbs on the pan make sure there's a functional layer of butter under the steak for a good crust. Then you can start basting the steak with that brown, nutty, delicious butter from the pan with a spoon. You really need to consider basting because this will ensure the juiciness of the steak and you will have the flavour you have been longing for.
When you find the bottom side of your steak's crust is golden brown and crispy, you will have to flip it over. Continue to baste the steak and make sure that it stays moist throughout the cooking process. Check for the colour, crust and and see to that you are not overcooking it.
Usually, a steak that is one and a half inch thick needs some time to be cooked. So, the butter you have poured earlier will get expired because of the length of time you are cooking the steak to bring about that crust and colour.
So, add some more fresh butter for the base to finish cooking the steak.
To check the temperature always use a meat thermometer because this is going to give you a precise reading. For a medium-rare steak, you will be looking for about 120° to 125° C.
Once you hit that magic number, you can take the steak out of the pan and let it rest for about five minutes, so all the juices get sucked back into the steak. When the time is over go ahead and slice it nicely for a beautiful presentation.
The nice thing about a thick steak is that you will get a good crust on both sides, yet there will be the medium rare doneness inside. Finally, add a pinch of sea salt over the steak which will give a few bursts of texture and salty mineral flavour.
Caveman Style Steak
Prep Time: 10 Mins
Difficulty: Intermediate
Cook Time: 16 Mins
Serves: 1
Ingredients:
Sirloin Steak (1½ inch thick)
Grapeseed oil
Cattleman's Grill Tuscan Steak or Cattleman's Grill California Tri-Tip Seasoning
Instruction:
My next recipe is grilling caveman steaks directly on the charcoal on a charcoal smoker. For this recipe you can get different kinds of steak that are usually 1 and ½ inch thick, but the techniques for all the cut are same no matter what you're cooking. For example, you can get porterhouse steak or maybe tomahawk ribeye steak.
First of all, prepare your chimney with charcoal to dump the steak. For seasoning apply a little bit of grapeseed oil as a binder for the rub, I like to use Cattleman's Grill Tuscan Steak or Cattleman's Grill California Tri-Tip Seasoning.
Tuscan seasoning has pretty coarse rub, so use a spice mill to get a nice, even texture without overdoing it. A thick steak has so much of surface area, so you might want to season the sides as well. Make use of every opportunity to get that flavour in every part of your steak.
When seasoning is done, you are going to go head over to your grill and prepare the coal bed.
Cover half of your grill with hot coals and the other half without coal for indirect heat. The indirect heat will require you to finish up your steak after you have grilled it directly on the coal.
Before you place your steak on the coal bed, get rid of the ash so that it doesn't wind up on your steak. You can use a tray for this purpose.
Now directly place your steak over the coal for about three minutes to get that nice and dark char and then flip it over to do the other side for another three minutes. You may find it burnt, but it is not actually burnt, the surface is just nicely crisped, and you will have some delicious char flavour.
Check with a meat thermometer whether it is done. If the temperature is ranging between 125° to 130° C, then it is done. But if you see the temperature is below 125° C move your steak off to the indirect for 10 minutes more to finish it off and while doing so, make sure you have closed the lid of your grill.
When done, slice your steak open and see how it looks. You will get a nice little bit of pink for a medium-rare and your caveman steak would have the taste and flavour you have never experienced before.
So, now you know how to cook thick sirloin steak. Try these two methods at home with your family and friends. I am sure they will love these sirloin steak recipes.
For a selection of gluten-free beef recipes, including soups, stews, samosas, stuffed peppers, stir-frys and much more, check out onlyglutenfreerecipes.com

Alex Coleman's family has been farming in the Piedmont region of North Carolina longer than anybody remembers. The area is famous for "Lexington Style" barbeque, which focuses on pork shoulder barbeque served up with a variety of sauces based on ketchup, vinegar, and peppers. But Alex's daddy taught him so much more than that about grilling and smoking…Read more
Affiliate Disclosure: Only Gluten-Free Recipes is a participant in the Amazon Services LLC Associates Program, an affiliate advertising program designed to provide a means for sites to earn advertising fees by advertising and linking to amazon.com.