3 Healthy Breakfast Smoothie Bowls
3 Healthy Breakfast Smoothie Bowls to start your day. A quick and nutritious breakfast option is a top priority in today's fast-paced world. Smoothies have become popular thanks to their convenience, versatility, and numerous health benefits. Packed with essential nutrients, smoothies offer a refreshing and wholesome start to the day. Let's explore why smoothies are an excellent choice for breakfast.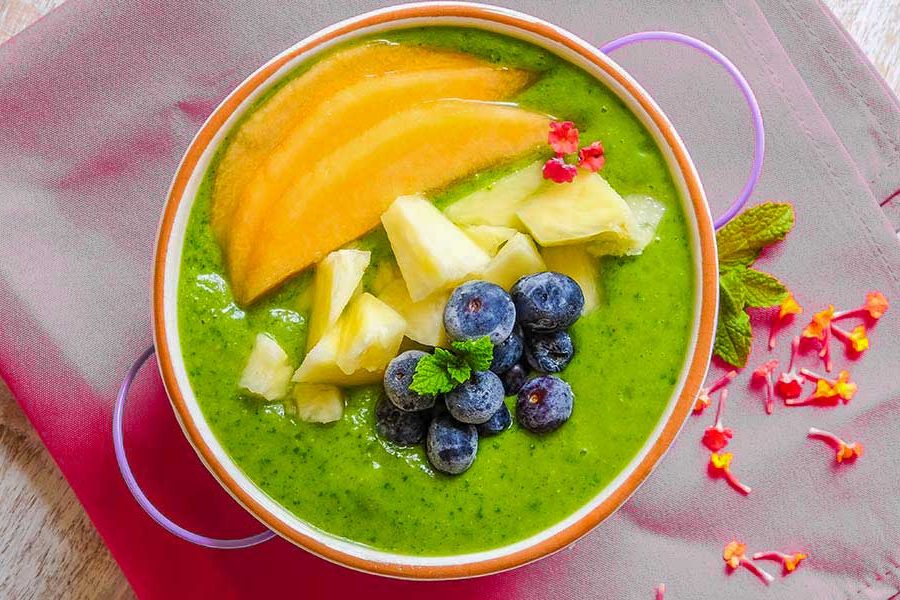 3 Healthy Breakfast Smoothie Bowls
To make a smoothie bowl, combine your favorite fruits, vegetables, and other ingredients in a blender and blend until smooth.
Then, pour the mixture into a bowl or a glass and top with whatever you like – fresh fruit, nuts or seeds, gluten free granola, or even chocolate chips. The possibilities are endless!
Why are smoothie bowls so popular?
Quick and Convenient: Smoothies are a time-saving solution for those with busy mornings. With just a few simple ingredients and a blender, you can whip up a nutritious meal in minutes. They are easily portable, allowing you to enjoy them on the go, making them an ideal choice for individuals with hectic schedules.
Abundant Nutrients: Smoothies provide a concentrated source of vitamins, minerals, and antioxidants. You can boost your intake of essential nutrients by incorporating various fruits, vegetables, and other nutritious ingredients like Greek yogurt, nut butter, or chia seeds. These powerhouse beverages help fortify your immune system, improve digestion, and promote overall well-being.
Sustained Energy: Unlike sugary cereals or pastries, smoothies provide a balanced combination of macronutrients. Including fruits, vegetables, and a source of protein helps stabilize blood sugar levels, providing a steady release of energy throughout the morning. This sustained energy keeps you full and satisfied, reducing the likelihood of eating unhealthy snacks before lunch.
Customizable and Varied: One of the greatest advantages of smoothies is their versatility. You can experiment with different flavor combinations and tailor them to your taste preferences and dietary needs. The options are endless, whether you prefer a tropical fruit blend, a green detoxifying smoothie, or a protein-packed breakfast shake.
Hydration Boost: Many people wake up mildly dehydrated, and consuming a smoothie for breakfast can help replenish fluids. By incorporating a liquid base like water, coconut water, or almond milk, you add hydration to your morning routine. Staying hydrated aids digestion enhances cognitive function, and improves overall health.
Are smoothie bowls gluten free?
Yes, smoothie bowls are gluten free when you use fresh, wholesome ingredients, like fruit, veggies, milk, plain yogurt, seeds and nuts. However, if you start getting creative and add ingredients like granola for a little crunch or protein powder, be sure it is certified gluten free.
Best ingredients to use in smoothie bowls
To make a truly delicious and nutritious smoothie bowl, you'll need to start with the best fresh ingredients. That means using fresh fruits and vegetables, organic if possible, and high-quality gluten free protein powder or yogurt.
Here are some of our favorite combinations:
-Banana, almond butter, and chocolate protein powder
-Strawberries, blueberries, and gluten free vanilla yogurt
-Mango, pineapple, and coconut milk
-banana, spinach, kale, and green apple juice
Smoothie bowl ideas
1. Start with a base of frozen bananas for sweetness, and add your favorite fruits, veggies, and superfoods.
2. Get creative with toppings like certified gluten free granola, shredded coconut, nut butter, and fresh fruit.
3. Add a boost of protein with chia seeds or Greek yogurt.
4. Make it green with spinach or kale.
5. Get tropical with pineapple or mango.
6. Spicy it up with ginger or turmeric.
No matter what combination you choose, make sure to add a few ice cubes to your blender for a thick and frosty texture.
topping suggestions
Here are some of our favorites:
-Fresh fruit: diced mango, strawberries, blueberries, raspberries, etc.
-Coconut flakes
-Chia seeds
-Certified gluten free granola
-Honey
-pure maple syrup
-Nut butter
storing
When it comes to smoothie bowls, there are a few things you need to keep in mind when storing them.
First, if you're using fresh fruits and vegetables, they will only last in the fridge for a couple of days. So, if you're not going to eat your smoothie bowl right away, make sure to freeze it.
Second, if you're using dairy products like yogurt or milk, they will also only last a couple of days in the fridge. So again, freezing is your best bet if you want your smoothie bowl to last longer.
Lastly, if you're using any protein powder or other powders, they can tend to clump up when stored in the fridge. So it's best to mix them with some liquid (milk or water) before adding them to your smoothie bowl.
Why do we love smoothie bowls so much?
We love smoothie bowls for a few reasons. First, they're healthy and packed with nutrients. Second, they're easy to make and can be customized to your liking. Third, they're DELICIOUS!
Smoothie bowls are a great way to start your day or refuel after a workout. They're packed with vitamins, minerals, and antioxidants and can be made with any combination of fruits, vegetables, and superfoods you like. Plus, they're pretty darn tasty.
3 Healthy Breakfast Smoothie Bowls Recipes
Pineapple Blackberry Chia Smoothie Bowl
Not all smoothie bowls are created equal. Meet your new power breakfast, the Pineapple Blackberry Chia Smoothie Bowl. In this recipe there are no sweeteners added or milk in this pineapple blackberry chia smoothie bowl. The ingredients used in this recipe are rich in powerful antioxidants and packed with essential nutrients.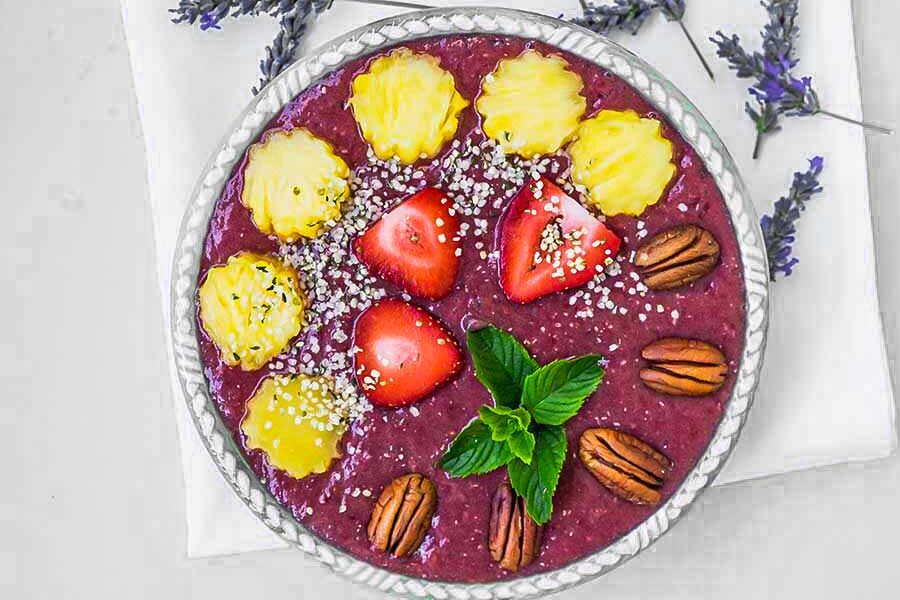 INGREDIENTS:
2 cups cubed watermelon
1 cup cubed pineapple
1 cup fresh blackberries
½ cup filtered water
2 Tbsp. GF chia seeds
1 tsp. maca powder
1 tsp. fresh minced ginger (optional)
Topping ideas: pineapple, strawberries, mint, raspberries, hemp hearts, pumpkin seeds, nuts
DIRECTIONS:
Combine all the ingredients in a high-speed blender until smooth. Refrigerate for 4 hours or overnight
Divided into two serving bowls and top with fruit, seeds and nuts
Best Smoothie Power Bowl
This nutrient dense smoothie power bowl takes only 5 minutes to make. Using fresh fruit as a sweetener, with added flax and maca powder, makes this smoothie a powerhouse of smoothie bowls.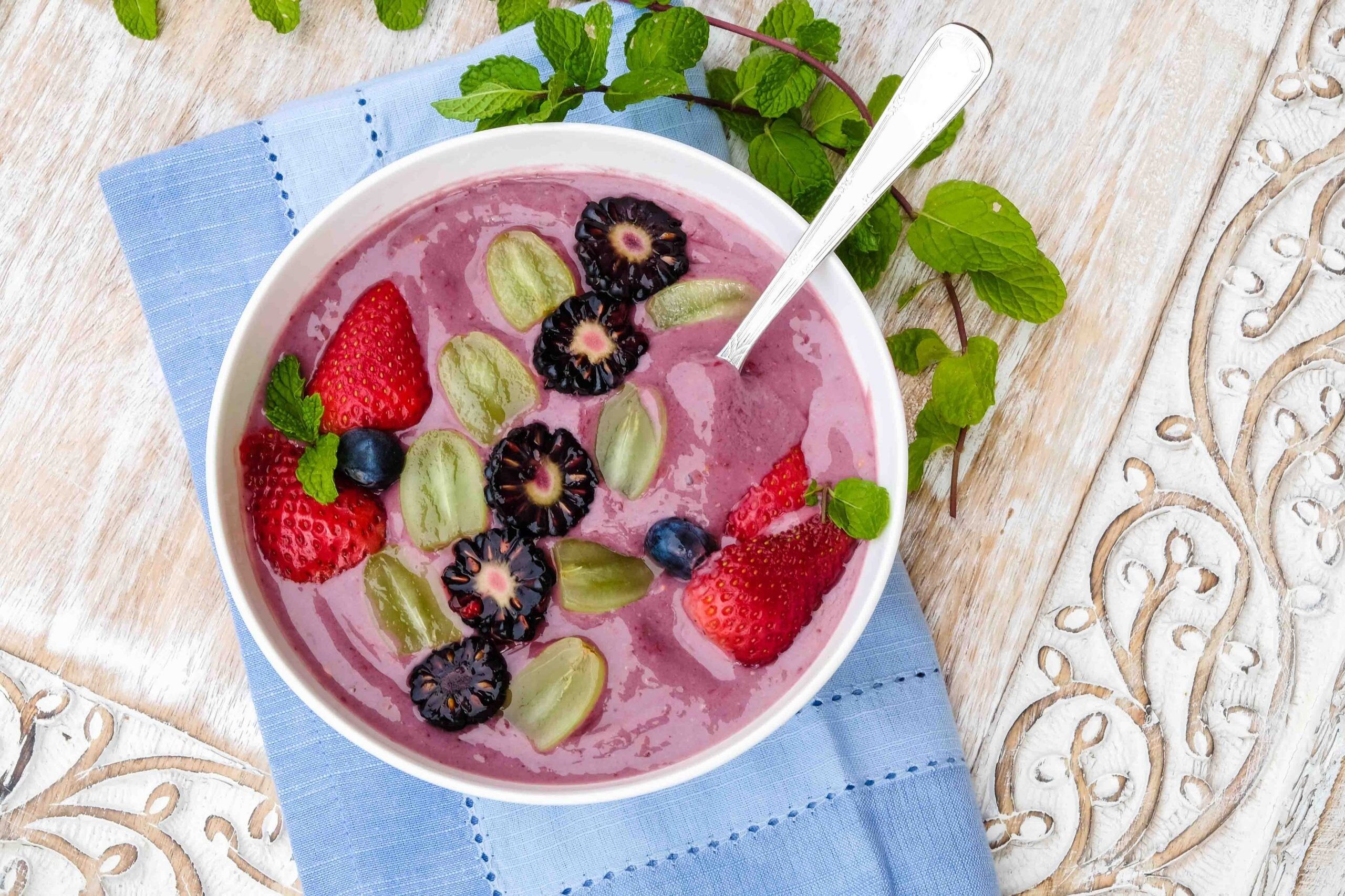 INGREDIENTS:
1 medium ripe banana, sliced and previously frozen
1 cup frozen organic blackberries
1 tsp. GF ground flaxseed
Toppings; organic strawberries, organic grapes, organic blackberries, organic frozen blueberries, fresh mint
DIRECTIONS:
Add all the smoothie ingredients to a high-speed blender and blend until smooth
Divide smoothie between two bowls and top with desired toppings
Immune Boosting Pineapple Smoothie Bowl
This immune boosting pineapple smoothie bowl has a refreshing tropical flavour. Pineapple is rich in antioxidants and vitamin C. Pineapple also helps with digestive health, and has been known to reduce inflammation and is high in manganese, which helps in strengthening bones.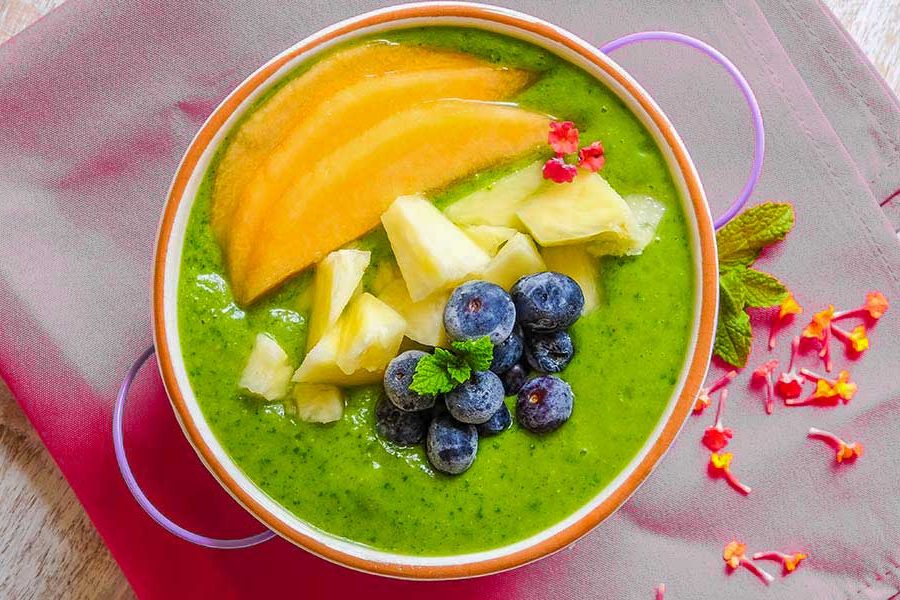 INGREDIENTS:
2 medium ripe bananas, sliced and frozen
1 ½ cups roughly chopped fresh pineapple
2 handfuls fresh organic baby spinach leaves
2 Tbsp. fresh lemon juice
1 tsp. GF ground flaxseed
Toppings: fresh pineapple, honeydew, berries, apples, pears, oranges nuts and seeds
DIRECTIONS:
Add all the smoothie ingredients to a high-speed blender and blend until smooth
Divide smoothie between four bowls and top with desired toppings
We hope you enjoy these delicious smoothie bowls for breakfast, after a workout or as a healthy dessert. Enjoy!
Let's Connect!
Be sure to FOLLOW US on FACEBOOK and PINTEREST. And don't forget to sign up for our newsletter, the form is at the bottom of this page. We always have something new and exciting for you!
Many thanks!
Kristina xx