Vanilla Chia Pudding With Apple Compote
Prep Time
15 Minutes
Difficulty
Easy
Cook Time
5 Minutes
Serves
6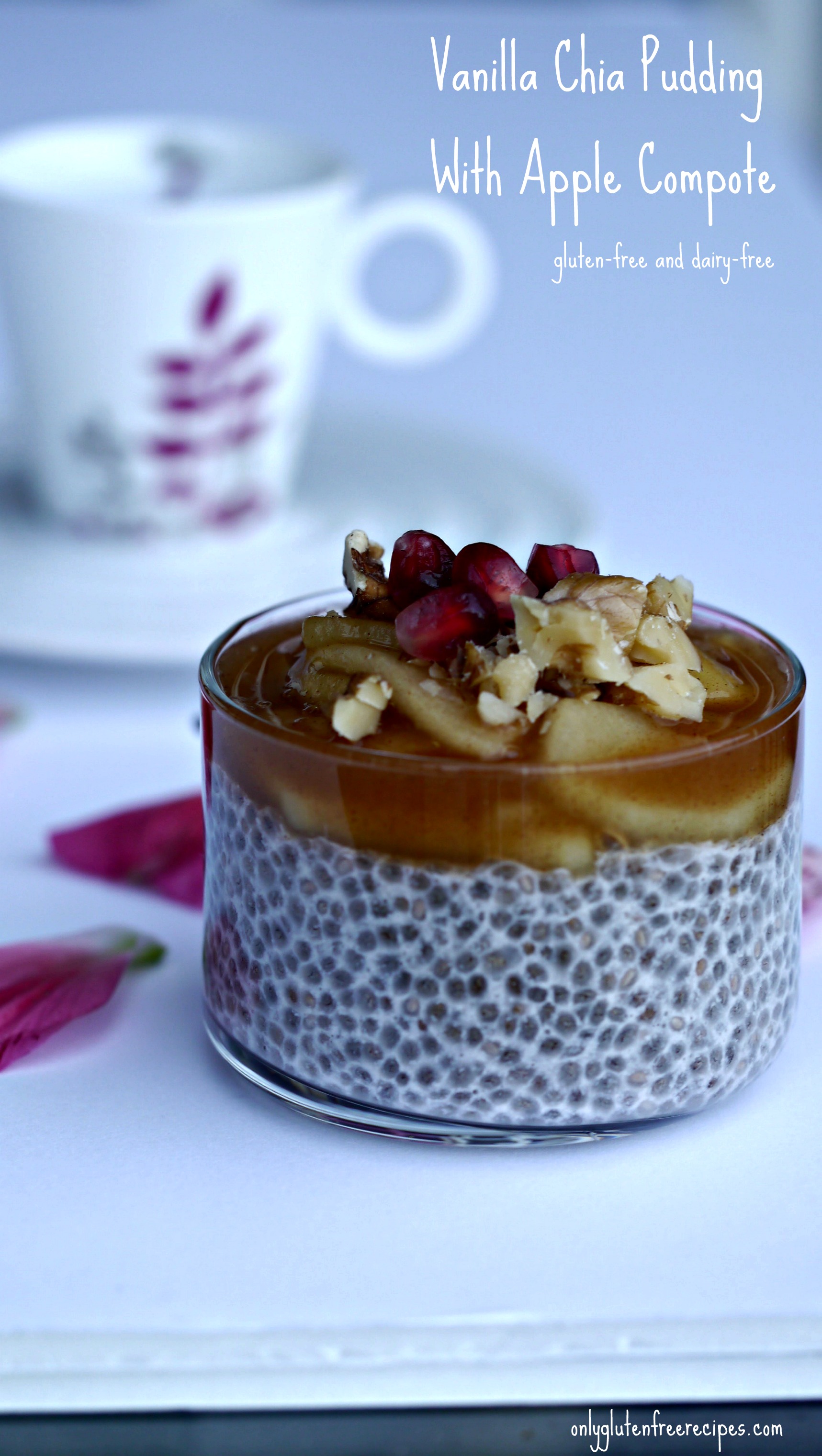 Average Rating: 3 | Rated By: 1 users
This amazing gluten-free pudding holds no boundaries. It can be eaten for breakfast, snack or dessert. The combination of creamy coconut milk, vanilla, apples and cinnamon will keep you coming back for more. Chia seed is a powerhouse of nutrients such as calcium, iron, protein, fiber and magnesium. Including it in your diet will promote good health.
Ingredients
2 cup organic vanilla coconut milk (if you don't have vanilla coconut milk, user regular coconut milk and add a tsp. of pure vanilla and 2 tbsp. of pure maple syrup. Do not use the canned version)
½ cup organic, gluten-free dark chia seeds
FOR THE COMPOTE
1 large organic apple or 2 medium size, core, peel and thinly slice
1 tbsp. freshly squeezed organic lemon juice
1 tbsp. pure maple syrup
1/3 cup water
1 tsp. gluten-free tapioca flour
½ tsp. organic, gluten-free ground cinnamon
Instructions
Combine chia seeds and coconut milk in a bowl and refrigerate overnight
FOR THE COMPOTE
Whisk together water, tapioca and cinnamon in a small saucepan, and then add apples, lemon juice and maple syrup.
While stirring cook the apples on medium heat until they slightly soften about 5 minutes. Remove from heat and cool.
Transfer to a glass bowl and refrigerate.
To serve, pour pudding into serving bowls and top with apple compote. You can add some toppings such as walnuts, pecans, almonds or pomegranate seeds, but the pudding is delicious as is. Additional toppings can be served on the side.
Note: The pudding will last up to 3 days refrigerated.