Turmeric Chia Pudding
Prep Time
10 Minutes
Difficulty
Beginner
Serves
4
Turmeric chia pudding is a favourite of mine. The healing power of turmeric combined with chia and added fruit is considered a super food. If you are looking for gluten free or paleo healthy breakfast, you will love this recipe. No more excuses for unhealthy breakfast that consists of doughnuts or unhealthy muffins! The best part is that kids love it too, tastes like tasty rice pudding YUM!
Ingredients
1 ½ cup unsweetened coconut or almond milk
3 ripe apricots or peaches (you can use frozen fruit)
3 Tbsp. raw honey or preferred sweetener
1 Tbsp. fresh lemon juice
1 tsp. minced ginger
¼ cup unsweetened coconut flakes
½ tsp. turmeric powder
½ tsp. vanilla extract
1/3 cup chia seeds
Topping choices; coconut flakes, apricots, peaches, grapes, berries, seeds and nuts
Instructions
Add first eight ingredients to a high-speed blender and blend until smooth
In a large glass jar whisk chia seeds and milk mix. Cover and chill for one hour
After an hour whisk the pudding, to redistribute the chia seeds evenly
Cover with a lid and refrigerate overnight
Serve with desired toppings
Similar Recipes
Chocolate Chia Pudding
Indulge in this heavenly gluten-free dessert. This creamy chocolate chia pudding is rich in fiber, protein and antioxidants Read More
Prep Time
5 Minutes
Difficulty
Beginner
Serves
4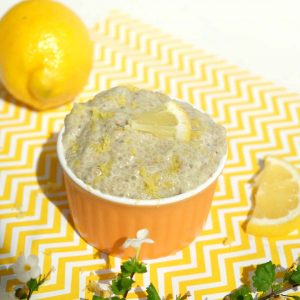 Gluten Free Lemon Cream Chia Pudding
Chia seeds are known to be among the most nutritious foods on the planet. Packed with omega-3 fatty acids, protein and fiber, to name just a few. Chia seeds are also gluten-free. In this scrumptious lemon cream chia pudding, I have added avocado and fresh lemon juice giving it a creamier texture and a bit […] Read More
Prep Time
10 Minutes
Difficulty
Beginner
Serves
6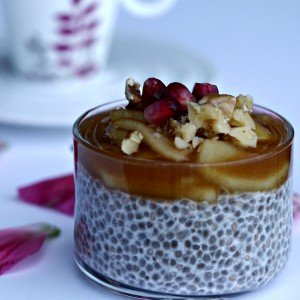 Vanilla Chia Pudding With Apple Compote
This amazing gluten-free pudding holds no boundaries. It can be eaten for breakfast, snack or dessert. The combination of creamy coconut milk, vanilla, apples and cinnamon will keep you coming back for more. Chia seed is a powerhouse of nutrients such as calcium, iron, protein, fiber and magnesium. Including it in your diet will promote […] Read More
Prep Time
15 Minutes
Difficulty
Easy
Cook Time
5 Minutes
Serves
6
© Copyright 2017 Only Gluten Free Recipes. All Rights Reserved.