Strawberry & Chocolate Granola Yogurt Parfait (Gluten-Free)
Prep Time
10 Minutes
Difficulty
Easy
Cook Time
25 Minutes
Serves
4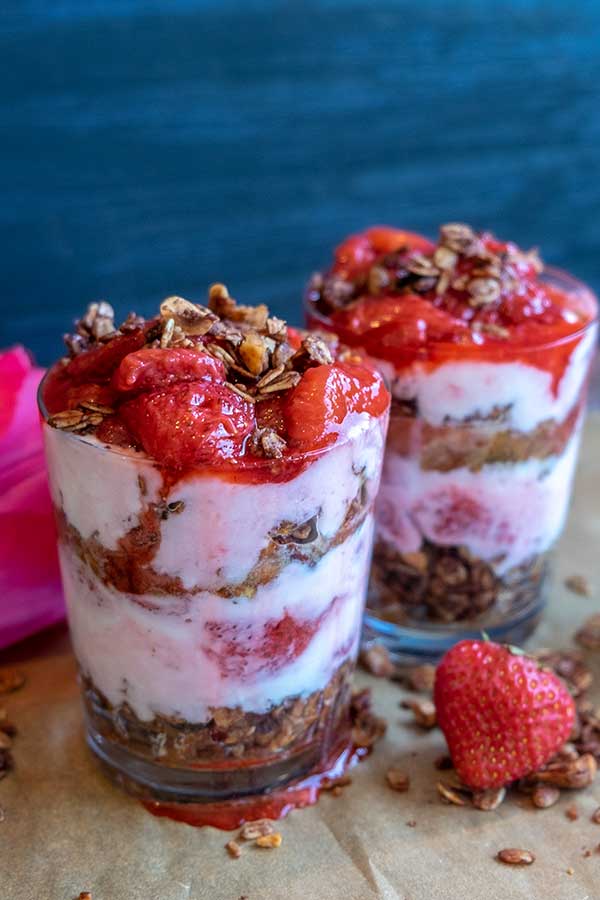 Be the first to rate this recipe.
This strawberry and chocolate granola yogurt parfait is a breakfast for one of those special occasions like Easter or Mother's day brunch. I must admit this gluten-free vegetarian yogurt parfait is probably one of the best! Just imagine combining strawberries, nuts, and chocolate, and still keeping it healthy! Need I say more? But don't despair, this yogurt parfait is super easy to make, and it can be prepared a day or two in advance, so it is ready when you need it. For me, this is one of my favourite breakfasts or a snack without a doubt. So, if you are looking for something for that special occasion or a healthy snack, try this strawberry and chocolate granola yogurt parfait. You will love it! Vegan option included
Ingredients
2 cups GF full-fat plain yogurt, (for vegan option use coconut yogurt)
STRAWBERRY SAUCE
12 oz. fresh strawberries (preferably organic), sliced
1 Tbsp. Pure maple syrup
1 Tbsp. Water
CHOCOLATE GRANOLA
1/2 cup mixed nuts or choice of a nut, roughly chopped
2 Tbsp. Pure maple syrup
2 Tbsp. Coconut oil, melted
Instructions
Place strawberries, maple syrup, and water in a saucepan. Cook over medium heat until the strawberries soften, about 3 - 5 minutes. Cool, then refrigerate for 20 minutes
For the chocolate granola, preheat oven to 350 F and line a baking tray with parchment paper
In a medium bowl, combine oats, nuts, and cocoa powder
In a separate bowl mix coconut oil and maple syrup. Add to dry mixture and mix well
Spread mixture on the prepared baking tray and bake for 20 minutes stirring halfway through. The granola should be lightly toasted. Set aside to cool, the granola will crispen up
Place yogurt and 3/4 of the strawberry mixture in a bowl and give it a couple of swirls
Now layer 4 glasses with half the granola, half the yogurt, a quarter of the granola and remaining yogurt. Top with remaining strawberry sauce and granola. Chill until ready to serve. Enjoy!
Similar Recipes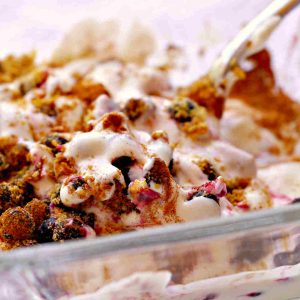 Deluxe Yogurt Breakfast
Don't have time to make healthy breakfast? Start your day with this healthy deluxe yogurt breakfast. This simple breakfast is packed with protein, vitamin C, fiber, calcium, antioxidants and more. Enjoy! Read More
Prep Time
5 Minutes
Difficulty
Beginner
Serves
1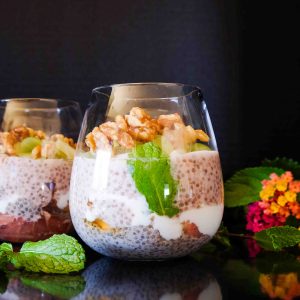 Layered Chia Pudding with Maple Glazed Walnuts
When it comes to chia pudding, it is so versatile. In this chia pudding, I used grapefruit, yogurt, grapes and honeydew melon keeping the pudding cool and refreshing. The maple glazed walnuts add a nice crunchy texture to the lightly sweetened pudding. If you feel creative choose your layers and toppings, it is so much […] Read More
Prep Time
10 Minutes
Difficulty
Easy
Cook Time
3 Minutes
Serves
4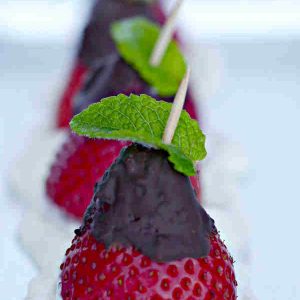 Chocolate Covered Strawberries And Yogurt Dip
The sweet strawberries are pretty and easy to eat. The strawberries are dipped in chocolate and dipped in a delicious maple yogurt dip. If you are looking for the simplest gluten-free dessert this is definitely it. This simple and healthy naturally gluten-free dessert is always a big hit at large gatherings. Read More
Prep Time
20 Minutes
Difficulty
Easy
Cook Time
2 Minutes
Serves
12