Hearty Onion And Cheese Bread – Easy Recipe, Gluten Free
Prep Time
15 Minutes
Difficulty
Easy
Cook Time
50 Minutes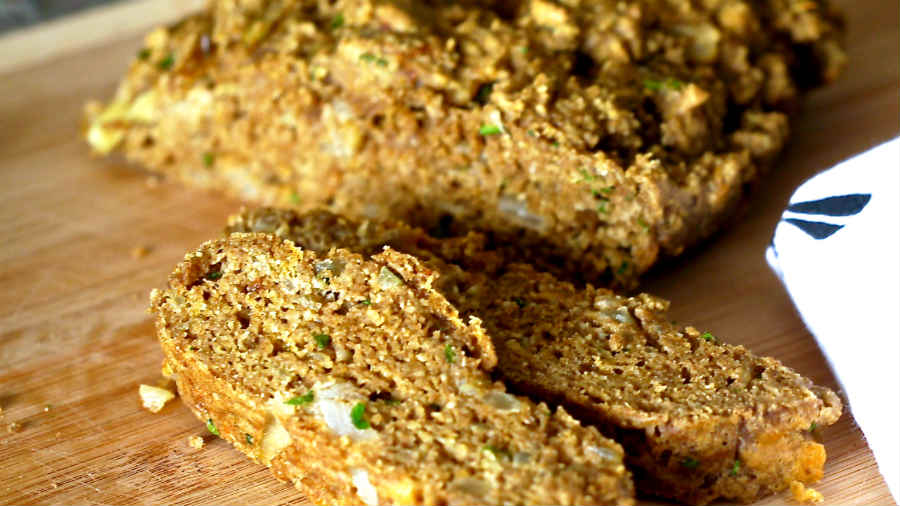 Average Rating: 5 | Rated By: 1 users
This is a high protein, low carb, gluten free hearty bread boasting with delicious flavours of onions and cheese. It is delicious as is and also complements soups and stews perfectly. This bread is truly easy to make and turns out perfect every time. Enjoy!
Makes 1 medium size loaf – about 8 – 10 slices
Ingredients
1 tbsp. extra virgin olive oil • 1 medium size organic sweet onion, chopped
1 cup blanched almond flour
¼ cup teff flour
¼ tsp. sea salt
½ tsp. baking soda
1/3 cup grated good quality cheddar cheese if you can't eat dairy add chopped olives
1 tbsp. organic freshly chopped chives
2 organic or free range eggs
1 tsp. organic GF apple cider vinegar
1 tsp. pure maple syrup
Instructions
Preheat oven to 300 F
Add olive oil and onions into a pan and sauté onions on low heat for 10 minutes. While the onions are cooking, in a large bowl combine almond flour, teff flour, sea salt and baking soda.
Once the onions are cooled add them to dry ingredients with cheese and chives and mix with a fork or wooden spoon.
Whisk together eggs, then add apple cider vinegar and maple syrup and whisk some more, then add to dry ingredients and combine well. Scoop batter into a 7 x 3 inches or 4 x 6 inches baking pan lined with parchment paper and bake for 40 minutes at 300 F. Cool completely before cutting.
Similar Recipes
Best Gluten-Free Rustic Bread Recipe
You will love this gluten-free rustic bread recipe for its taste and simplicity. This rustic bread is made with chia seeds and buckwheat flour which give this delicious bread crispy crust and rustic German rye flavour. Read More
Prep Time
15 Minutes
Difficulty
Easy
Cook Time
45 Minutes
Serves
1 loaf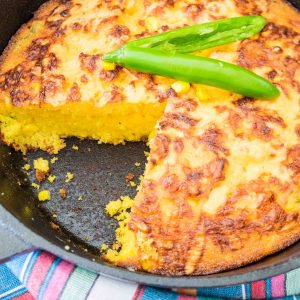 Gluten Free Cheesy Mexican Cornbread
This gluten free cheesy Mexican cornbread is another way for corn lovers to indulge. The predominant sweet corn is throughout with added cheese for delicate cheesy taste. This healthy cornbread recipe is easy to prepare offering a variety of textures and flavours. Serve with chili, hearty soup or at barbecues. Enjoy! Read More
Prep Time
10 Minutes
Difficulty
Easy
Cook Time
45 Minutes
Serves
8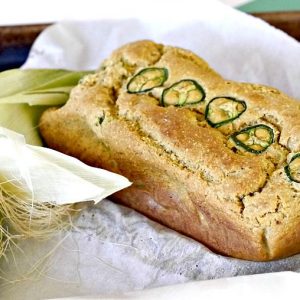 Gluten Free Jalapeno Cheese Cornbread
This gluten free cornbread tastes delicious when served with warm soups or stews. Cornbread is especially popular when following a gluten-free diet because of its texture, flavour and diversity. I used jalapenos and cheese, but you can add olives, cranberries, sundried tomatoes or feta cheese, the list is endless for creating your personal cornbread. I […] Read More
Prep Time
10 Minutes
Difficulty
Easy
Cook Time
35 Minutes