Gluten Free Wildly Rich Chocolate Walnut Pie
Prep Time
5 Minutes
Difficulty
Beginner
Cook Time
60 Minutes
Serves
9-inch pie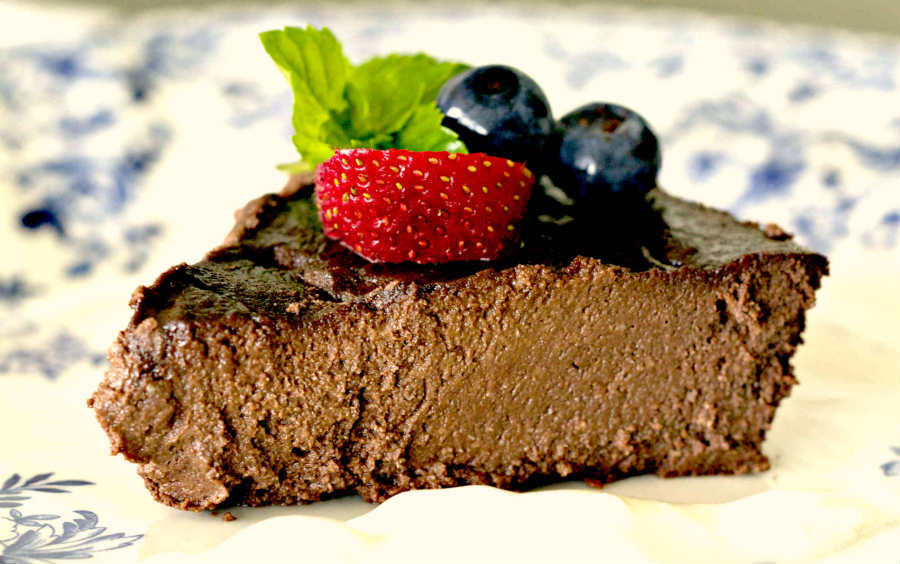 Average Rating: 5 | Rated By: 4 users
This dessert tastes like a mousse, rich and tasty and is made without refined sugar. It is super easy to make, all you need is a blender and an oven. Serve with fresh berries, whip cream or ice cream.
Ingredients
1 cup raw walnuts
4 large eggs, room temperature
¾ cup coconut flour
¾ cup pure cacao powder
2 cups non-dairy milk
¾ cup pure maple syrup
½ cup melted butter or coconut oil
2 tsp. pure vanilla extract
¼ tsp. sea salt
Instructions
Preheat oven to 300 F.
Place all ingredients into a blender and blend on high until smooth.
Grease a 9-inch pie dish and pour the batter into the dish.
Bake for 60 minutes. The pie will be a bit soft in the middle but it will set while cooling on a rack. When cooled to room temperature, cover lightly and refrigerate overnight.
Similar Recipes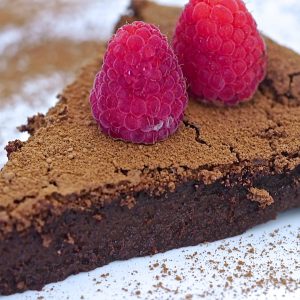 Flourless Chocolate Truffle Cake
For you chocolate lovers there is nothing better than this gluten-free flourless chocolate truffle cake. This fabulous dessert is oozing with chocolate throughout. On rare occasions, it is ok to indulge in rich desserts such as this chocolate truffle cake and since we are indulging add some ice cream and fresh berries. Enjoy Read More
Prep Time
20 Minutes
Difficulty
Intermediate
Cook Time
60 Minutes
Serves
6-8
Gluten Free No Bake Chocolate Coconut Cake
Sinfully delicious, this triple layer chocolate coconut cake is grain free, paleo and you don't have to bake it. Just imagine brownies with coconut topped with chocolate fudge. It doesn't get any better than this. This fabulous dessert is in our healthy dessert category. Read More
Prep Time
20 Minutes
Difficulty
Easy
Cook Time
3 Minutes
Serves
8 slices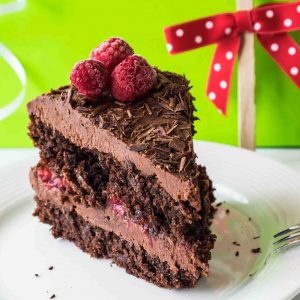 Gluten Free Vegan Chocolate Cake with Ganache Frosting
This dessert is only for serious chocolate lovers. The cake is laden with cocoa and ganache frosting. I have added some fresh raspberries to give it that extravagant, luxurious, decadent and irresistible flavour. Indulge yourself in this vegan chocolate cake. You will never know this dessert is gluten free Read More
Prep Time
20 Minutes
Difficulty
Easy
Cook Time
35 Minutes
Serves
8