Gluten Free Oatmeal Raspberry Muffins
Published on Apr 03, 2016
by
Kristina Stosek
Prep Time:

30 minutes
Cook Time:

25-30 minutes
Serves:

12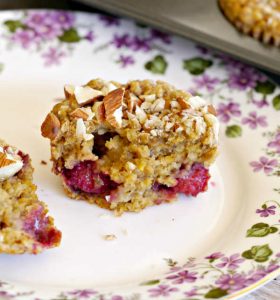 ​This post may contain affiliate links, please see our
privacy policy
for details
Gluten Free Oatmeal Raspberry Muffin… is possibly my all-time favourite muffin recipe. There is no added fat, refined sugar, dairy or eggs. The muffin is moist with a zesty flavour and subtle texture.
Why serve plain oatmeal for breakfast when you can have this wholesome gluten-free oatmeal raspberry muffin. The healthy muffin is packed with protein, fiber and vitamin C. This simple to put together muffin recipe is so delicious that you may never have oatmeal for breakfast again.
For a complete list of our gluten-free muffin recipes click here ->
Are oats gluten free?
This is an excellent question. There have been many discussions about oats, whether they are gluten free or not. The quick answer, YES! The oats are safe for most people that are gluten intolerant or have celiac disease. BUT, the problem with oats is contamination.
Many manufacturers process oats in facilities where they also process wheat. Thus cross-contamination may happen. When purchasing oats or oat flour, please make sure the label says certified gluten free. One study concluded that eating certified gluten free oats in moderation will not induce an immune response like wheat, barley or rye.
Oats are a great source of nutrients that are often lacking in the gluten-free diet, such as iron and fiber. In conclusion, including certified gluten free oats in your diet in moderation will promote good health.
Gluten Free Oatmeal Raspberry Muffins
Published on Apr 03, 2016
by
Kristina Stosek
Instructions
1.

In a medium size bowl combine oats, chia, and orange juice. Set aside for 30 minutes

2.

In a large bowl, whisk together dry ingredients

3.

Preheat oven to 375 F and line a 12-cup muffin pan with parchment paper liners. (My preference is parchment paper liners, the muffins do not stick to the paper)

4.

Add maple syrup and vanilla to soaked oats and stir to combine

5.

Add wet ingredients to dry and stir until just combined. Add raspberries and gently mix. Distribute the batter evenly among 12 muffins cups and top with nuts

6.

Bake for 25 – 30 minutes or until a toothpick inserted in the middle comes out clean

7.
Leave a Comment
Kristina
the baking powder and the chia seeds should keep the muffins soft and moist, not flat. I am sorry...not sure what happened?
No eggs in this recipe? Mine came out very flat. Batter was very thin
Kristina
Hi Christine, I don't know how you got 24 muffins from only 1 cup of oats and 3/4 cup of flour. I made them many times and all I get is 12. Did you use the small muffin pan? As with most gluten-free muffins, they always taste the best the first day. For leftovers, I like to pop them in the microwave for about 15 seconds and they are just as delicious. Thank you for your input.
So this made enough batter for about 24 muffins. They do not taste good after the first day.