Gluten Free Minestrone Soup with Chorizo
Prep Time
10 Minutes
Difficulty
Easy
Cook Time
40 Minutes
Serves
6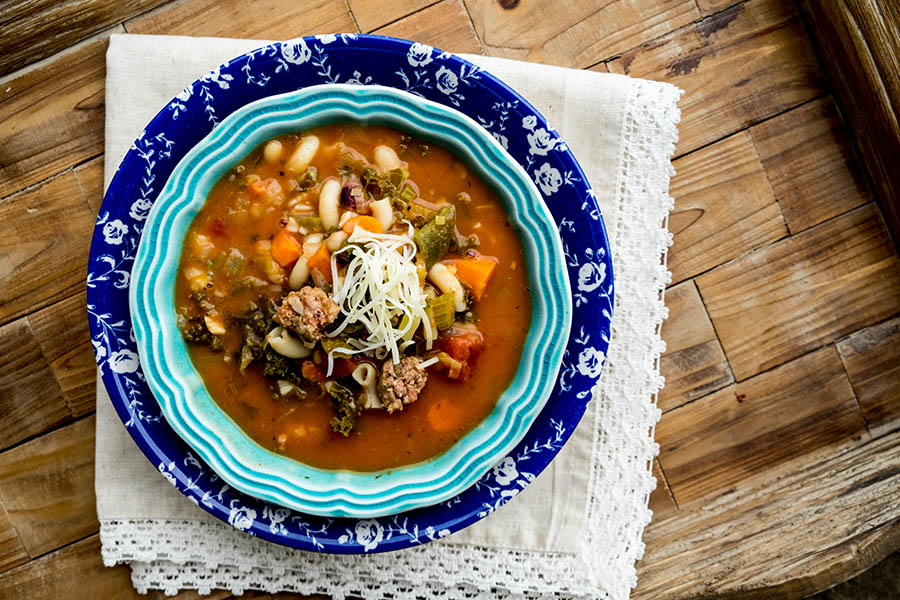 Average Rating: 5 | Rated By: 5 users
Keep it simple tonight with this hearty gluten free minestrone soup. The wide range of veggies, chorizo sausage, and Italian spices make this one pot wonder super tasty. This soup goes exceptionally well with gluten free garlic bread. Just toast some gluten free bread, then rub it with a garlic clove and drizzle with olive oil, YUM!
Ingredients
2 raw gluten free chorizo sausages, (you can find these at your local butcher)
2 Tbsp. extra virgin olive oil
2 garlic cloves, crushed
1 small onion, chopped
1 tsp. dried oregano
1 tsp. dried marjoram
1 tsp. paprika
1 tsp. Mediterranean pink salt
1 bay leaf
2 x (13.5 oz.) can crushed tomatoes
4 cups gluten free chicken broth
2 carrots, diced
2 celery sticks, diced
2 x (13.5 oz.) can cannellini beans, rinse and drain
1 cup frozen peas
1 cup sliced kale or chard, stems removed
½ cup gluten free elbow pasta
1 small zucchini, roughly chopped into small pieces
½ cup chopped basil
½ cup freshly grated Parmesan cheese
*As an Amazon Associate and member of other affiliate programs, I earn from qualifying purchases. Please check out my sponsorship and disclosure policy page for more details
Instructions
Pop the sausages out of their skins and roll each into 6 balls
In a large pot heat olive oil over medium heat, add chorizo balls and sear on all sides until golden brown. Transfer to a plate
Add garlic and onion to the pot and sauté until soft, about 5 minutes
Stir in spices and then tomatoes, broth, carrots and celery. Cook for 15 minutes.
Add cannellini beans, peas, kale/chard and pasta and cook for 10 more minutes, or until the pasta is al dente, this means soft enough to eat but still firm
Stir in zucchini and basil and bring to boil, then immediately remove from the heat and set aside for 5 minutes. Serve with Parmesan cheese
Similar Recipes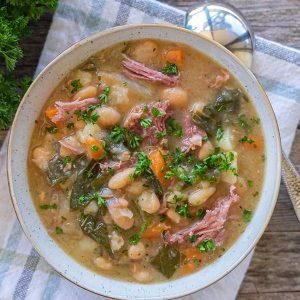 Instant Pot White Bean Soup Ham and Collards
Instant Pot White Bean Soup, Ham and Collards… who doesn't love a hearty soup for dinner with a slice of crusty bread —> especially during the cold winter months?  The instant pot is the easiest and quickest way to cook dry beans. Once you add everything to the pot, you can walk away and forget […] Read More
Prep Time
15 Minutes
Difficulty
Easy
Cook Time
55 + Minutes
Serves
8