Gluten-Free Cheesy Quinoa Pizza Parcels
Prep Time
15 Minutes
Difficulty
Intermediate
Cook Time
45 Minutes
Serves
30 pc
Average Rating: 4.5 | Rated By: 2 users
The gluten-free quinoa pizza parcels are made with chicken or turkey, a selection of Italian spices, quinoa, tomatoes and Gruyere cheese. Serve at large parties or as a tasty snack. The Gruyere cheese is what makes these nuggets so delicious! Serve warm or at room temperature. You can also add your favourite dip if you wish
.
Ingredients
1 cup cooked quinoa
1 lb. ground lean turkey or chicken
½ tsp. sea salt
1 tsp. dried oregano
1 tsp. GF dried basil
½ tsp. GF ground black pepper (for younger children I would omit this ingredient)
1 large tomato, chopped
1 Tbsp. yellow or red minced onion
1 Tbsp. chopped fresh parsley
1 ½ cup Gruyere cheese, at room temperature
1 Tbsp. extra virgin olive oil
2 large eggs
¾ cup GF all purpose flour blend
1 tsp. GF baking soda
Instructions
Preheat oven to 400 F
Spread the meat on a baking sheet lined with parchment paper and season with sea salt, oregano, basil and black pepper. Bake for 15 minutes. Remove from the oven and cool. Reduce oven temperature to 375 F
Place quinoa, cooked meat, tomato, onion, parsley, Gruyere cheese, olive oil, and eggs in a bowl. Using a fork break down the meat into the other ingredients. Mix together flour and baking soda and stir into the mixture.
Using a spoon make small balls the size of a walnut and place on a baking sheet lined with parchment paper. Bake for 18 minutes. Serve warm or at room temperature
Similar Recipes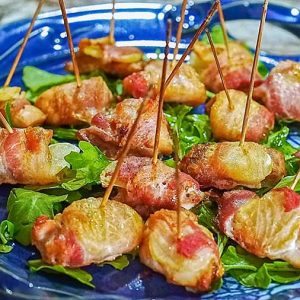 Chicken, Water Chestnut And Bacon Appetizers
The smoky flavour of bacon and the crunchiness of water chestnuts make this gluten free appetizer explosively delicious. Serve at super bowl parties or large gatherings. But don't stop there, they also make for a tasty snack Read More
Prep Time
20 Minutes
Difficulty
Easy
Cook Time
15 Minutes
Serves
16 pc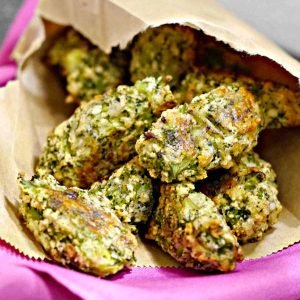 Gluten-Free Baked Broccoli Tots
You and your family will love these crispy, cheesy broccoli tots. Serve them up as an appetizer with your favourite dip or as an anytime healthy snack. This is a tasty way to incorporate broccoli into your diet. Make extra, the tots are seriously addictive!! Read More
Prep Time
15 Minutes
Difficulty
Easy
Cook Time
25 Minutes
Serves
12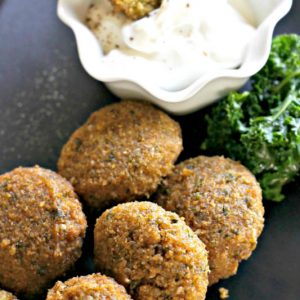 Gluten Free Baked Falafel – Revised Recipe
Falafel is a traditional Middle-Eastern dish, made with ground chickpeas or fava beans usually deep fried and served in a pita bread. This is a baked version made without the deep frying keeping the falafels healthier. A wonderful way to serve the gluten-free falafels is with an eggplant dip or full-fat plain yogurt Read More
Prep Time
10 Minutes
Difficulty
Easy
Cook Time
30 Minutes
Serves
20