Gluten Free Blueberry Pumpkin Seed Loaf
Prep Time
15 Minutes
Difficulty
Easy
Cook Time
60 Minutes
Serves
10
Average Rating: 4 | Rated By: 2 users
This gluten-free blueberry pumpkin seed loaf is packed with blueberries and pumpkin seeds. Serve for breakfast or a snack, because this healthy loaf is packed with antioxidants, protein and fiber. Enjoy!
Ingredients
2 large eggs, at room temperature
¼ cup extra virgin olive oil
¾ cup agave nectar
¼ cup fresh lemon juice and zest of 1 lemon
1 tsp. pure vanilla extract
2 cups almond flour
1 cup GF rice flour
1 cup raw pumpkin seeds
1 Tbsp. GF aluminum-free baking powder
1 tsp. GF ground cinnamon
1 tsp. GF ground ginger
¼ tsp. GF ground nutmeg
12 oz. fresh blueberries
Instructions
Preheat oven to 350 F
In a small bowl whisk together eggs, olive oil, maple syrup, lemon juice, lemon zest and vanilla
In a large bowl mix together almond flour, rice flour, pumpkin seeds, baking powder, cinnamon, ginger and nutmeg.
Gently mix wet and dry ingredients together, and then stir in blueberries.
Transfer batter into a 9 x 5-inch loaf pan lined with parchment paper and bake for 1 hour or until toothpick inserted in the middle comes out clean
Similar Recipes
Grain Free Apricot Banana Loaf
This gluten free, paleo apricot banana loaf is made without added sweeteners or grains. The apricots and bananas are all that was needed to sweeten this healthy loaf. The loaf is topped with raw walnuts giving it a tasty, crunchy topping. This delicious snack is high in protein and fiber keeping you full and energized for […] Read More
Prep Time
15 Minutes
Difficulty
Easy
Cook Time
50 Minutes
Serves
8 pieces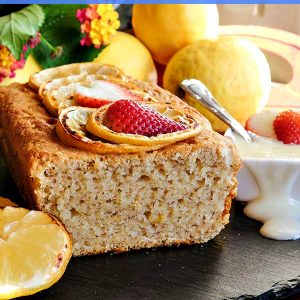 Gluten Free Vegan Lemon Loaf
When it comes to lemon loaf, it should be moist, and you should taste the fresh lemon flavour. This loaf is deliciously flavoured with plenty of fresh lemon juice and finished with grilled lemon slices. The lemon topping infuses the loaf with stunning grilled lemon taste. This award winning gluten free vegan lemon loaf recipe […] Read More
Prep Time
15 Minutes
Difficulty
Easy
Cook Time
60 Minutes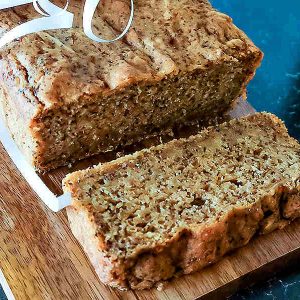 Gluten Free Lemon Poppy Seed Loaf
This gluten-free vegetarian lemon poppy seed loaf will compliment most diets. It is gluten free, egg free, dairy free and nut free. This incredibly moist loaf has a subtle lemon flavour and a delicate crumb texture making it very popular. Poppy seeds are a good source of minerals, so enjoy! Read More
Prep Time
15 Minutes
Difficulty
Easy
Cook Time
45 Minutes
Serves
10 slices