Detox Turmeric Celery Soup
Prep Time
15 Minutes
Difficulty
Easy
Cook Time
32 Minutes
Serves
6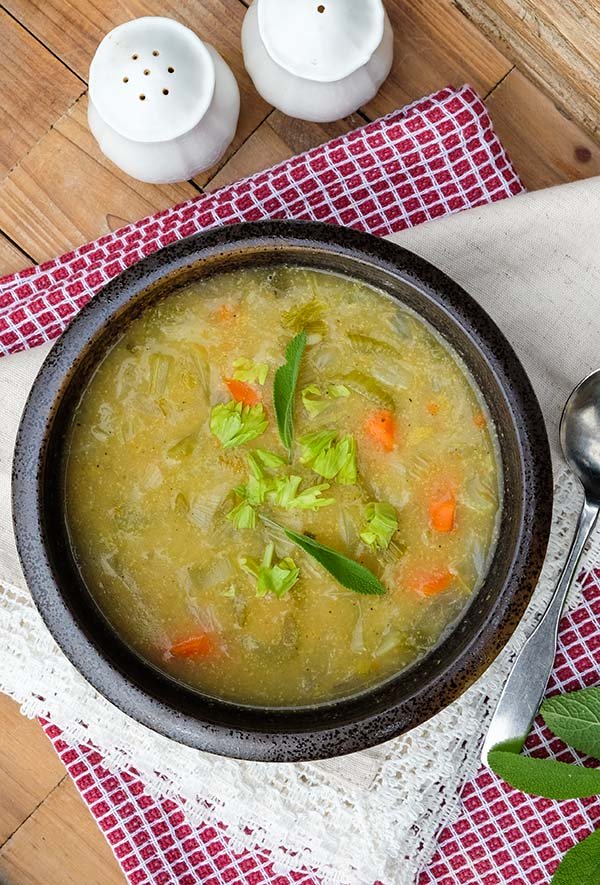 Be the first to rate this recipe.
Celery is a vegetable not to be forgotten. This simple vegetable is an excellent source of antioxidants, vitamins and minerals and has only 10 calories per stalk. Celery also provides an impressive amount of dietary fiber, which boosts digestion and weight loss. Other significant benefits of celery include its ability to cleanse the liver and improve skin and eye health. Since celery is a mild diuretic, it aids in the removal of bodily toxins and lowering blood pressure. If the health benefits didn't entice you the delicious chunky celery soup should. Hope you enjoy this easy to make healthy gluten free soup
Ingredients
3 tbsp. extra virgin olive oil or coconut oil
2 medium-size yellow onions, chopped
10 stalks of celery, diced
2 garlic cloves, chopped
2 tsp. GF ground turmeric
1 tsp. GF dried sage, or 5 fresh sage leaves chopped
1 tsp. sea salt or to taste
½ tsp. GF coarsely ground black pepper
6 cups gluten free chicken broth or for vegan option vegetable broth
2 carrots, diced
Instructions
In a large pot heat olive oil over medium heat. Add onions and celery and cook for 5 minutes. Stirring occasionally
Add garlic, turmeric, sage, salt and peper. Cook for 2 more minutes
Add broth and carrots, bring to boil and cover. Reduce heat to low and cook for 25 minutes. Remove from the heat and cool slightly
Add 1/3 of the soup into a blender or food processor. Blend until smooth. Return back to the pot. Reheat soup and season with salt and pepper if needed.
Similar Recipes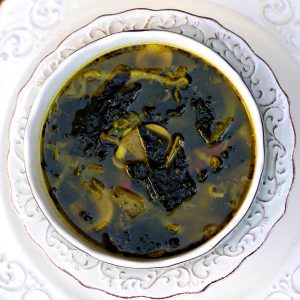 Simple Detox Soup with Nori
Lacking energy can be a result of overeating, indulging in alcohol, consuming refined sugar, processed food or dealing with stress. Reset your body with this healing cleansing soup rich in healthy nutrients and low in calories Read More
Prep Time
10 Minutes
Difficulty
Easy
Cook Time
10 Minutes
Serves
4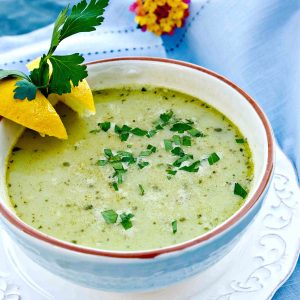 Detox Chickpea and Parsley Soup
This is another gluten free recipe for detox hearty, comforting soup. The combination of chickpeas, parsley and fresh lemon juice create a rich and satisfying soup. These simple ingredients deliver powerful detox benefits to your body. Parsley boosts the productivity of one of our liver's enzymes that detoxes our bodies. This delicate herb has powerful anti-inflammatory […] Read More
Prep Time
10 Minutes
Difficulty
Easy
Cook Time
90 Minutes
Classic Vegetarian Lentil Soup
This classic vegetarian lentil soup is packed with flavour and interesting textures. Lentils are rich in folate and fiber so you can have healthy without giving up the delicious taste. Serve with a slice of gluten free herb and garlic bread Read More
Prep Time
20 Minutes
Difficulty
Easy
Cook Time
65 Minutes
Serves
4