Coconut Chocolate Chip Energy Bites {Paleo, Grain-Free, Gluten-Free}
Prep Time
10 Minutes
Difficulty
Easy
Cook Time
25 Minutes
Serves
10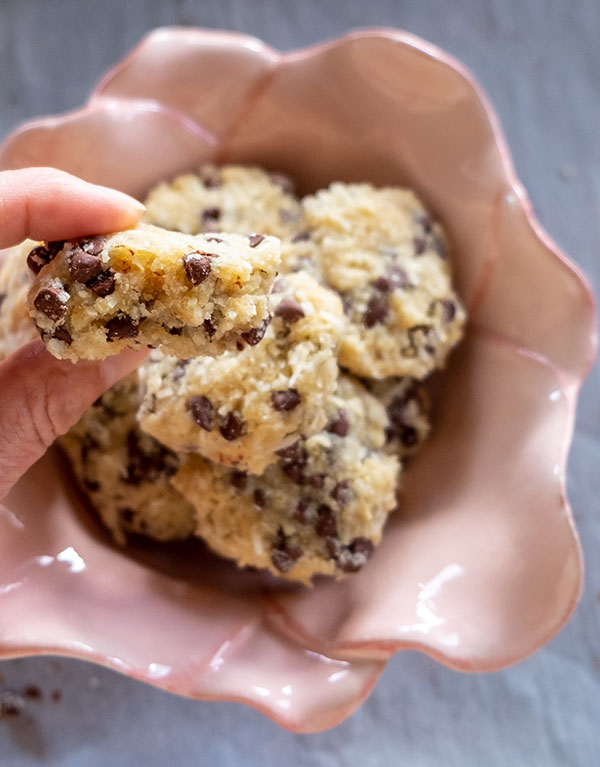 Be the first to rate this recipe.
For a healthy snack on the go, try these delicious gluten-free coconut chocolate chip energy bites. When you combine coconut and chocolate, you can't go wrong. These simple to make energy bites are packed with fiber and protein and are wonderful as a before workout snack or an afternoon treat. Replace cookies in your kid's lunch box for a healthier option with these tasty sweets or enjoy as an after dinner sweet. These mouthwatering bites are a win-win all the way  🙂
Ingredients
1/2 cup almond flour
1/4 cup pure maple syrup
2 Tbsp. Unsalted grass-fed butter or coconut oil, melted
1 tsp pure vanilla extract
Instructions
Preheat oven to 200°F and line a baking sheet with parchment paper
In a medium bowl, combine coconut, almond flour and chocolate chips
Whisk together maple syrup, butter and vanilla and add to dry ingredients. Using a spatula mix until a sticky dough forms
Lightly wet your hands and form 10 cookies
Bake for 25 minutes. Cool on the cookie sheet for 30 minutes. Enjoy!
Similar Recipes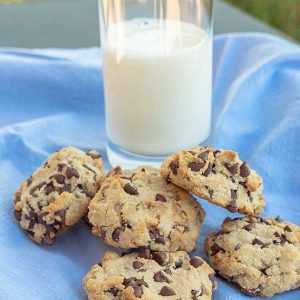 Chocolate Chip Walnut Cookie {Gluten-Free, Grain-Free, Low-Carb}
Yes, it is still January, so I must include a healthier gluten-free, low-carb chocolate chip cookie recipe for this month. In this recipe, I used heart-healthy avocado oil instead of butter, coconut and almond flour, sugar-free chocolate chips and delicious walnuts. As a sweetener I used xylitol. If you don't know what xylitol is, it […] Read More
Prep Time
10 Minutes
Difficulty
Easy
Cook Time
15 Minutes
Serves
20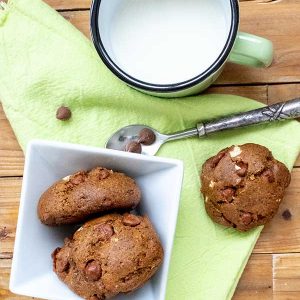 Gluten-Free Buckwheat Chocolate Chip Cookies
Buckwheat is a naturally gluten-free seed high in easily digestible protein, fiber, and a good source of amino acids. It also has more vitamins, minerals and antioxidants than most grains. This is why using buckwheat flour in baking is especially important when following a plant-based diet. Adding buckwheat flour to this chocolate chip cookie recipe […] Read More
Prep Time
15 Minutes
Difficulty
Easy
Cook Time
15 Minutes
Serves
24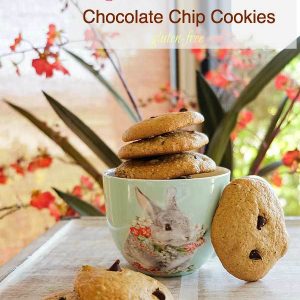 Grain-Free Almond Butter Chocolate Chip Cookies
There is something comforting about the smell of freshly baked chocolate chip cookies. I created this recipe with three things in mind, less sugar, no grains and no dairy. I replaced almond butter for butter and used coconut sugar instead of regular sugar. Coconut sugar has more flavour, which means I don't have to use […] Read More
Prep Time
10 Minutes
Difficulty
Easy
Cook Time
15 Minutes
Serves
18 cookies