Baked Cheesy Crispy Fries
Prep Time
10 Minutes
Difficulty
Easy
Cook Time
30 Minutes
Serves
4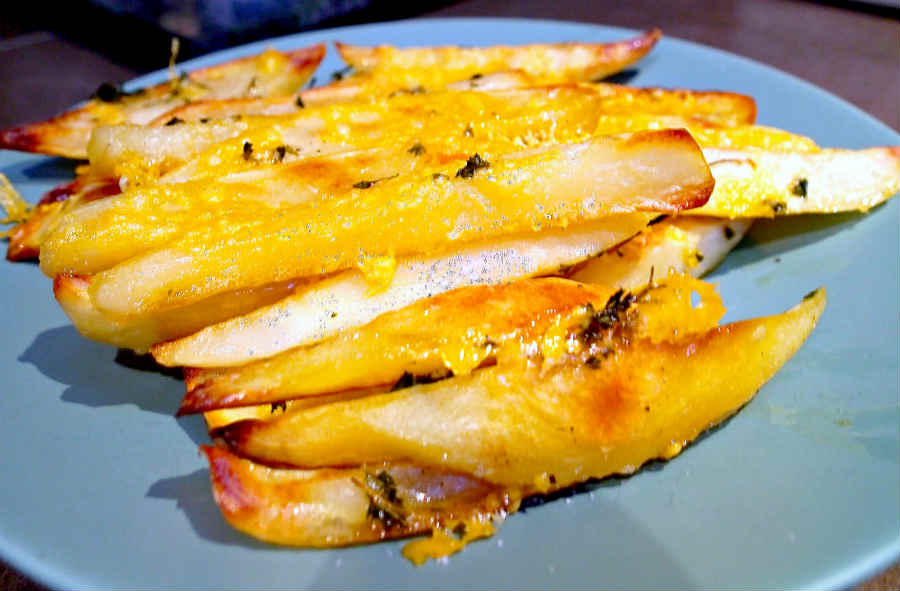 Average Rating: 5 | Rated By: 1 users
Crispy fries are always popular, especially if they are combined with cheese, yum!! This simple baked cheesy fries recipe is surely going to be a big hit at your house, especially during football season. The fries are flavoured with herbs and baked with cheese until crispy. A simple gluten-free snack that everyone will love!
Ingredients
3 large russet potatoes peel and cut into large fries
¼ cup extra virgin olive oil
1 Tbsp. melted butter or duck fat
1 Tbsp. fresh chopped rosemary
1 Tbsp. fresh chopped parsley
½ cup shredded cheddar cheese
Sea salt and GF freshly ground black pepper to taste
Instructions
Preheat oven to 400 F
Place fries into a pot of cold water with a pinch of salt and bring to boil, cook for 5 minutes. Drain and dry with a paper towel. Mix olive oil, melted butter or duck fat with herbs, salt and pepper
Place partially cooked fries onto a baking sheet lined with parchment paper and brush with herb mixture
Bake for 20 minutes or until nice and golden
Sprinkle cheese over top and bake until the cheese is just melted about 3 minutes. Enjoy!
Similar Recipes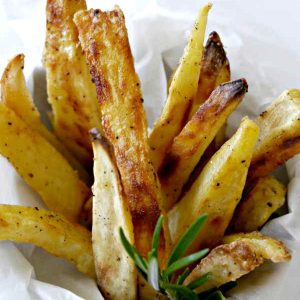 Baked Crispy Sweet Potato Fries
There is so much more to making sweet potato fries than just coating them with oil and baking. Experiment with different spice mixture to find the flavour that's just right for you. These low-fat sweet potato fries are crispy on the outside and tender on the inside Read More
Prep Time
10 Minutes
Difficulty
Easy
Cook Time
20 Minutes
Serves
6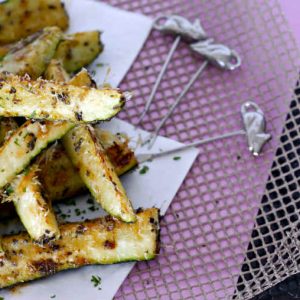 Gluten-Free Baked Zucchini Fries
These baked zucchini fries are lightly spiced with a crunchy Parmesan coating. Most zucchini fries are high in fat because they are deep-fried. In this recipe, they are baked making them lower in fat and calories. Serve as a healthy snack or an appetizer. Careful, these fries are very addictive so make extra! Read More
Prep Time
15 Minutes
Difficulty
Easy
Cook Time
15 Minutes
Serves
4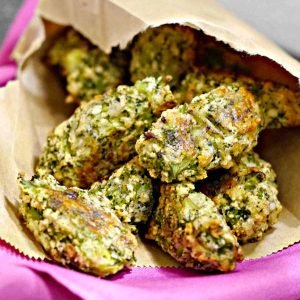 Gluten-Free Baked Broccoli Tots
You and your family will love these crispy, cheesy broccoli tots. Serve them up as an appetizer with your favourite dip or as an anytime healthy snack. This is a tasty way to incorporate broccoli into your diet. Make extra, the tots are seriously addictive!! Read More
Prep Time
15 Minutes
Difficulty
Easy
Cook Time
25 Minutes
Serves
12