5 Super-Easy Drinks that Detoxify Your Body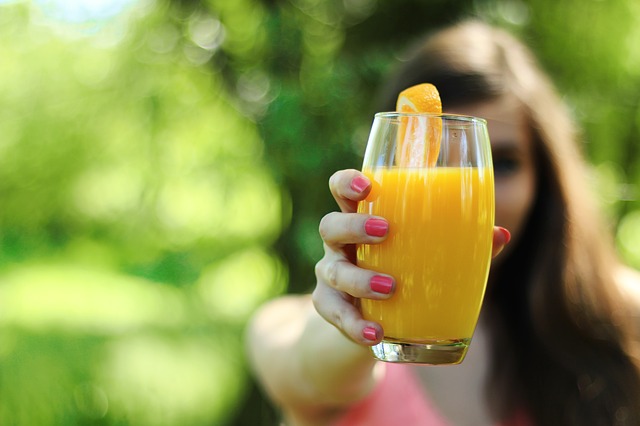 Average Rating: 4.5 | Rated By: 3 users
Here is a selection of my 5 favourite drinks that help detoxify the body.  They are easy to make, delicious and contain abundance of healthy nutrients, or if you prefer a fresh bowl of fruit, it is just as wonderful.
Warm Lemon Water Cleanse ~ A glass of warm purified water with 2 tbsp. fresh organic lemon juice is a great way to cleanse your body each morning. Lemon juice helps flush away any unwanted materials and toxins that are left over from the digestive process and encourages the liver to produce bile.
Watermelon And Mint Detox Drink ~ Add watermelon and mint into a blender and blend to desired consistency. Watermelon has vitamins such as A, C, E, D and potassium and lycopene, it is also a natural diuretic and mint promotes digestion, is high in antioxidants and regular use of mint is beneficial for asthma patients.
Liver Detox Drink ~ This juice drink encourages the movement of bile and fat to and from the liver. The liver is the most vital organ for both metabolism and detoxification. Combine 2 medium organic beets, a 1-inch piece of fresh organic ginger, 1 organic lemon peeled, a handful of organic cilantro, and 1 organic Swiss chard leaf and 1organic apple in your juicer.
Green Cleanse Drink ~ Vegetables are loaded with essential vitamins, minerals and antioxidants. For a natural body cleanse combine the following vegetables for a soothing and nutritionally rich detox drink.
 2 organic celery stalks, 3 organic kale leaves, 3 organic carrots, 2 organic beets, 1 organic turnip, ½ organic white onion, ½ bunch organic parsley, ½ small head of organic cabbage, ½ medium bunch of fresh organic spinach, 2 organic garlic cloves.
Mix all ingredients with purified water in a blender and enjoy.
Turmeric Detox Drink ~ This drink contains turmeric, which not only boosts metabolism but also possesses a strong detoxifying power and helps the liver break down unwanted and dangerous chemicals. Add ½ teaspoon GF organic turmeric, ½ small teaspoon GF organic powdered ginger to 2 cups of hot purified water, a pinch of organic GF cayenne pepper and the juice from 1 organic lemon.
Ingredients
Raw organic fruits
Raw organic vegetables
Instructions
You will need a blender or bullet grinder or juicer
Similar Recipes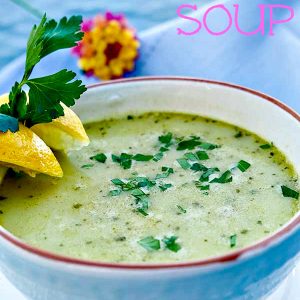 Immune Boosting Chickpea and Parsley Soup
This is a hearty gluten-free soup recipe to boost your immune system. The combination of chickpeas, parsley and fresh lemon juice create a rich and satisfying soup. These simple ingredients deliver powerful health benefits to your body. Parsley boosts the productivity of one of our liver's enzymes that detoxes our bodies. This delicate herb has powerful anti-inflammatory […] Read More
Prep Time
10 Minutes
Difficulty
Easy
Cook Time
90 Minutes
Serves
8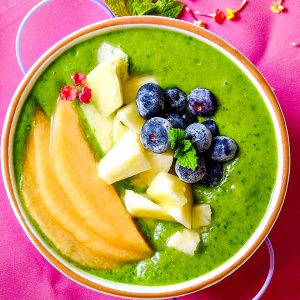 Detox Pineapple Green Smoothie Bowl
Healthy smoothie bowls are an easy way to eat healthily. This detox pineapple green smoothie bowl has a delicious tropical and refreshing flavour. Pineapple is rich in antioxidants, and vitamin C, helps with digestive health, has been known to reduce inflammation and is high in manganese, which helps in strengthening bones. Enjoy this delicious smoothie […] Read More
Prep Time
10 Minutes
Difficulty
Easy
Serves
4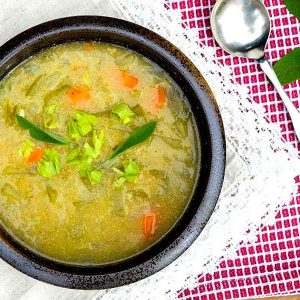 Immune Boosting Turmeric Celery Soup
Celery is a vegetable not to be forgotten. This simple vegetable is an excellent source of antioxidants, vitamins and minerals and has only 10 calories per stalk. Celery also provides an impressive amount of dietary fiber, which boosts digestion and weight loss. Other significant benefits of celery include its ability to cleanse the liver and […] Read More
Prep Time
15 Minutes
Difficulty
Easy
Cook Time
32 Minutes
Serves
6