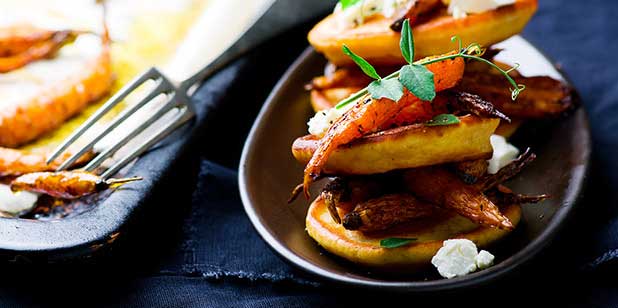 Sometimes it might seem difficult to prepare gluten free appetizers because many of them may include wheat or any other gluten products but the truth is that there are plenty of easy to prepare gluten free appetizers for people suffering from celiac disease or on a dietary restriction involving gluten.
Bite-sized Gluten Free Appetizers
Bite-sized appetizers are perfect for social events such as potlucks, family or friends reunions, games days… These appetizers are usually easy to make and are always a winner for any event. Some of the examples that you can find in our gluten free appetizer category are:
Chicken, Water Chestnut And Bacon Appetizers: If you don't have time to prepare the food on the day of the event, this chicken appetizer might be what you are looking for.
Honey Ginger Chicken Wings: These wings are the ideal appetizers for game days!
Baked Quinoa Gyoza Bites: If you prefer a healthier appetizer, these chicken gyoza bites might be what you are looking for.
Mediterranean Salad With Lime Vinaigrette
I call this salad food of the sun. By using only freshest of ingredients and quality olive oil, this... Read More
Prep Time
10 Minutes
Difficulty
Easy
Serves
4
Gluten-Free Cheesy Quinoa Pizza Parcels
The gluten-free quinoa pizza parcels are made with chicken or turkey, a selection of Italian spices, quinoa, tomatoes and... Read More
Prep Time
15 Minutes
Difficulty
Intermediate
Cook Time
45 Minutes
Serves
30 pc
Gluten-Free Sticky Garlic Noodles Recipe
A subtle noodle dish, which is deliciously addictive. Sticky garlic noodles dish is fast and easy to prepare to make... Read More
Prep Time
5 Minutes
Difficulty
Easy
Cook Time
15 Minutes
Serves
4
Try Making a Gluten Free Soup
Gluten free soups make a delicious appetizer, especially during cold winter days. Soups are usually very easy to make and there are plenty of options. Most vegetables blend well in soups, you can have a look at our gluten free soups and stews category for some recommendations. Even though we suggest you making your own soup as it will contain the most nutrients, gluten free soups can also be bought in supermarkets.
If you are planning to buy your soup in the supermarket, you need to be careful because some soups are not gluten free. It might sound weird, but many canned soups contain gluten ingredients, frequently in the form of thickeners. Especially in cream soups, wheat flour can be used instead of cream.
Soup manufacturers are aware of the growing popularity of the gluten-free diet and this has lead to the production of many gluten-free soups. Most of the soup producers will label their soups as gluten free, so you just need to check the packaging and make sure it is gluten free certified.
Gluten Free Starters
The only limit in creating gluten-free dishes is your imagination. A gluten-free diet does not have to be plain and boring.
On a gluten free diet, you can still enjoy your favorite starters or appetizers just with simple modifications. For example, if you liked to have pizza slides as an appetizer, you just have to substitute the regular flour (which is usually wheat and contains gluten) by a non-gluten flour.
Another example is the pan-fried chicken as it is usually breaded with flour. For achieving a gluten free breading, you can follow this recipe for Gluten-Free Schnitzel Bites which make a great gluten free starter.
Other easy to share gluten free entrees and appetizers from our site are:
These gluten free recipes are among many other gluten free options on our websites, explore our gluten free starters, entrees and appetizer and discover how easy and delicious a gluten free diet can be.
Mediterranean Salad With Lime Vinaigrette
I call this salad food of the sun. By using only freshest of ingredients and quality olive oil, this... Read More
Prep Time
10 Minutes
Difficulty
Easy
Serves
4
Gluten-Free Cheesy Quinoa Pizza Parcels
The gluten-free quinoa pizza parcels are made with chicken or turkey, a selection of Italian spices, quinoa, tomatoes and... Read More
Prep Time
15 Minutes
Difficulty
Intermediate
Cook Time
45 Minutes
Serves
30 pc
Gluten-Free Sticky Garlic Noodles Recipe
A subtle noodle dish, which is deliciously addictive. Sticky garlic noodles dish is fast and easy to prepare to make... Read More
Prep Time
5 Minutes
Difficulty
Easy
Cook Time
15 Minutes
Serves
4