Zucchini and Rice Noodles Vegetarian Pasta
Prep Time
10 Minutes
Difficulty
Easy
Cook Time
5 Minutes
Serves
4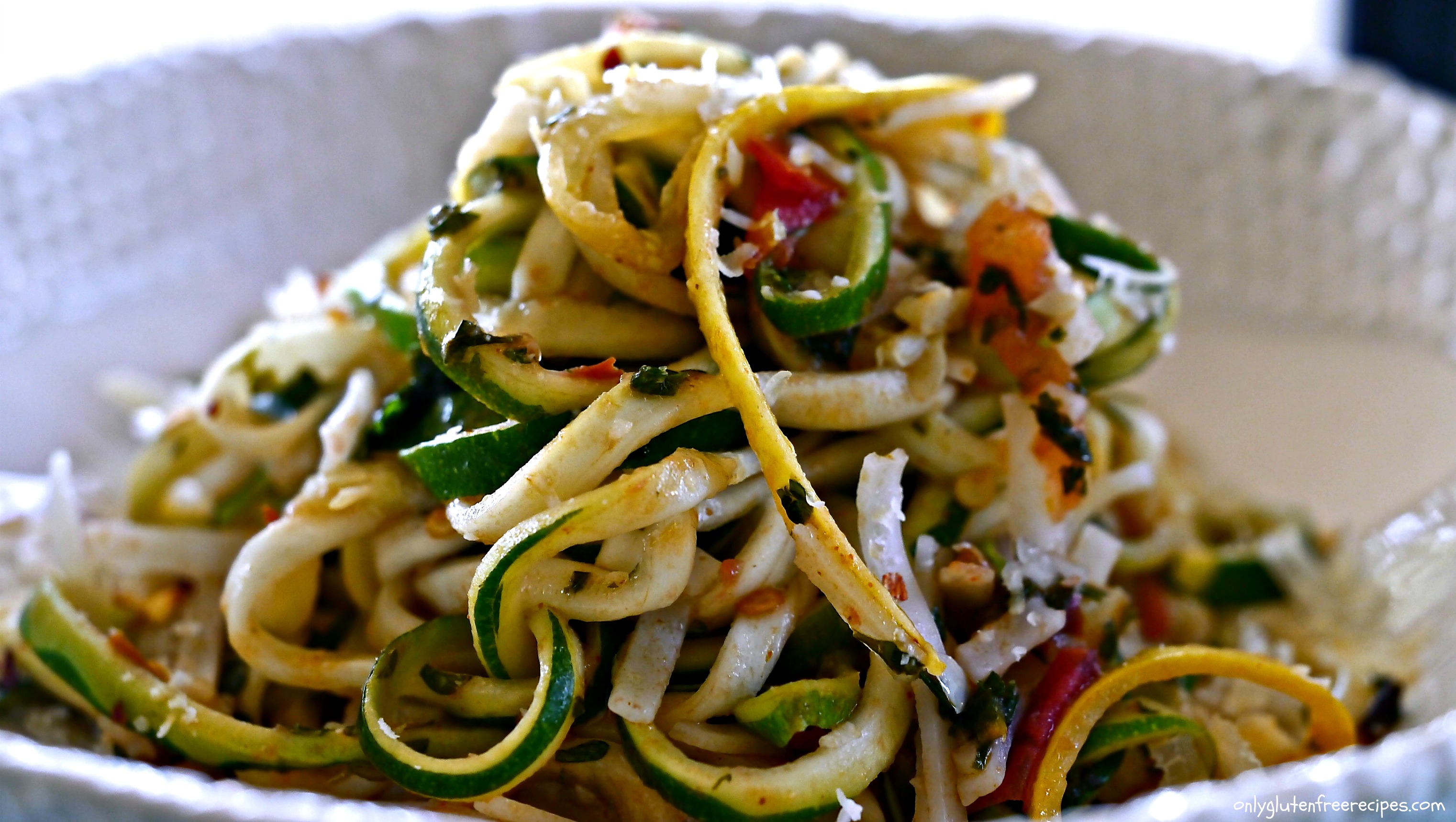 Average Rating: 3 | Rated By: 1 users
Three words that describe this delicious gluten-free meal, healthy, simple, fantastic! The entire meal takes only 15 minutes to make, by using fresh ingredients that are cooked to perfection and loaded with mouthwatering flavour is what creates this all time favourite recipe.
Ingredients
2 tbsp. extra virgin olive oil
4 garlic cloves, chopped
1 bunch organic, fresh parsley, chopped
1 tsp. organic, gluten-free smoked paprika (you can also use sweet paprika)
½ tsp. organic, gluten-free hot chili pepper (if you are making this for young children, omit this ingredient)
2 large organic, ripe tomatoes, diced
¾ tsp. sea salt or to taste
2 organic zucchini, green or yellow (I used one of each)
7 oz. dry stir-fry rice noodles, (I used Thai stir-fry noodles, they come in 15 oz. so half the package)
Parmesan cheese for topping (optional)
Instructions
First prepare your rice noodles, by placing them in a deep dish and covering them with hot water. After about five to seven minutes, once they are soft, drain.
While the noodles are getting soft, add olive oil and garlic into a large preferably non-stick sauté pan and cook until fragrant. Add in parsley, paprika and hot chili pepper and cook for one minute while stirring.
Then add tomatoes and salt and stir-fry on low heat for three minutes.
While the tomatoes are cooking, cut the zucchini with a spiral slicer that makes them into zucchini spaghetti. If you do not have a spiral slicer, you can slice the zucchini thinly into spaghetti-like strips. I highly recommend buying a veggie spiralizer you can use it for many things, you can get one for under ten dollars.
Once the tomatoes are cooked add in zucchini and stir-fry for two minutes, then add rice noodles and gently combine all the ingredients.
For extra flavour, you can add some freshly grated Parmesan cheese when serving.