Vegetarian Hearty Meal On A Budget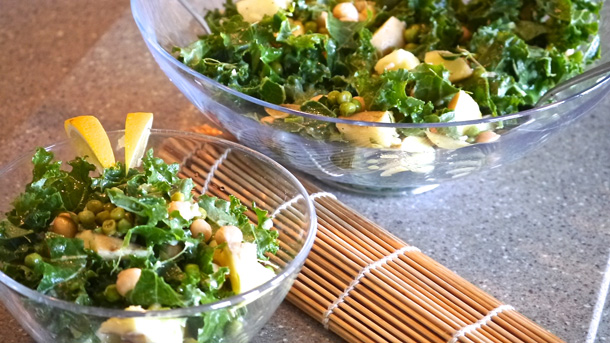 Pull up a seat and savor this delicious meal of vegetables and greens marinated with organic marjoram and turmeric, which are infused with fresh lemon juice and garlic. Serving it as a main will satisfy your cravings for a hearty delicious meal. This vegetarian meal is so satisfying yet so light even if you love your meats.
Serves 4
Ingredients
1 large organic sweet potato, wash well and cut into small squares
2 cups frozen organic baby peas
1 (15 oz.) can of organic garbanzo beans, rinse and drain
4 cups organic baby kale, stalks removed and ripped into small pieces
For the marinate ~ 2 garlic cloves, minced + 2 organic green onions, thinly sliced + 1 tsp. organic GF turmeric + Juice of two organic lemons or 1/2 cup organic GF apple cider vinegar + 1 ½ tbsp. extra virgin olive oil + 1 tbsp. organic fresh marjoram, chopped or 1 tsp. organic GF marjoram leaves + 1 tsp. sea salt
Instructions
Add sweet potato into a large pot filled with water, water should be 2 inches above potatoes, do not cover and cook for 10 minutes or until sweet potato is just tender. (Do not overcook or it will fall apart) add sweet peas in the water with potatoes and bring to boil, drain and put into a large bowl
Add garbanzo beans into the bowl and pour marinate over the vegetables and gently toss
Place in the fridge for 2 hours, toss once in a while so that all ingredients are well marinated
10 minutes before serving add kale and toss, serve with a wedge of lemon
For the marinate ~ whisk all the marinate ingredients together
© Copyright 2017 Only Gluten Free Recipes. All Rights Reserved.