Sesame Chicken with Sunomono Salad
Prep Time
10 Minutes
Difficulty
Beginner
Cook Time
12 Minutes
Serves
1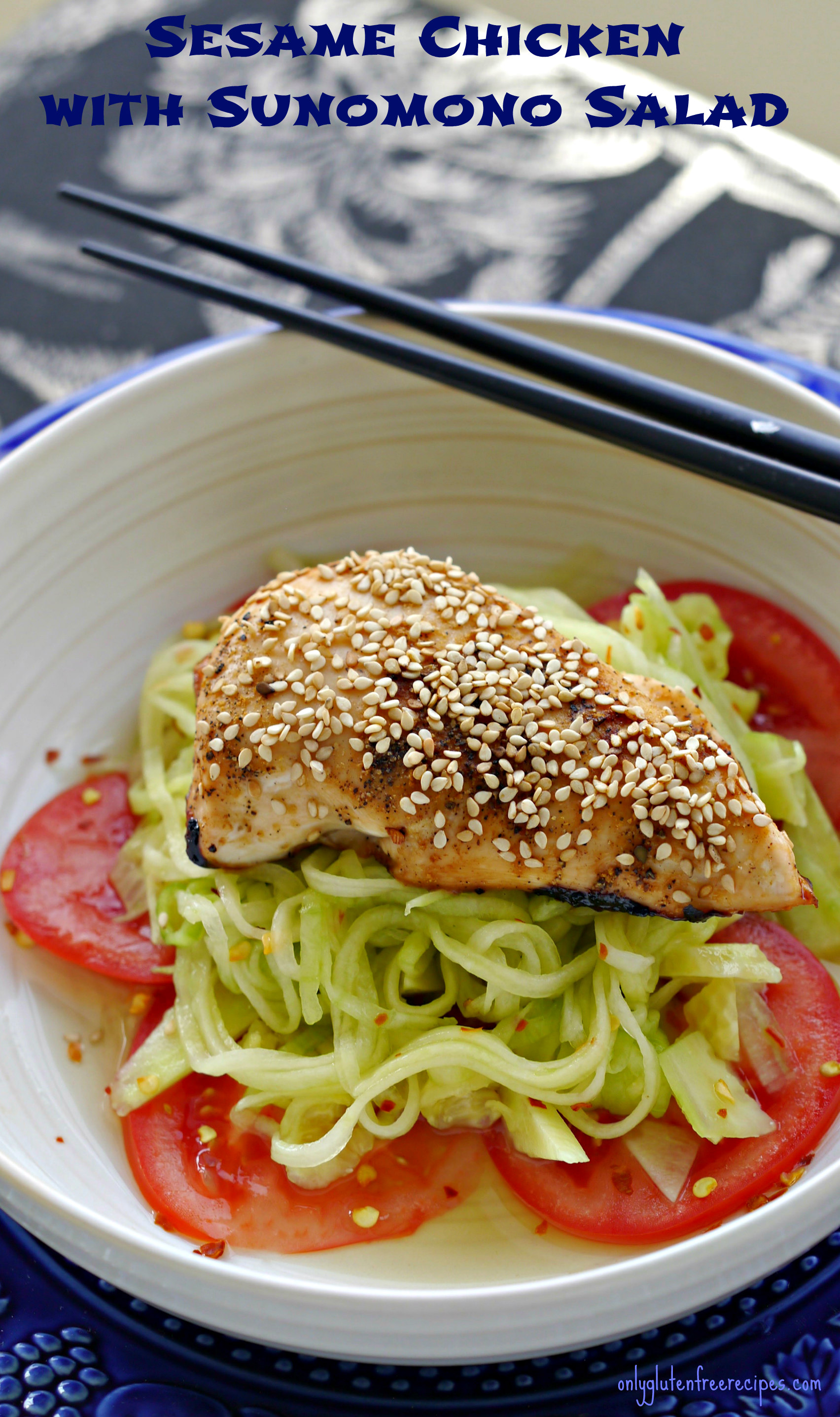 This is an exceptional low-calorie salad with a hint of Asian flavour, and it is also gluten-free. Total Calories 295 per serving
Ingredients
1 tsp (5 mL) minced ginger
1 tsp (5 mL) gluten-free tamari sauce
1 tsp (5 mL) pure maple syrup
1 tsp (5 mL) sesame seeds (any colour)
4 oz (115 g) skinless, boneless chicken breast
1 medium size cucumber, peel and thinly slice (I used spiralizer)
2 tsp (10 mL) rice vinegar
1 small garlic clove, minced
1/8 tsp (.60 mL) or pinch of red chilli pepper flakes
1 small tomato, thinly sliced
Sea salt to taste
Instructions
Preheat oven to 400 F
In a small bowl mix ginger, tamari sauce and maple syrup and then brush the chicken with the mix and top with sesame seeds. Place coated chicken on a baking pan lined with parchment paper and cook for 10 – 12 minutes or until chicken is thoroughly cooked. Do not overcook or the chicken will become dry.
While the chicken is cooking combine cucumber, rice vinegar, garlic and red chili pepper flakes and season with salt.
To serve, place tomatoes on a plate or in a bowl and then top with salad and then chicken. The cucumbers will release some liquid adding delicious flavour to the tomatoes
NOTE: All ingredients including spices must be gluten-free and use organic ingredients whenever possible
© Copyright 2017 Only Gluten Free Recipes. All Rights Reserved.