Mushrooms Stuffed With Chicken And Goat Cheese
Prep Time
20 Minutes
Difficulty
Intermediate
Cook Time
25 Minutes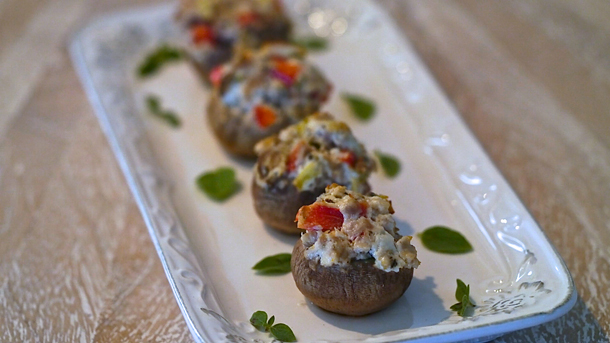 Average Rating: 4 | Rated By: 1 users
These deliciously spiced stuffed mushrooms are always loved at any party. They are easy to make and can be made a day in advance. Bring to room temperature before baking.
Makes 24 mushrooms (depending on size)
Ingredients
24 small button mushrooms (white or brown)
1 organic gluten free uncooked chicken sausage approx. 5 oz. (remove from casing)
6 oz. soft goat cheese, room temperature
2 shallots, minced
1 tbsp. organic green onion or chives, thinly sliced
½ tsp. organic GF dried thyme leaves or fresh thyme
¼ tsp. organic GF black pepper
¼ cup chopped organic red pepper
Instructions
Preheat oven to 375 F. Remove stems from mushrooms and set aside.
In a medium size bowl add chicken sausage, goat cheese, shallots, thyme, black pepper and mix well together.
Cut mushroom stems and red pepper into small pieces and add to the bowl, then stir.
Generously stuff mushroom caps, place on a baking sheet lined with parchment paper and bake at 375 for 20 - 25 minutes or until tops are slightly golden. Serve hot.