Gluten Free Triple Layer Lemon Dessert
Prep Time
20 Minutes
Difficulty
Moderate
Cook Time
45 Minutes
Serves
8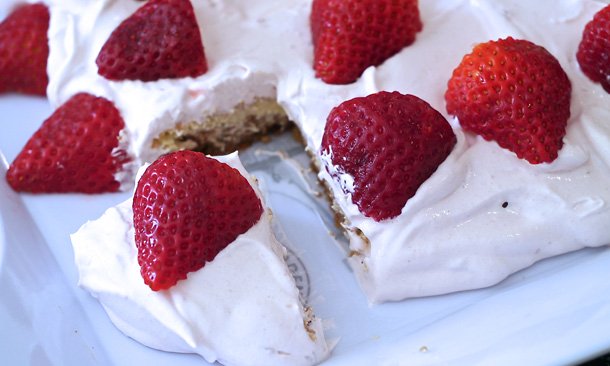 This is not your typical gluten free dessert. This triple layer tangy, citrusy lemon indulgence is light yet creamy with refreshingly delicious essence.
Ingredients
First layer the crust ~ 3 cups walnuts • 2 tbsp. GF ground flax seeds • 1 tbsp. maple syrup • 1 tsp. coconut oil
For the second layer ~ 2 x (8 oz.) light cream cheese (room temperature) • 3 large organic eggs (room temperature) • ½ cup pure maple syrup • 1 tsp. pure vanilla • 2 tbsp. freshly squeezed lemon juice
For the top layer ~ 1/2 cup freshly whipped whipping cream • 2 cups organic Greek Yogurt choose your flavour (vanilla, strawberry, raspberry) • 1 lb. fresh organic strawberries for decoration
Instructions
Preheat oven to 350 F
For the crust, place crust ingredients into a food processor and process, line a 9" x 12" baking dish with parchment paper which comes up 2" up the sides and spread the crust mix evenly pressing down slightly with a fork. Bake for 8 minutes at 350 F then cool.
For the second layer ~ Add cream cheese and maple syrup in a bowl and mix with an electric mixer, add remaining second layer ingredients and mix until smooth. Pour into the baking dish and bake for 35 minutes at 350 F, after 35 minutes turn the oven off and slightly open the door until cake cools. Place in the fridge for 6 hours or overnight.
To remove cake from the baking dish, with a knife loosen the sides and lift cake onto a serving dessert platter.
For the top layer, combine whip cream and yogurt and spread on top of the cake, decorate with strawberries. Chill until ready to serve
Similar Recipes
Chocolate And Raspberry Parfait
This outstanding dessert sounds more complicated then it actually is. Once you make the cookies, raspberry sauce and pudding, then all you do is layer-by-layer fill your parfait dish. Sometimes I add coconut ice cream and whipping cream on top for my guests, but for me I love it just as is. You can also […] Read More
Prep Time
20 Minutes
Difficulty
Intermediate
Cook Time
20 Minutes
Serves
6
Chocolate Parfait with Drunken Cherries
The combination of chocolate and cherries in this rich, creamy dessert is explosively delicious. It is ideal for serving at a dinner party, as it can be made 24 hours in advance. Entertaining does not get any easier than this Read More
Prep Time
20 Minutes
Difficulty
Easy
Cook Time
5 Minutes
Serves
4 - 8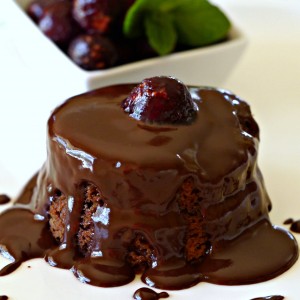 Flourless Chocolate Ganache Mini Cake
For chocolate lovers, it does not get any better than this! When following a gluten free diet, making desserts can be challenging, but you will love this recipe because it is super easy to make creating a luscious melt in your mouth results. This after dinner chocolate indulgence can be made up to 24 hours […] Read More
Prep Time
15 Minutes
Difficulty
Easy
Cook Time
25 Minutes
Serves
6
© Copyright 2017 Only Gluten Free Recipes. All Rights Reserved.