Gluten Free Spaghetti Squash Pie
Prep Time
10 Minutes
Difficulty
Easy
Cook Time
40 Minutes
Serves
6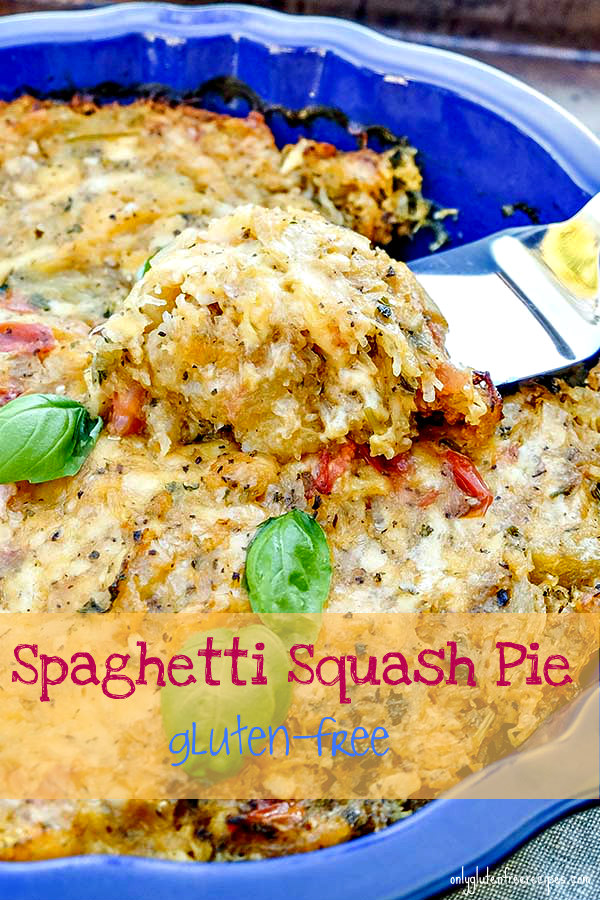 This spaghetti squash pie is a tasty savoury vegetarian dish made with spaghetti squash, Italian herbs, fresh tomatoes and mozzarella cheese. This delicious squash is lower carb alternative to pasta or other squash. If you are following a paleo diet, this tasty gluten free spaghetti squash pie is for you! Serve as lunch with a light salad or a side with your main
Enrich your diet with healthy easy to cook spaghetti squash. This delicious low carb, low cal squash contains a wide range of vitamins and minerals and a fair amount of fiber. Spaghetti squash has a resemblance to spaghetti strands when cooked and is considered a fruit.
Ingredients
¼ cup extra virgin olive oil
6 garlic cloves, chopped
2 tsp. dry oregano
2 large tomatoes, diced
1 bunch fresh Italian parsley (flat-leaf parsley), chopped
4 cups cooked spaghetti squash (approx. 1 medium-large spaghetti squash)
½ tsp. sea salt
¼ tsp. cayenne pepper (optional)
2 cups shredded mozzarella cheese
Fresh basil leaves for garnish
Instructions
Preheat oven to 375 F. Lightly oil a 9-inch pie dish
In a large pan over low heat sauté garlic and oregano in olive oil until fragrant, about 30 seconds
Increase heat to medium-high, add tomatoes and parsley and stir-fry for 4 – 5 minutes
In a large bowl mix spaghetti squash, sea salt, cayenne pepper and tomato mixture. Add mozzarella cheese and stir to combine
Transfer spaghetti squash mixture into prepared pie dish and bake for 40 minutes. Rest for 15 minutes before serving. Garnish with fresh basil leaves
Similar Recipes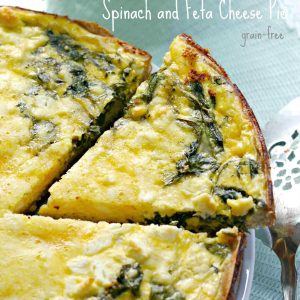 Grain Free Spinach and Feta Cheese Pie
This naturally gluten free spinach and feta cheese pie is one of our most popular recipes for Sunday brunch. Enticingly cheesy, with custard like texture and rich in protein. You will especially love the crust, which is made with sesame seeds and buckwheat. This scrumptious pie is a winner! Read More
Prep Time
15 Minutes
Difficulty
Easy
Cook Time
50 Minutes
Serves
6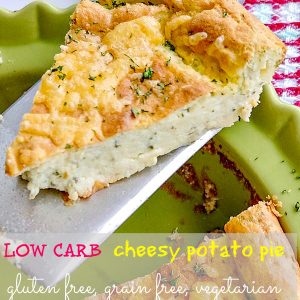 Low Carb Cheesy Potato Pie
Looking for life changing potatoes? You will love this easy cheesy potato pie recipe that has only 23 carbs per serving. This savoury pie is gluten free, grain free, vegetarian and deliciously flavoured with two types of cheeses. Whether entertaining or having a family dinner, this pie will always be a hit. Potatoes are considered […] Read More
Prep Time
15 Minutes
Difficulty
Easy
Cook Time
85 Minutes
Serves
6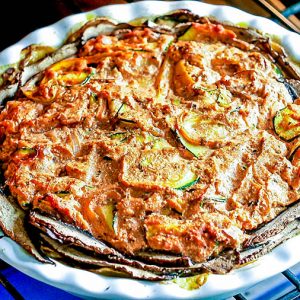 Mediterranean Vegetable Pie In A Potato Crust Recipe
This wonderfully delicious gluten free vegetable pie is made with eight healthy vegetables and is also grain-free.  This healthy vegetable pie is flavoured with Italian spiced sauce and ricotta cheese. The vegetables are baked in a thin layer potato crust adding crispy texture without using flour. This is an easy dinner recipe with many health […] Read More
Prep Time
20 Minutes
Difficulty
Intermediate
Cook Time
50 Minutes
Serves
6
© Copyright 2017 Only Gluten Free Recipes. All Rights Reserved.