Gluten-Free Skinny Vegetarian Chili
Prep Time
10 Minutes
Difficulty
Beginner
Cook Time
150 Minutes
Serves
6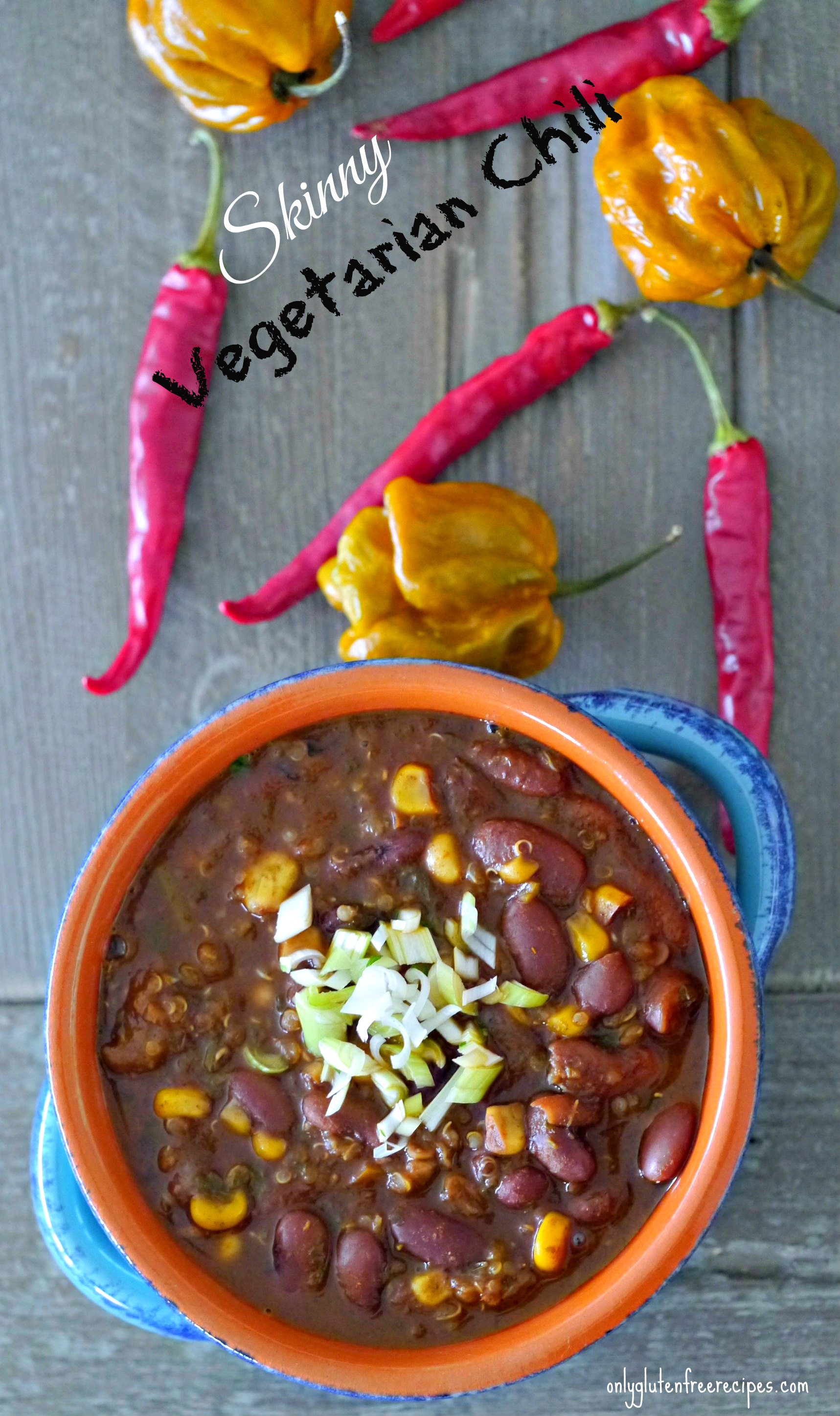 Average Rating: 5 | Rated By: 1 users
This gluten-free vegetarian chili is made with unique blend of herbs and spices and a little quinoa, making this low fat chili a heart warming hearty meal. Approximately 270 calories per serving.
Ingredients
2 cups dry red kidney beans (3 x 15 oz. canned)
1 Tbsp. grapeseed oil or coconut oil
1 large yellow onion, about 1 ½ cups chopped
4 medium size garlic cloves, crushed
1 red or yellow bell pepper, chopped
2 Tbsp. chili powder
1 Tbsp. ground cumin
1 tsp. dried oregano leaves (or 1 Tbsp fresh)
1 tsp. smoked paprika
½ tsp. caraway seeds
1 Serrano pepper or red chili pepper diced (optional if you like spicy)
1 tsp. sea salt
1 cup pure tomato sauce (no additives)
4 ½ cups water
2 Tbsp. apple cider vinegar
1 cup of frozen or fresh corn (I used fresh right off the cob)
1/3 cup quinoa
1 bunch fresh cilantro, chopped
Toppings: avocado slices, yogurt, diced green onions, cheddar cheese or sour cream
NOTE: All ingredients including spices must be gluten-free and use organic ingredients whenever possible
Instructions
Soak the kidney beans in 6 cups of water overnight, and then drain and rinse. (If you are using canned beans drain and rinse well and adjust the salt in the recipe if they are salted)
In a large, heavy pot heat the oil over high heat. Add the onions and cook stirring for 2 minutes, the onions should start browning. Turn the heat down to medium and add the garlic, bell pepper, chili powder, cumin, oregano, smoked paprika, caraway, Serrano pepper and salt and cook stirring for 1 minute.
Add the tomato sauce, water, beans and vinegar and bring to low simmer. Cook for 2 hours or until beans are fully cooked, stirring occasionally. (If you are using canned beans cook for 20 minutes and continue with the recipe)
Add the quinoa and cook for 5 minutes. Remove from the heat and adjust the seasoning, and then stir in cilantro. Rest for 15 minutes before serving. This chili is even better if made a day in advance.
To serve, ladle the chili into bowls and top with your favourite topping