Gluten-Free Quinoa Pizza Parcels
Prep Time
15 Minutes
Difficulty
Intermediate
Cook Time
45 Minutes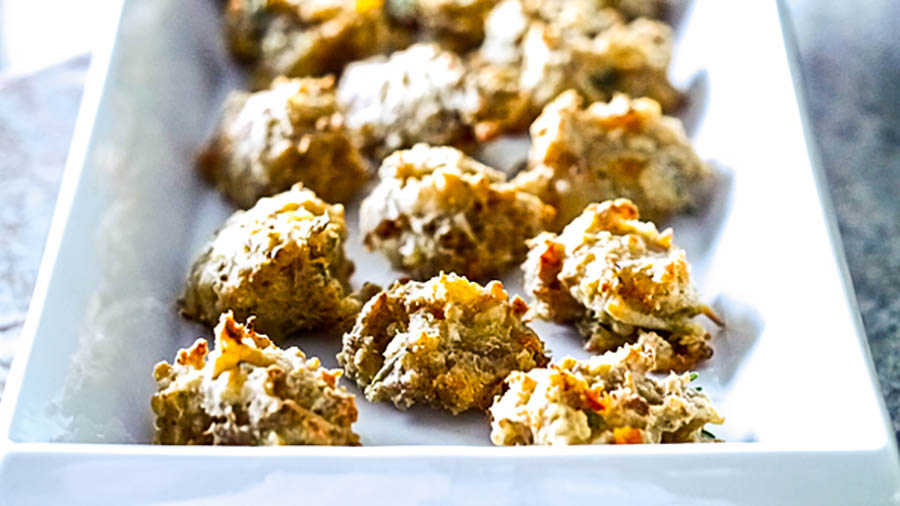 Average Rating: 5 | Rated By: 1 users
The combination of Italian spices, tomato and Gruyere cheese works wonderfully in these tasty pizza parcels. They can be served as an anytime snack or as a savoury bite for breakfast.
Makes 30
Ingredients
1 cup cooked quinoa = 1/3 cup dry quinoa cooked in 3/4 cup water
1 lb. ground lean turkey or chicken
½ tsp. sea salt
1 tsp. organic GF dried oregano or 2 tsp. fresh organic oregano, chopped
1 tsp. organic GF dried basil or 2 tsp. fresh organic basil, choppped
½ tsp. organic GF black pepper (for younger children I would omit this ingredient)
1 organic tomato, chopped
1 tbsp. yellow or red onion, minced
1 tbsp. organic parsley, chopped
1 ½ cup Gruyere cheese
1 tbsp. extra virgin olive oil
2 free-range or organic eggs or egg substitute
¾ cup GF all purpose flour • 1 tsp. GF baking soda
Instructions
Preheat oven to 400 F
Spread the turkey on a baking sheet lined with parchment paper and season with sea salt, oregano, basil and black pepper. Bake for 15 minutes. Remove from the oven and cool, and then turn the oven temperature to 375 F
Place quinoa, cooked turkey, tomato, onion, parsley, Gruyere cheese, olive oil, eggs in a bowl and using a fork crumble the meat in with the ingredients. Mix flour and baking soda and stir into the mix until all the ingredients are well combined.
Using a spoon make little balls the size of a walnut and place on a baking sheet lined with parchment paper. Bake for 18 minutes. Cool slightly and serve. These delicious parcels can be served warm or at room temperature.
Similar Recipes
Chicken, Water Chestnut And Bacon Appetizers
Who doesn't love easy to make appetizers that can be made ahead of time? These delicious chicken appetizers can be made day ahead, just pop them in the oven when ready. The delicious flavour of bacon and the crunchiness of the water chestnuts make this an amazing appetizer. Makes 16 appetizers Read More
Prep Time
20 Minutes
Difficulty
Intermediate
Cook Time
15 Minutes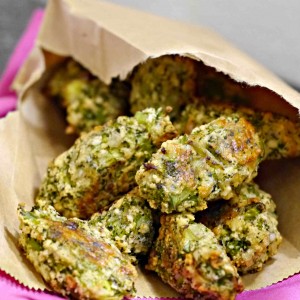 Gluten Free Baked Broccoli Tots
You and your family will love these crispy, cheesy broccoli tots. Serve them up as an appetizer with your favourite dip or as an anytime snack. This is a tasty way to incorporate broccoli into your diet and they are seriously addictive!! Read More
Prep Time
15 Minutes
Difficulty
Easy
Cook Time
25 Minutes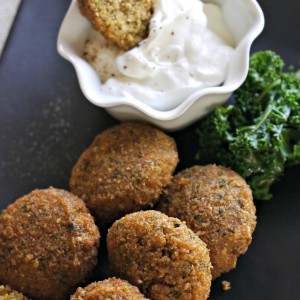 Gluten Free Baked Falafel
Falafel is a traditional Middle-Eastern dish, made with ground chickpeas or fava beans usually deep fried and served in a pita. This is a baked version, making it a healthier option that I like to serve as an appetizer with a yogurt or top it with eggplant dip. Read More
Prep Time
10 Minutes
Difficulty
Easy
Cook Time
30 Minutes