Gluten Free Quinoa Breakfast Square
Prep Time
20 Minutes
Difficulty
Easy
Cook Time
25 Minutes

Quinoa, cherries, dates, hazelnut butter and maple syrup are just some of the ingredients in this healthy breakfast square. You will find that these delicious quinoa breakfast squares are super easy to make. Why not start your day the healthy way with these chewy gluten free quinoa breakfast squares, or have them as a snack. Kids especially love these sweet treats, making them a great addition in their lunch box
Ingredients
1 cup cooked quinoa
½ cup pure maple syrup
½ cup hazelnut butter or you can substitute for (almond, walnut, peanut, cashew)
1 tsp. pure vanilla
½ cup coconut milk or almond milk
¾ cup all purpose gluten free flour
½ tsp. sea salt
1 tsp. baking soda
½ cup unsweetened shredded coconut
½ cup chopped gluten free dark chocolate or chocolate chips
½ cup dried oil free, sugar free cherries or (raisins, black currants)
½ cup pitted medjool dates, cut to smaller pieces
Instructions
Preheat oven to 375 F
Combine quinoa, maple syrup, hazelnut butter, vanilla, cherries, dates and coconut milk in a large bowl.
In a separate bowl combine GF flour, sea salt, baking soda, coconut and chocolate. Add into wet ingredients and mix until well combined
Spread the dough approximately ¾ inch thick onto a baking sheet lined with parchment paper
Bake at 375 F for 20 – 25 minutes or until golden. Cool completely before cutting into 2-ich squares
Similar Recipes
Rhubarb Apple Quinoa Breakfast Crisp
Breakfast is our first meal of the day, which is why it is important to give our body healthy nutrients. This easy to make delicious breakfast crisp has apples, rhubarb and cinnamon infused together with a nice crisp topping made with quinoa, millet and nuts. It can be made in advance and can be eaten […] Read More
Prep Time
10 Minutes
Difficulty
Easy
Cook Time
25 Minutes
Serves
4
Award Winning Raw Power Bar
This is truly one of the best raw gluten free power bar, just imagine hazelnuts, walnuts, medjool dates, crystallized ginger, flax, raw cocoa and more. It is nutrient dense and there is no sweetener added. Having one for breakfast, or before a workout or just a snack will keep your energy going for a long […] Read More
Prep Time
15 Minutes
Difficulty
Easy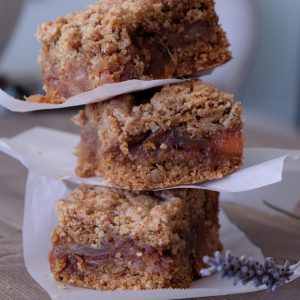 Gluten Free Date Bars
A great way to start a day is with healthy food that will provide you lasting energy. When you crave something sweet in the morning, try these gluten free date bars they are especially tasty. Whether you are looking for breakfast idea or pick me up snack this easy to make date bar recipe is […] Read More
Prep Time
15 Minutes
Difficulty
Easy
Cook Time
35 Minutes
© Copyright 2017 Only Gluten Free Recipes. All Rights Reserved.