Gluten-Free Pecan Raisin Cookies
Prep Time
10 Minutes
Difficulty
Easy
Cook Time
18 Minutes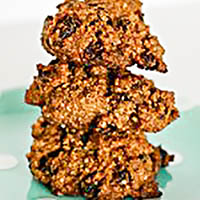 Average Rating: 4 | Rated By: 1 users
Finding a cookie recipe that is healthy and tastes this delicious is sometimes hard. I have used quinoa flakes and buckwheat flour, which creates a slightly chewy texture with a crisp coating. These cookies are also very easy to make. Love, love these magical treats.
Ingredients
1 cup gluten-free quinoa flakes
¼ cup buckwheat flour
2 cups pecans
¼ tsp. sea salt
1 tsp. gluten-free baking soda
1/3 cup coconut oil
½ cup pure maple syrup
2 tsp. pure vanilla
1 large egg or egg substitute
Instructions
Preheat oven to 350 F
Add quinoa, buckwheat, pecans, salt and baking soda into a food processor and process for one minute or until pecans are sandy texture
Then add coconut oil, maple syrup, vanilla and egg and pulse until the mixture is well combined about 10 pulses.
With a teaspoon drop cookie dough about the size of large walnut on a baking sheet lined with parchment paper.
Bake 18 – 20 minutes or until the cookies are golden colour. Remove from oven and cool on the cookie sheet before storing.
Similar Recipes
Chewy Maple Coconut Chocolate Cookies
Looking for a sweet snack without the fats? It doesn't get any easier than this, a perfect snack at any time, great for kids or with your afternoon tea. Gluten free, dairy free and Paleo Makes 12 large cookies Read More
Prep Time
10 Minutes
Difficulty
Easy
Cook Time
20 Minutes
Gluten Free Oatmeal Chocolate Chip and Rasin Cookie
Here is the best gluten free, oatmeal cookie recipe! This tasty cookie is slightly chewy and is packed with chocolate chips and raisins. Chocolate and raisins make a perfect combination in these simple to make oatmeal cookies Now you can indulge in an oatmeal cookie that is rich in antioxidants, dietary fiber, healthy nutrients and provide you […] Read More
Prep Time
10 Minutes
Difficulty
Easy
Cook Time
15 Minutes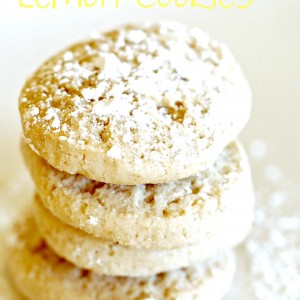 Gluten-Free Lemon Cookies
These delightful lemony cookies will melt in your mouth, making them especially popular during festive season Read More
Prep Time
15 Minutes
Difficulty
Easy
Cook Time
12 Minutes