Gluten-Free Pear and Plum Clafoutis
Prep Time
15 Minutes
Difficulty
Easy
Cook Time
30 -35 Minutes
Serves
6-8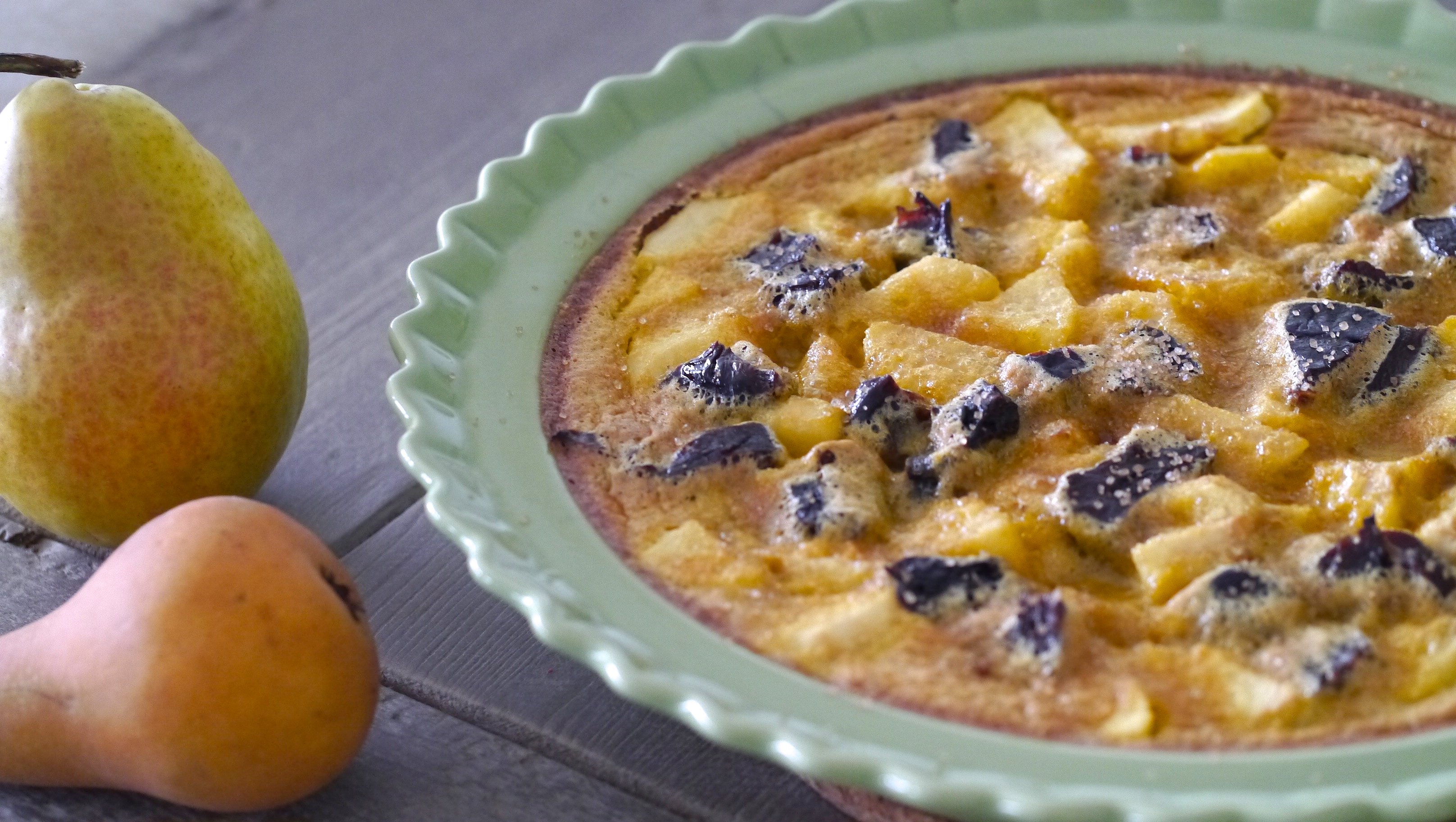 Clafoutis is a baked dessert with fruit in a custard-like batter that originated in France. Traditionally this dessert is made with cherries but you can use any variation of fruit such as pears, apples, plums or blueberries. This rustic dessert is super easy to make and can be served warm or cold for casual family dinner.
Ingredients
1 Tbsp (15 mL) coconut oil or butter
1/4 cup (60 mL) + 1 Tbsp (15 mL) turbinado sugar (raw sugar)
3 large eggs, room temperature
1 1/4 cup (310 mL) full-fat coconut milk or full fat milk
2/3 cup (160 mL) gluten-free all-purpose flour
1 tsp (5 mL) pure vanilla
Zest of one lemon
1/4 tsp (.25 mL) sea salt
3 ripe pears
3 firm-ripe prune plums
Instructions
Preheat oven to 375 F
Rub an 11-inch round baking dish with coconut oil and sprinkle with one tablespoon of the sugar
In a large bowl beat the eggs and sugar with an electric mixer until fluffy, about 2 minutes.
On low-speed mix in coconut milk, vanilla, lemon zest and salt and then add the flour and mix until smooth
Peel and core the pears to small chunks about 3/4-inch and thinly slice the plums removing the pit first
Arrange the pears evenly in the baking dish and pour the batter over the pears then top with plums
Bake for 30 minutes or until the custard is golden. The custard will deflate a bit once it has cooled, this is normal
You can sprinkle the clafoutis with a little more sugar or drizzle with pure maple syrup
NOTE: use organic ingredients whenever possible
© Copyright 2017 Only Gluten Free Recipes. All Rights Reserved.