Gluten Free Olive Oil Cheese Bread
Prep Time
15 Minutes
Difficulty
Easy
Cook Time
60 plus 2 hours resting Minutes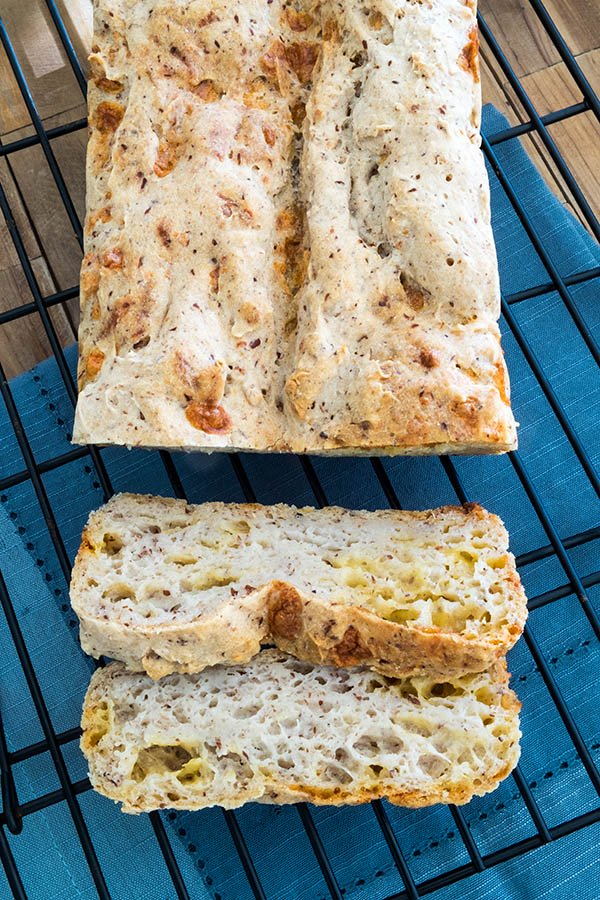 Looking for amazing gluten free bread, look no further. This bread has a perfect consistency nice and soft inside without crumbling and a crispy crust. It is made with olive oil and with flax adding fiber, protein and healthy fats. The cheese adds just that extra flavour in this delicious savoury gluten free bread. This bread freezes exceptionally well
Ingredients
¾ cup water
¼ cup ground flax seed
2 ¼ tsp. active dry yeast (not instant dry yeast)
2 cups warm water
2 Tbsp. agave nectar
1 1/3 cups brown rice flour
1 1/3 cups tapioca starch
1 cup cornstarch
1/3 cups sweet sorghum flour
2 Tbsp. potato flour
1 Tbsp. xanthan gum
2 tsp. Mediterranean pink salt
¼ cup extra virgin olive oil
2 tsp. raw apple cider vinegar
1 ½ cups shredded cheddar cheese
Instructions
Stir ¾ cups of water with flax seed and set aside for 15 minutes
Stir yeast, 2 cups of warm and agave until mixed and set aside for 10 minutes
Mix dry ingredients
Whisk together olive oil, vinegar, and flax seed mix in a large bowl Add 1/3 of the dry mixture at a time to the wet mixture and mix until blended
Add in yeast mixture and mix until combined, then using a spatula stir in cheese. Transfer dough into 2 8x4-inch greased bread pans, cover with a towel and set aside in a warm place for 2 hours. The dough should double in size
Preheat oven to 375 F and bake for 1 hour. Cool loaves in bread pans for 15 minutes then transfer to a rack to cool completely before slicing. Enjoy!
Similar Recipes
Best Gluten-Free Rustic Bread Recipe
Love this bread recipe, it is easy to make and you would never know it is gluten-free. By adding chia seeds and buckwheat the bread has a rustic texture with a crispy crust and tastes like a good German rye bread Read More
Prep Time
100 Minutes
Difficulty
Easy
Cook Time
45 Minutes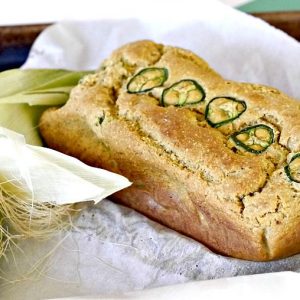 Gluten Free Jalapeno Cheese Cornbread
This gluten free cornbread tastes delicious when served with warm soups or stews. Cornbread is especially popular when following a gluten-free diet because of its texture, flavour and diversity. I used jalapenos and cheese, but you can add olives, cranberries, sundried tomatoes or feta cheese, the list is endless for creating your personal cornbread. I […] Read More
Prep Time
10 Minutes
Difficulty
Easy
Cook Time
35 Minutes
Gluten-Free Pumpkin Bread
This is a perfect bread to make during the fall – winter months when there is plenty of fresh pumpkin. I always use fresh pumpkin, just peel, steam and place in food processor, and then freeze in small freezer bags for future use. This delicious bread also makes a yummy toast, just spread your favourite […] Read More
Prep Time
10 Minutes
Difficulty
Easy
Cook Time
40 Minutes
Serves
24 slices
© Copyright 2017 Only Gluten Free Recipes. All Rights Reserved.