Gluten Free Oatmeal Chocolate Chip Cookie
Prep Time
10 Minutes
Difficulty
Easy
Cook Time
15 Minutes

Here is the best gluten free, oatmeal cookie recipe! This tasty cookie is slightly chewy and is packed with chocolate chips and raisins. Chocolate and raisins make a perfect combination in these simple to make oatmeal cookies
Now you can indulge in an oatmeal cookie that is rich in antioxidants, dietary fiber, healthy nutrients and provide you with lasting energy. Enjoy!
Ingredients
½ cup unsalted butter, at room temperature
½ cup agave nectar
1 large egg, at room temperature
1 tsp. pure vanilla extract
1 cup + 1 Tbsp. all-purpose gluten free flour
½ cup certified gluten free quick oats
1 tsp. GF baking powder (preferably aluminum-free)
1 tsp. cinnamon
½ tsp. GF baking soda
¼ tsp. Sea salt
1 cup gluten free chocolate chips (preferably 80% + cocoa)
½ cup sulphite free raisins (soak in boiling water for 1 minute then drain before using)
TIP: if you do not have quick oats, add rolled oats to a food processor and pulse few times before using
Instructions
Preheat oven to 350 F. Line a large cookie sheet with parchment paper
Whisk together butter, agave nectar, egg, and vanilla until smooth
Mix flour, oats, baking powder, cinnamon, baking soda and salt until combined
Add wet ingredients to dry and mix thoroughly
Gently stir in chocolate chips and raisins
Scoop the dough with a tablespoon onto the prepared baking sheet, leaving about 1 ½ inches between the cookies. Bake for 12 - 15 minutes or until they are light golden colour
Remove the cookies from the oven and set aside for 5 minutes, then carefully transfer them to a cooling rack to cool
Similar Recipes
Chewy Maple Coconut Chocolate Cookies
Looking for a sweet snack without the fats? It doesn't get any easier than this, a perfect snack at any time, great for kids or with your afternoon tea. Gluten free, dairy free and Paleo Makes 12 large cookies Read More
Prep Time
10 Minutes
Difficulty
Easy
Cook Time
20 Minutes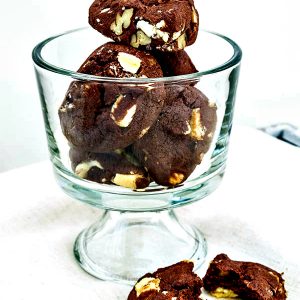 Easy Gluten Free Chocolate and Nut Cookies
These cookies have the chocolate intensity that balances with their nutty richness. You can easily call them power cookies, because of their high protein value. In my home, they are serious comfort food with benefits. Like all chocolate cookies, they are an excellent addition to holiday collection. These gluten free chocolate and nut cookies are […] Read More
Prep Time
10 Minutes
Difficulty
Beginner
Cook Time
10 Minutes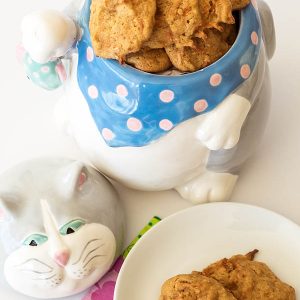 Gluten Free Carrot Almond Cookies
This is one of the gluten free cookie recipes that uses only a few ingredients and takes minutes to whip up. Packed with protein, fiber, and vitamin A and sweetened with healthy carrots, without added fat. This scrumptious, slightly chewy cookie is yours for the making. Add them to kids lunch boxes or enjoy them with […] Read More
Prep Time
15 Minutes
Difficulty
Easy
Cook Time
18 Minutes
© Copyright 2017 Only Gluten Free Recipes. All Rights Reserved.