Gluten Free Light Pasta Salad
Prep Time
15 Minutes
Difficulty
Easy
Cook Time
15 Minutes
Serves
4-6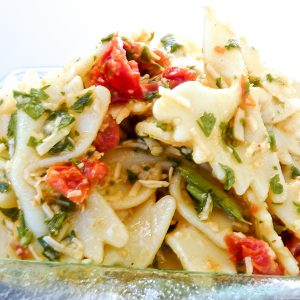 Pasta salad can be made in many different ways. In this recipe the pasta is marinated in zesty vinaigrette with added sundried tomatoes and topped with tasty Parmesan cheese. This gluten free light pasta salad is especially popular during the summer season. Serve at picnics or large gatherings, this vegetarian salad is always a big hit!
Ingredients
1/4 cup apple cider vinegar
1/4 cup extra virgin olive oil
1 cup chopped fresh parsley
4 garlic cloves, minced
1 cup sundried tomatoes packed in olive oil (discard the oil)
Sea salt and freshly ground black pepper to taste
5 cups of cooked gluten free pasta, such as rotini or farfalle
1 cup grated parmesan cheese
Instructions
Whisk together apple cider vinegar, olive oil, parsley, garlic, sundried tomatoes, salt and pepper
Toss vinaigrette with cooled pasta, then add Parmesan cheese and toss one more time
Cover with plastic wrap and refrigerate overnight allowing the flavours infuse the pasta. Toss couple of times in between and just before serving
Similar Recipes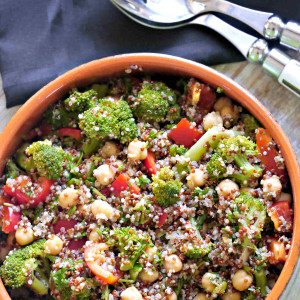 Broccoli, Quinoa and Chickpea Salad
This hearty salad is deliciously flavoured with light vinaigrette and fresh herbs. Serve as a side with your favourite main, or as a vegetarian entree. Read More
Prep Time
15 Minutes
Difficulty
Easy
Cook Time
10 Minutes
Serves
4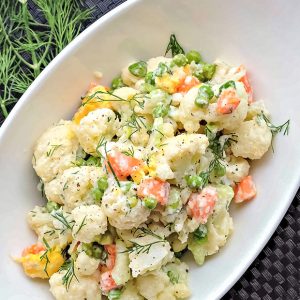 Cauliflower Salad
This cauliflower salad is certainly different from the everyday potato salad that has been traditionally served over the years at a cook out. This healthy creamy cauliflower salad can add a bit of zing to grilled meats or fish. To change the flavour, substitute curry powder for the dill Read More
Prep Time
15 Minutes
Difficulty
Easy
Cook Time
10 Minutes
Serves
6 - 8
Deluxe Green Bean Salad
Bring this beautiful green bean salad to a potluck or serve as a side instead of steamed vegetables Read More
Prep Time
10 Minutes
Difficulty
Easy
Cook Time
5 Minutes
Serves
4
© Copyright 2017 Only Gluten Free Recipes. All Rights Reserved.